Folks, here we are on the start of our Montana Drive About. Join us as we visit grain farmers across the state.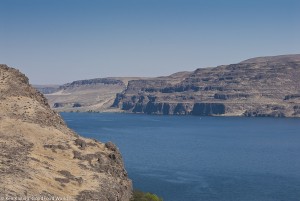 The drive from Seattle to parts east usually requires a trek down I-90 through sage brush country, cattle farms, horse farms, and wind farms. It's hot and sunny in the summer and cold and snowy in the winter!
In just a little more than an hour, it's possible to go from salt water and the temperate rain forest to sage brush and 10 inches of rain a year, "whether we need it or not…" as an orchardist just north of the river told me.
The Columbia River gorge is huge; just imagine thousands of years ago when at the end of the last ice age, a huge lake confined by an ice dam was released when the dam broke. Millions of gallons of water pounded across the landscape and cut the river gorge through solid basalt.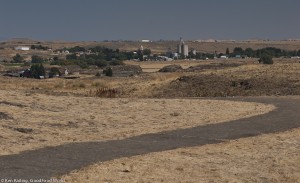 Today, the river is one of the major energy sources for the Pacific Northwest. A second major source is wind power. And, man, are those wind turbines huge! Nothing like the lazy turning of giant windmills to put you in a hypnotic state.
Coming out of the gorge happens slowly, the terrain becomes flatter and flatter until the rolling hills around are covered with corn, potatoes, and wheat. The grain harvest in eastern Washington is nearly over; the fields are nothing more than blond stubble, and much of the hay has been cut.
Small farmers struggle to keep their farms going under tough conditions; large operations can more easily access water allocations. An occasional field as flat, even, and green as a billiard table top will catch your eye, it's amazing what targeted irrigation will do in a near desert.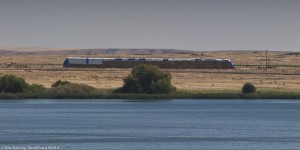 .
.
.
.
.
.
.
More tomorrow!