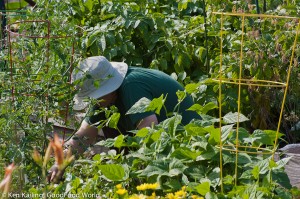 Gardening not only provides a connection with nature, it connects us to our food. As more and more people are concerned about the provenance of their food – where it comes from and how it is grown – gardening has given "local" a new meaning: "Zero Food Miles."
Through both World Wars, families in the US, Canada, and Europe planted Victory Gardens in private residences and public parks; it was a time when everyone gardened. During World War I, as many as 5 million gardens were planted when our total population was between 100 and 104 million residents.
During World War II, the US population had grown to 135 to 140 million and the number of gardens grew to 20 million. In 1944, nearly 40% of all produce consumed was produced in these gardens.
In 2008, according to the National Gardening Association, 36 million households grew vegetables, fruits, berries and/or herbs in family or community gardens and 43 million – or 38% of all households – had plans to garden in 2009.
Today, we garden not out of patriotic duty, but to put food on our tables. The 2010 Summer Gardening Trends Research Report conducted for the Garden Writers Association Foundation discovered that:
Fresh beans, ready to pick

58% want better tasting food
54% want to save money on food bills
51% want better quality food
48% want to grow food they know is safe
Another survey, this one by the National Gardening Association, looked at the main reasons that people grow gardens:
90% plan to eat the produce fresh
66% will share with friends
36% will can or preserve their produce
24% will donate food to others
From Urban Farms to Community Gardens
Cities like San Francisco are changing zoning policies to allow for new forms of urban agriculture – both gardens and farms – within city limits. San Francisco Board of Supervisors passed the new zoning ordinance that would put two new classes farming allowed in the city:
Neighborhood Agriculture – fenced gardens of less than an acre, a onetime $300 fee, ability to offer value-added products such as jam and dried herbs.
Urban Industrial Agriculture – farms that are one acre or larger and located in industrial zones in the city. The farmer must also pay a conditional use fee.
What Is a Community Garden?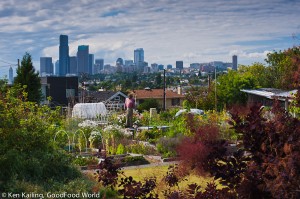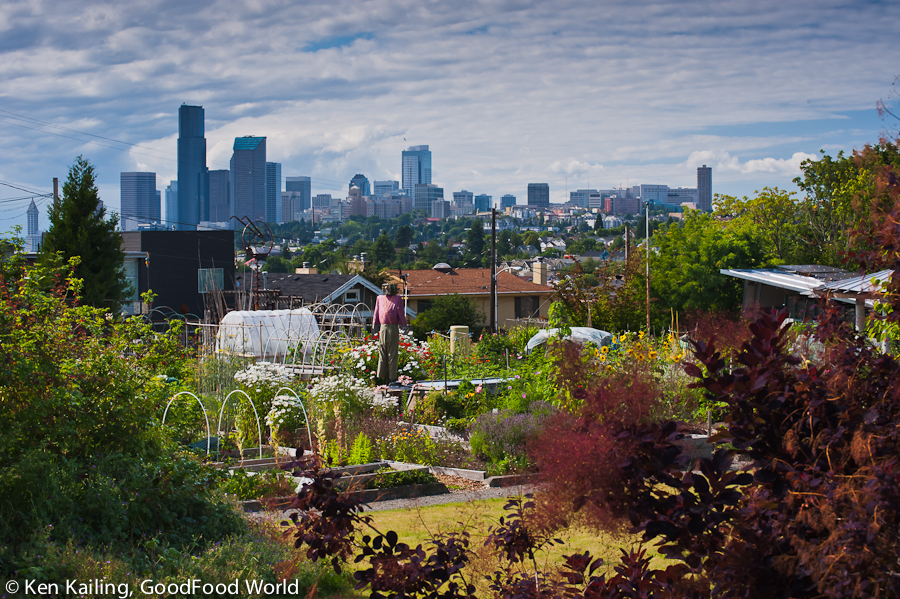 Simply put, a community garden is a piece of land gardened collectively by a group of people.
It can be urban, suburban, or rural. It can grow flowers, vegetables or community. It can be one communal plot or can be many individual plots. It can be at a school, hospital, a prison, a park, or in a neighborhood vacant lot.
It can also be a series of plots dedicated to urban agriculture where the produce is grown for a market. Open or closed-gate policies vary from garden to garden; some have public access, others are secure and only member gardeners have keys.
Community gardens can be owned by a municipality, in which case they are sometimes managed by the same agency that manages city parks. Others are owned by non-profit organizations or churches.
In Europe and the UK, similar gardens called "allotment gardens," have been in place for many years. These gardens can have dozens of plots, each measuring up to hundreds of square meters, and rented by the same family for generations. North American community garden plots tend to be much smaller; 10ft x 10ft, 10ft x 15ft, or even 20ft x 20ft.
Benefits of Community Gardens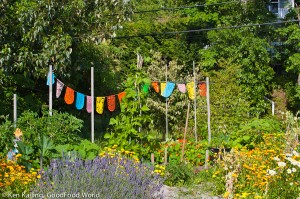 The actual number of community gardens in the US is unknown; in fact, even small communities have trouble identifying how many gardens are in place.
By 2009, it was estimated that there were as many as 15,000 across the country. Regardless of the accuracy of the estimate, it is clear that the number is growing rapidly as more and more are created.
Community gardens are so popular because they bring together groups, families, and individuals to enjoy a number of benefits, including:
Improves the quality of life for people in the garden
Provides a catalyst for neighborhood and community development
Stimulates social interaction
Encourages self-reliance
Beautifies neighborhoods
Produces nutritious food
Reduces family food budgets
Conserves resources
Creates opportunity for recreation, exercise, therapy, and education
Reduces crime
Preserves green space
Creates income opportunities and economic development
Reduces city heat from streets and parking lots
Provides opportunities for intergenerational and cross-cultural connections
Who is Gardening in Them?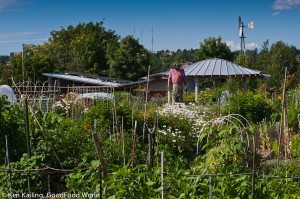 Community gardens are as varied as the people who garden in them. School children, immigrants and refugees, prisoners, senior citizens, families, and people with disabilities, all have an opportunity to grow something beautiful or something to eat.
Growers may choose to plant flowers or herbs, vegetables and fruit, or any combination. Some community gardens allow chickens or bees, while others are for plants only.
Some gardens have been established for the purpose of urban agriculture where gardeners sell produce and flowers as individuals or as a group. Community gardens on public property – like parks – expressly forbid selling anything grown there.
P-Patch – Community Gardens in Puget Sound
In 1970, the first P-Patch was established in a northeast Seattle neighborhood, and the program was named for the Picardo family, which loaned their fallow truck farm to the community gardening program. As the program developed and demand for garden plots grew, the city of Seattle bought the land from the Picardo family.
The P-Patch Trust was first formed in 1979 as the P-Patch Advisory Council, then transitioned to the Friends of P-Patch, and finally in 2003, became a non-profit land trust to continue to acquire land and create community gardens.
There are now 75 P-Patches distributed throughout Seattle serving 6,000 volunteer gardeners on about 23 acres of land. P-Patches are so popular that the wait for a space is up to three years in certain gardens.
Those who participate in the program must use organic gardening methods, care for their plots on a year-round basis, and donate at least 8 hours of community service to the garden. Seattle's program does not allow the sale of anything grown on a P-Patch site. A main focus of the P-Patch program is to build community and many sites have potluck dinners, spring start exchanges, and other informal activities.
A survey of P-Patch gardeners in 2004 found that more than 50% of gardeners live within a half mile of their garden site; 49% live in multi-family dwellings; 15% live below the poverty line; 31% get more than half their produce needs from their plots; and 38% donate some of their produce to food banks at least once a month.
A P-Patch in Action – Bradner Gardens Park
Bradner Gardens Park now sits on a site that was originally a housing project built in 1942. The space was abandoned in 1953 and became a ball field a couple of years later. Finally, the site was purchased from the Seattle School District in 1971.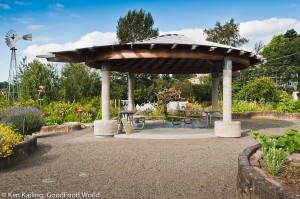 Founded in 1987, Bradner Park as it is known in the neighborhood, covers 1.6 acres, and offers 61 10ft x 20ft plots to gardeners. The wide range of plantings in the plots ranges from vegetables and greens to berries and other fruit, and even an apple tree in a pot. While a few choose to grow only flowers, most of the plots have edible plants.
Because Bradner Park is a city park as well as a P-Patch community garden, there are a number of demonstration and educational gardens on the site too. Seattle Tilth, Master Gardeners, and City Fruit are all working with Bradner coordinator, Joyce Moty, in selected gardens in the park. Moty has been the site leader for Bradner Gardens Park for 21 years.
Not limited to green and growing things, Bradner Park has become an art center as well. The central pavilion is an open platform topped with a large leaf-shaped roof, designed and built in 2000 by University of Washington architecture students, who have designed and built a number of other structures in the park including several sculptural arbors.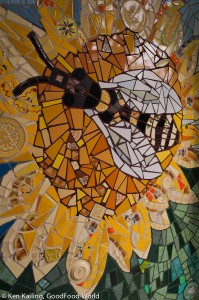 A community center – complete with solar panels and public washroom – opened in 2003 to provide meeting space for neighborhood and community activities. The restroom features a floor-to-ceiling glass and ceramic mosaic of giant insects designed and built by Liz Cross, Gyda Fossland, and Joyce Moty. "The mosaic is a wonderful piece of artwork. There has been almost no vandalism to the bathroom," said Joyce. "That was the point we wanted to make: if you build something that shows people you respect them and believe they deserve something nice, they'll reciprocate and take care of it."
In 2010 a group of gardeners proposed beehives in the garden. They organized to structure a plan and apply for a grant to build an enclosure for two beehives to protect the bees from disturbance and keep curious children away from the hives. The group chose a bee species known for being both gentle and prolific and purchased two hives. They are working together to learn how to raise bees and to teach others about the value of pollinators in the garden.
Surrounding the hives is a plywood and fine mesh enclosure that is tall enough to force the bees to fly up and out over the gardens and yet has some small windows at a level where children can safely watch the bees entering and leaving the hives.
The park actually attracted two unplanned swarms of bees this spring that were captured and removed by experienced beekeepers. Because Bradner Park only has an enclosure for two hives, these had to be moved to other locations.
A new Heritage Garden, stewarded by Liz Cross, is educating people about plants historically used by native peoples in this area. "Last year the garden grew Ozette potatoes, which were first grown by the Makah Indians here in Washington in the late 1700s," Joyce pointed out as she led a tour of the gardens. "This year we have 'Uncle Wilfred's Tomatoes' – a very sturdy heirloom plant that is prolific even in the cool summer we're having in Seattle. We've been sharing plant starts around the city."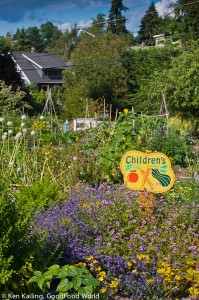 The Children's Garden, stewarded by Jeanne Finley, is a small garden for children and parents from a neighboring pre-school. It's mostly herbs, though there is a substantial strawberry patch and some vegetables. It helps children to understand what nature is all about and where food comes from.
Bradner Gardens Park is a fine example of community diversity and partnership. Gardeners from Laos and Japan grow traditional vegetables next to conventional choices; families, seniors, and individuals grow everything from flowers to corn and melons, and now resident bees are on hand to fertilize blossoms throughout the season.
By partnering with many other organizations, Bradner Park offers demonstrations, classes, and seminars for aspiring gardeners of all ages. A spring plant sale brings in funds to help maintain the gardens, and an annual harvest picnic and festival celebrates the end of the season.
Good leadership, good partnership, and many willing hands have made this city park and community garden a model for other neighborhoods and other cities.
Grow Your Own
Local food production will ensure access to good food as the cost of transportation goes up and imported food becomes more and more expensive. Food security begins at home – literally.
Get out your trowel, get your hands dirty, and plant a home garden, a community garden plot, or a balcony pot!
________________________________________
More Reading
The P-Patch Program: Managing Seattle's Community Gardens One Plot at a Time, Amy Parente, 2008