Editor's Note: Lea is taking medical leave for eye surgery, so the Voices From the Farm will be quiet for a while. We wish her the very best. She'll be back in the fall to tell us more stories about the farm.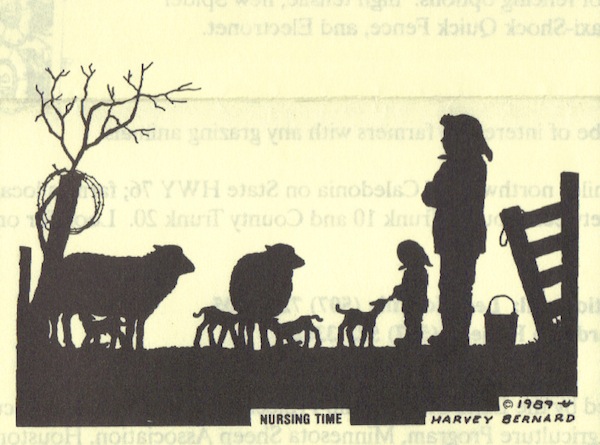 (1971 – February)
What a winter that was! Five days after Sean's birth, when we were about to be released from the hospital, we'd had another blizzard. This time, we were "snowed out!" We had to delay our departure until Jerry could get the Highway Department's big snow blower out  to open our driveway. It was drifted in and packed so hard that even the big grader and plow could not get through.
When we finally did get home, it was like a totally different landscape, as all the familiar landmarks had been obscured. There were drifts higher than our heads everywhere. Our VW was completely covered by a huge drift, the only part visible was the tip of the radio antenna. When Jerry finally dug it out, the drift was two feet over the top and ten feet out over the front end.
Our Jeep had not been of much use for plowing snow, except for very early in the winter, as it was just not heavy enough. But it nevertheless served a purpose, as it was possible to drive it on top of the hard packed drifts and get out our driveway, so it got Jerry to work at times when there was nothing available to open the road.
Sean was an angelic baby for two weeks… too angelic! He just wanted to sleep all the time. I was trying to breast feed him but he was so sleepy we could hardly rouse him long enough to nurse. This was not good for my milk supply either, which had not been great to start with.
He had lost nearly a pound of his birth weight during our hospital stay, and the pediatrician said I would have to start supplementing with formula, and weigh him every day to make sure he was gaining, not losing weight. Even so, although he was gaining, it was oh, so slow, and worrisome! At his six week check up, he was only nine and one half ounces above his birth weight. Finally, he got hungry, but then he ate too fast, just gulping down his formula, and developed colic.
However, he thrived in spite of it, and once he reached five and a half months, he could begin to tolerate some solid food, and then he really took off, became a happy baby. And life became quite a lot easier!
The apple picking had paid off! With a new baby, and all the diapers, etc., to be washed, the new automatic washer was almost as big a blessing as the new and improved phone system had been at the time of Sean's birth!.
Lambing time that year was traumatic, and although there were lambs, we lost several that should have been saved, but I could not be out in the barn as much as I usually was at that time.
Gardening was somewhat the same story. Although we had gardens, they were not up to our usual standards. The saving grace was that our young orchard was doing very well, and was bearing fruit. There were four apple trees, two pear, two plum, two cherry trees, and one apricot. We had a great fruit harvest, and canned lots of apple and pear sauce, made plum preserves, and froze a large amount of cherries and apples for winter pie making!
Lisa had a couple bouts of stomach ache in August, which led me to suspect appendicitis. Our doctor did not confirm it at the time, but when it occurred again shortly, he decided to admit her to the hospital for a few days of observation. She had no symptoms during that time, so again it was passed over as just a probable stomach upset.
School started, and in mid-September, she became very sick after eating the school lunch one day.  She asked her teacher to let her go home, but the teacher thought it was just indigestion from the lasagna, and that school would be let out in less than two hours, so she could wait that long.  She was quite sick when she got home.
There was 'flu going around at the time and I thought that was what it was. Since the hospital stay and the doctor's opinion was that she did not have appendicitis, I was not thinking along that line. But after she spent a very miserable night, I took her back to the doctor.
After an intolerable wait in the doctor's office, while I pleaded with the totally unsympathetic receptionist to please get us in quickly, she finally was examined. The verdict was that it was either a blocked bowel or a ruptured appendix, and he sent us to LaCrosse.
Of course, by the time we got to the hospital in La Crosse, it was indeed a ruptured appendix, and she underwent emergency surgery as quickly as they could prepare her. It was a long, harrowing wait while the surgery was in process, and it was a tremendous relief when the doctor said she had come through the surgery well, and they thought she would be fine.  However, he warned us that there was still a possibility of peritonitis occurring from the rupture, although they  had cleaned  it up as well as possible, but we would just have to wait and see how that went. So we waited, hoping and praying that wouldn't happen,
Lisa was healing up, doing well and, after a week, was released from the hospital. She was so happy to get home, and had to go and commune with her pony, and sit on him, although she was not allowed to ride him yet, doctor's orders.
We were so glad to have her home again, but during the night she woke up with severe pain, and we had to rush her back to the hospital. She had developed a pelvic abscess and they would have to wait about 4 days before they could open and drain it.  So again, she had to endure a lot of pain, and again we had to anxiously wait.
She was very sick, and could not eat or drink, so had to be fed intravenously. She had lost so much weight, and her veins were so small that the nurses had a terrible time getting the needle into a vein. Her arms would puff up and swell, and they would have to change the needles again. They finally resorted to inserting the needle into a vein in her foot. The poor little kid really had an ordeal, and it was not too easy on Mom and Dad either.
The doctor thought they would have to open her up again to clean up the abscess, but thankfully, they found a way to drain it without further surgery. What a great relief!
She recovered quite rapidly and after another week we were able to bring her home again.  She was an awfully good, brave girl through it all. It was a hard time for all of us, but thanks to a wonderful doctor, caring nurses, and the kindness of many people, we got through it.
Lisa was planning "thank you" letters, but  after missing nearly a month of school, she had a lot of homework to catch up on, so that had to come first. However, she had written a thank you letter to her nurses and it was lying on the desk shelf waiting to be mailed.
Sean by now was nearly 9 months old, was pulling himself up by whatever means presented itself and on the verge of walking. So of course, he was able to reach her letter, and he ate it… or at least chewed on it enough to mangle it.
So it goes! One step ahead, and two back!