July 1967 (continued)
Once again, we ride out the storm, it's a rough ride, but I stay in the saddle, the sheep stay on the farm, and all is not lost! The rams, however, are locked in the ram pen in the lower barn, pending their sale within a month or so.
Some time prior to the runaway sheep episode, a young sheep producer had expressed an interest in buying Hercules, whenever I was ready to sell him. So, as the nights began to cool, and the ewes began to cycle, I gave him a call, in case he wanted to breed for early lambs. He did, and shortly came and bought Hercules. I was going to miss Hercules, he had been a good ram, (except for the recent hi-jacking of my flock), and a very gentle ram. But now, I needed to get a new ram, and add to the flock's bloodlines.
I had decided I would look for a Columbia ram to add a bit more size to the lambs we produced. We would still keep our good wool, as the Columbia breed also sheared a good fleece, though not quite as heavy as the Corriedales. The crossing of our ewes with a Columbia ram should result in both a flock with good wool, and lambs with excellent carcasses. Since I was not going to breed our ewes until November, I was in no hurry to get another ram, however, I began scanning the livestock ads in the Ag newspapers.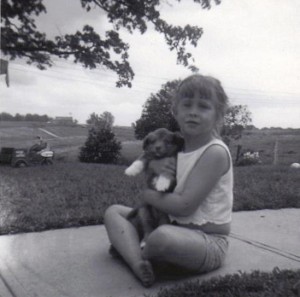 As July drew to a close, Tatters' puppies began going to their new homes. All four of them went to local people, so we were kept abreast of their progress. "Chocolate" went to the farm that Hercules had come from during our first year on the farm. This was also the farm that the sheep were headed for in their escape.
Now, with Hercules gone, and the puppies gone, our menagerie was shrinking again, but we still had four dogs… Missy, Tushka, Grey Brother, and Tatters, and that was enough! At that point we also had Tatters spayed. Again, the old phrase, "No more puppies," but this time I really meant it!
In early August I advertised the two yearling rams, Seth and Little Bit, for sale, and by the end of the month both had been sold. This left Mama's bottle lamb of the Spring as the only ram, but he was only four months old, so would likely be sold later in the fall. He was still on pasture with the ewe lambs, but in another few weeks he would be put in the ram pen, so we would not have to worry about our ewe lambs being bred too early.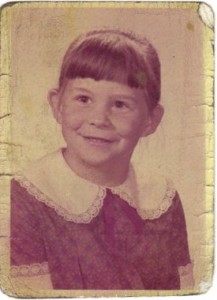 September brought a big change in our lives when Lisa went off to kindergarten! She absolutely loved it! I was a little concerned that with her advanced reading ability, she might be bored, but her teacher let her read stories to the other children, and with all the activities that went on, she was well occupied. Also that month, I found my Columbia ram within forty miles of home, a nice two year old at a pretty decent price. And best of all, he was delivered, so I didn't have to worry about hauling him. Of course, he had to go into the ram pen until breeding time.
The mad season of harvesting, canning, and freezing the produce from our summer's garden was over, all the jars were filled, as well as the freezer. Now, I could focus my attention on something I loved to do… planting spring bulbs! I put in over 100 bulbs of tulips, daffodils, Dutch iris, hyacinths, and crocus. Then I divided and replanted some perennials, such as peonies, daylilies, and dictamnus, commonly known as "gas plant," since the strong odor of its foliage is said to sometimes ignite if a match is placed to it. I had never yet tested that theory, but maybe the next spring!
In early November the new ram, dubbed Rambeau, was turned out with the ewes. If all the young ewes conceive, we could have eight ewes lambing in the spring… Mama, Sure to Go, Sheba, Sabrina, Snicklefritz, Lambkins, Hopscotch, and Butterscotch. Could be a busy spring!