(January, 1969)
We now had a cat again! The neighbor kids brought him to us during the Christmas and New Years vacation, so we had all been enjoying him. He was not, however, a cuddly kitten, but a big grey fellow, who looked like he was of the Russian Blue breed… very beautiful, but independent! We decided not to jinx him by calling him "Cricket;" instead, we just called him "Cat."
Opie was a constant worry; he was determined to run over anything that moved. The holiday from school was a nice break with dealing with him on a daily basis, but as soon as vacation was over, it was back to meeting Lisa at the gate every afternoon, bat in hand. We wondered if he might have had a high fever when he was affected with founder, and that perhaps that could have caused changes to his brain and the change in behavior.
Whatever, he was certainly a problem. We could not put him in with the sheep, as he would trample and kill them, or maim them. The dogs knew how to watch out for him, except for Missy, who had already had a close call with him, and also Tatters, but they both were usually in the house during the winter.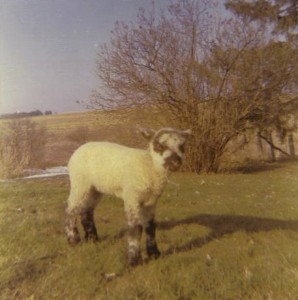 Due to Rambeau busting out of his pen last October,  lambing started in March, which was not a good thing. Sure to Go lambed during a cold March night and had twin ewe lambs. In the morning the larger one was alright, but the small, weak one, was wet, cold, and stiff. I thought she was dead, and she very nearly was, but I brought her to the house, warmed her in the oven, and got a drop or two of glycerine into her.
I went to the barn and milked some colostrum from Sure to Go, came in and got a few drops of that into her with an eye dropper. She still laid there like she was not going to make it, until about 4:00 pm. She moved just a little, and soon after that she nursed a little colostrum from a bottle, and then was trying to stand up on her wobbly legs. From then on she was okay.
She was so ugly, she was cute! Little and bony, with a black band in back of her ears, one between them, and another across her eyes. As she began to grow these faded to gray, and she was so cute and playful. She would scamper after us just like a puppy.  We named her "Happy."  Sure to Go's other lamb was called "Sleepy."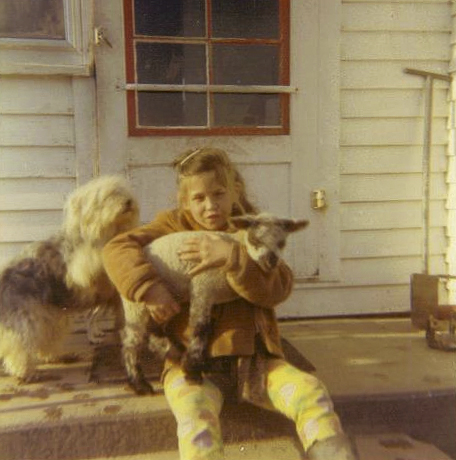 Lambing season was not great that spring, we only had 7 surviving lambs, 4 rams and 3 ewes, Sure to Go's twins, Happy and Sleepy, and Sheba's single, "Snowhite." Mama had triplets again – 2 rams and 1 ewe – but the ewe lamb did not survive. Lambkins and Snicklefritz both had single ram lambs.
Jerry's welding business had grown to the point that he was also manufacturing milk handling systems. As that grew, he took in a brother-in-law as a partner who handled sales and deliveries, while Jerrry was the welder/fabricator. Their company was called "MacLoc" after McEvilly and Lockhart. I was their bookkeeper for  6 months, but that job was done in the late night hours, as my days were already too full. I was relieved when they finally felt they could afford a professional CPA.
MacLoc purchased their valves and other machined parts from a company in Kenosha, WI. Later, when that company's leased building was about to be sold, they persuaded the owner whose name was Klemp, to move to Caledonia and join their business. The new company was called KLM, after the initials of the 3 owners. Klemp was President; McEvilly, Vice-President; and Lockhart, Secretary/Treasurer. They still specialized in manufacturing milk handling systems for the dairy industry, but also branched out into machining stainless steel parts, bumpers and auxiliary gas tanks for motor homes, parts for tractor cabs, fabricating aluminum swimming pools, etc.
Jerry was very busy, and often working late hours. One night in mid April he had to leave the car at the end of our drive and walk in, due to spring "mud season," a yearly event in those days. It was dark of course, and as he came into the barnyard and passed by the windmill, the pump jack was running, so he did not hear anything else.
He suddenly sensed something behind him, and in the dim light cast by the yard light, there was Opie with his front hooves just about to come down on Jerry. He escaped injury luckily, but after that incident he agreed that Opie WAS a dangerous animal. However, until we could decide what was to be done with him, Opie was still here, temporarily.
One morning the following week, Jerry had gone to work, Lisa was not feeling well, so had stayed home from school. I had fed the cat and the dogs, then fed Happy her bottle, and put her out in the yard for a little while. About 9:00 am, I got a phone call from KLM, there had been an accident, Jerry was hurt and had been taken to the local hospital. A metal saw blade had busted, a piece had hit him in the fatty underside of his thigh, cutting it to the bone.
I was still shaking from the news, when the dogs began barking and went charging out in the driveway. Two men from the shop were bringing the VW home so I would have the car. I had forgotten about putting Happy out, and she had gone under the fence and was following the dogs. Opie spied her, and when I looked out the window he was trampling her.
Lisa was looking out her bedroom window and saw the whole thing too, which made it all the worse! Poor little Happy never had a chance, she got up once and tried to hobble away toward the chicken house, but that fiendish horse ran at her and trampled her again.
I was running toward them, but I couldn't make it in time. She was still alive when I got to her, and I carried her to the house, but she died in just a couple minutes. Poor little broken thing, just a month old, and doing so good. I never could have forgiven Opie for that.
We sold Opie at the Sales Barn the next week, and we were all relieved he was gone. It was sad that it had turned out so badly, and Lisa had to lose her horse; but she couldn't even ride her bike out of the yard anymore. She had to be met at the gate every day when she came home from school, so it was just no good!