(July 1968)
While our friends were here, I had let a lot of the usual tasks slide, and now it didn't seem possible that I would ever catch up again. Of course, the delivery of Lisa's horse added to the confusion. We didn't dare turn him loose yet, so he had to be staked out on a rope. The day after he came, I spent a very nerve wracking day while he was learning to graze while being staked out. As he moved around, the rope got looped around his hind feet, and in trying to get away from this scary thing sliding around him, he whirled around a few times, thereby getting tangled up on all four feet and being thrown.
I thought I would probably have a heart attack before the day was over, as I was here alone with him, and I had to go and untangle him. I was quite sure he would kick the living daylights out of me once he was untangled, as he was sure to be scared and panicky at this unexpected turn of events, but he stayed fairly calm and we got along alright. He did get some pretty fierce rope burns in the process of learning. Thankfully, he caught on quickly, and by the next day he no longer got tangled in the rope. He was a very nice little horse, and Lisa could ride him. We were not turning her loose on him yet though, somebody led him when she rode. He was only a yearling, still growing, and needed much training, as did she, but that would come, all in good time.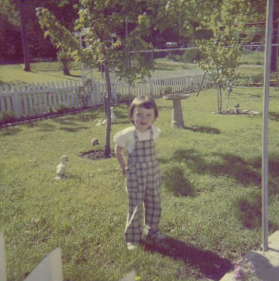 All the neglected projects were getting fairly well caught up, and we were settling back into our usual routine, when I got an early morning phone call from another friend in Milwaukee, with terrible news. Our friends had gone on their camping vacation, and after the first day at the lake, had been on their way to pick up some groceries, when they had a car accident.
Bob was driving, hit some loose gravel on the country road, lost control of the car and skidded sideways into a telephone pole. Bob and Stacia were not injured, but Debbie, who had been asleep on the rear seat, was killed. When the car impacted the pole it was on the side where Debbie's head was resting, and she was killed instantly.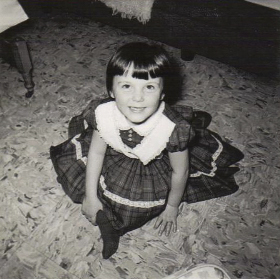 I was so shaken, I could hardly function, but somehow I pulled myself together, as best I could. I called Jerry at work to tell him what happened, then called the La Crosse railway station and found there was a train to Milwaukee at 1:45 p.m. I called my sister Lotus and arranged for Lisa to stay with their family while I was away.
Jerry came home and took Lisa to my sisters, while I tried to do whatever needed to be done so I could leave for a few days, then packed a few things and got myself ready to go. Jerry drove me to La Crosse to catch the train. He couldn't leave, as he would have to get someone to look after our animals while we were both gone, but he would come for the funeral.
Bob and Stacia had come home to Oak Creek, and Bob and his brother, Herb, met me at the Milwaukee train station, where we hugged and cried a lot. l had expected that Stacia, especially, would be all to pieces, but she was amazingly in control, and seeing to things that needed to be done. I think she was in the "eye of the storm' at that point… It was the worst thing I had ever had to go through, and it seemed like a nightmare. It still does, but time softens the blow. Jerry came for Debbie's funeral, and then we came home two days later. I kept thinking how Debbie had wanted to stay at the farm instead of going camping, and wishing she could have stayed, but one comes to realize that something could have happened to her there too.
There are no guarantees.