It's a fixed food fight!
Last Thursday (June 2), in her ongoing efforts to campaign against obesity in America, Michelle Obama unveiled a new, simpler visual image of what most American consumers need to be reminded of: what a healthful diet looks like on their plate. It's called MyPlate and here's a picture of it.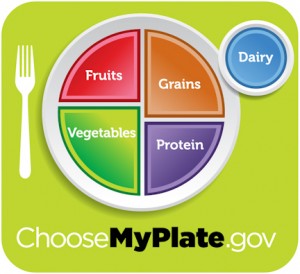 Woo Hoo, thank goodness we get it now. (That pyramid was way too confusing anyway.)
In a good effort to find the much needed  "make it easy for the public seeking to understand their magic bullet solution," the MyPlate IS a laudable upgrade, though insufficient. I've got a suggestion for some inventive entrepreneur: how about a smartphone app projecting holographic MyPlate images – Obi-Wan Kenobi style?  That way, it could be there for us whenever we need it (it may be our only hope), suggesting healthy foods for our more than one-a-day meal life: displaying the overlooked BreakfastPlate, the longed for LunchPlate, healthy snacks on the go, and then, the sit me down to the DinnerPlate.  We really need it to be there for us, especially when we hit the supermarket – our place of consumer confidence, where food manufacturers truly have our everyday American healthful interest at heart.
Meet the average American Supermarket/ NJ style: this is not a Costco or Walmart.
It is large, 18 aisles wide, each aisle 100' long and 6'-7' high. By comparison to the aisles, the perimeter contains a greater quantity of real food (more on the perimeter in future article) – produce, milks and dairy as well as deli, and packaged meats. In this supermarket, the health food section is appropriately contained in a good sized corner of the produce section. Apparently those who want fresh produce may also be open to healthier versions of familiar products like boxed cereals, soups, alternative milks from almond, hemp and soy, and organic poultry. All aisles are flanked with something delectable to pick up: Tasty Cakes, Root Beer, Performance Gatorade, Hungry Man Dinners & 4 Cheese Pizzas, Entenmann's Cakes, fixings for smores, and much, much more.
Aisles 1&2: Produce
Aisle 3: Bargain beverages. Excuse me, are these anti-freeze? Then Hawaiian punch half gallons of bright GREEN, RED, & ORANGE  S**T!
Aisle 4: Granola bars, Chinese food, tons of sweetened crap breakfast cereals
Aisle 5: Maple flavored corn syrups, coffee, cookies
Aisle 6: Spanish food, rice, beans and legumes, salt, spices, canned vegetables, pasta, tomato sauce (this is the best interior food aisle in the store)
Aisle 7: Cones/toppings, canned & bagged fish, lunch inventions, processed breads, Ramen noodles
Aisle 8: Oils, condiments, baking needs, cake mixes, lots of ready-made packaged, non refrigerated Jello and puddings
Aisle 9: Sports drinks, sodas, bar mixers, water
Aisle 10: Chips, popcorn and pretzels, candy
Aisle 11: Paper goods
Aisle 12: Cleaning products
Aisle 13: Pet food and pet supplies
Aisle 14 – 16: Seasonal/ including lots of yummy gummy summer candies
Aisle 17:  Baby food and baby needs
Aisle 18: Frozen vegetables and fruits, freezer boxed foods and snacks, and a 100' wall of just ice creams
Talk about sabotage. It seems like our best chance is to STAY OUT OF AN AVERAGE SUPERMARKET if we want a fighting chance to be healthy at all! Or at least get the average American to "shop the perimeter" of their supermarket, as Marion Nestle, Professor of Nutrition, Food Studies, and Public Health at New York University, so wisely recommended.
How do you learn to resist, trust, or differentiate all the boxed, processed, denatured, fatted, salted, sweetened, and preserved crap we're told has nutrients and vitamins, which will likely have on their labels "part of a MyPlate good meal"?
When's the last time you really took a look at what's on the shelves at your supermarket? If you're a Whole Foods shopper, it costs an absolute fortune, but it's real in most every aisle. You don't see supersized glow-in-the-dark drinks lining the shelves, triple-sized blue and green cupcakes mounded into gargantuan cheaper-by-the-dozen packs, or quadruple-sized party bag chips. Let's talk about teaching American companies proper portion size!
NOW LET'S GET REAL. Who can afford to consistently shop at Whole Foods? Very few Americans! And certainly not those greatest in need, who the MyPlate is poised to help! Those 31 million children who  rely on their public schools for breakfast and 11 million who do so for lunch are surely NOT going to Whole Foods to make up their MyPlate dinner. Michele Obama spoke to the fact that many urban and inner city dwellers don't have supermarkets within a mile of their homes. She's hoping to improve that situation.  Well, they had better be better than what I just reviewed because otherwise, they are a very LARGE part of what is WRONG WITH THIS COUNTRY and substantially adding to our health crises!
What's an American to do, Obi-Wan?
Hey, maybe we should lengthen the school day to include government funded MyPlate dinners as well?