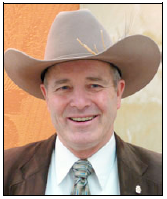 GoodFood World has named Bob Quinn, Kamut International, as a GoodFood Hero in recognition of his work with ancient grains, organic production, and improving the quality of the food we eat. He is now on a quest to develop a successful organic system for the northern Great Plains, working to create a model for growing small orchards and dry land vegetables in wheat country.
Decked out in his cowboy hat complete with a bunch of wheat heads tucked in the hat band, Bob Quinn looks every bit the part of a Montana grain farmer.
Behind that image, the soft-spoken Quinn is extremely well educated – a Masters degree in plant pathology and a Doctorate in plant biochemistry – and a successful entrepreneur who is marketing KAMUT® brand Khorasan wheat through his company, Kamut International.
We're talking good Montana stock here. His father Mack (who is over 90 and still helping with harvesting) and his mother, Dorothea, have been married more than 65 years. The next generation is in the wings; Bob and Ann (his wife of 40+ years) have raised 5 children on the family farm.
Starting with just a handful of grain, Kamut International now markets over 40 million pounds of grain grown on more than 40,000 acres across 150 organic farms in Montana, Alberta, Saskatchewan, and North Dakota.
It was early on that Bob realized vertical integration would mean success. He established a wheat buying/brokering company in 1983, to increase his earnings through direct marketing. When the demand was greater than he could supply, Quinn began buying and marketing wheat from his neighbors. Then in 1985, he built a flour mill 50 miles from the farm – Montana Flour and Grain Mill. He added a cleaning plant in 1992 to maintain complete control of quality and the timing of deliveries and sales.
With 70% of America's Midwestern agricultural land shifting to single crop corn or soybean farms, commodity farmers can survive only by producing maximum yields. With a great deal of ingenuity, the industrial food industry has turned these two crops into a continuous stream of processed and packaged foods to feed consumers many more calories than they actually need.
As Quinn regularly points out, "As a country, we are well-fed, but not well-nourished." Ancient grains such as KAMUT® brand khorasan, spelt, amaranth, quinoa, millet, and einkorn are prime examples of foods consumers can revert back to in order to gain health benefits that modern grains no longer contain.
According to the USDA, in 2009, 93% of soy, 93% of cotton, and 86% of corn grown in the U.S. were GMO. It is estimated that over 90% of canola grown is GMO, and there are also commercially produced GM varieties of sugar beets, squash and Hawaiian papaya. As a result, it is estimated that GMOs are now present in more than 80% of packaged products in the average U.S. or Canadian grocery store.
While GMO wheat is not on the market in the U.S., it may not be far off. Australia is in the middle of secret trials of genetically modified wheat and barley. KAMUT® brand products are organic and contain no genetically modified organisms and Bob Quinn has enrolled Kamut International in the Non-GMO project. He views this move as a positive statement against the spread of genetic modification in our food.
We tip our hat to Bob Quinn, Kamut International, his family, and the 150 farmers growing organic KAMUT brand khorasan wheat!