Our menagerie was down to only one dog and a canary, after our beloved old fox terrier, Zip, was run over in the summer. That was a very sad day for us. We had had her for over 15 years, and she had traveled with us all the years that Jerry was welding on water towers.
She always hated to travel, and of course as soon as one job was finished we moved on to the next, and poor Zip "shed and shook" through every trip. We traveled all over IL, IN, KY, OH, MI , WI, MN, KS, NE, as well as brief stints in Puerto Rico and Haiti. With the exception of the last two, Zip made every move.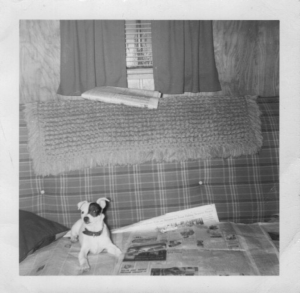 Once we had reached our destination and started unpacking the trailer and putting things back to normal, she was such a happy dog. She showed her joy by jumping on the sofa and kicking with her hind legs until she stood on her head. It was her way of celebrating the end of another trip!
We too, had enough of traveling and, finally, in 1960 we bought some wooded bluffs along the Mississippi, near Brownsville. We drilled a well, moved our trailer onto the land, and settled in. The long travels were over!
Zip was one happy dog! She and Missy were free to run as much as they wanted, after having been walked on a leash for so many years. The dogs and I tramped around the hills every day. It was a happy time for all of us and, a couple years later, it was made even more happy when our daughter, Lisa, was born January 12, 1962… on her Dad's 39th Birthday!
That, however, marked a big change in our lives! Jerry had started his welding shop in Caledonia a few months prior to this, and we found we were rapidly outgrowing our 40′ mobile home after Lisa was born. When she was 9 months old we had a chance to trade the trailer for a small house in Caledonia and we moved to town.
One more move! And oh, how I hated living in town! We lived there for just over two years, but we were looking for a farm the whole time. When we found ours in January of ' 65, and moved there in May, our travels were truly over.
Zip was finally really home, no more moves! But she was quite deaf by then and rarely barked anymore. Her sight was failing too, but she still enjoyed life and was frisky as ever. One day I had been to the laundromat in Caledonia, and brought the wet clothes home to dry on the clothesline. I was in the process of hanging the clothes and had left the VW's door open, as I had another basket of clothes in there.
For some strange reason, Zip, who never willingly got into a car, had climbed in and was asleep in the drivers' seat. I saw a car turn into our driveway, and noted they were driving much too fast for our road. I never thought of Zip sleeping in the VW, until Missy, who had taken over the barking when Zip became deaf, ran out past the VW barking as the oncoming car approached the yard. The barking was apparently just loud enough to rouse Zip and she jumped out of the car and ran out in the drive.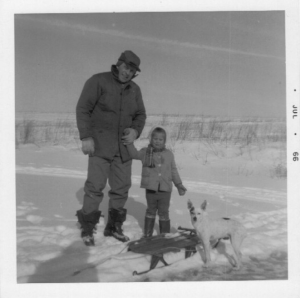 I could see what was going to happen if the car did not slow down. I was running, but I couldn't get there fast enough. They did not slow down, despite the two small dogs in the drive. Missy got off the road, but Zip never saw them until it was too late. Though she turned and tried to get out of the way, they hit her. By the time I reached her she was dying. I was fighting back the tears as I held my dying old dog. These people, who were some from our past that we had never cared much for and certainly had not been hoping to see again, were babbling about their whirlwind trip around the country; and how they knew so many people, they never had to spend a night in a motel, etc., etc.
I was so distraught, not much of this was sinking in. I was carrying my dog and starting to go into the yard when I saw my sister Greta's car coming in the driveway. As soon as she found out what had happened, she went back to town to tell Jerry, who came right home and, like I, was very upset.
When I heard the woman say, "Well, it's only a dog," that was it! Jerry asked them to please leave. They did. I don't know if they found someone else to sponge off or if they had to, at long last, spend the night in a motel.
We sadly buried Zip under the mulberry tree at the top of the backyard flower garden. Our grief compounded when Missy sat on Zips' grave and would not eat for two days.
During the fall, a neighbor stopped by with a basketful of fluffy orange kittens. As soon as Lisa saw these, we acquired a kitten, which she duly named "Cricket." Jerry suggested, "Tiger Lily," and I, "Sassafrass," but Lisa settled it by simply stating, "some cats are called Cricket," and that was that.
Not long after that, Greta rescued a beautiful white Samoyed dog from a backyard kennel in town. The dog had been left alone all day, barked continuously, and the barking was causing a problem with neighbors.
Since Greta was living right on a busy highway, and was gone all day at work, she asked if we could keep "Lady" until the spring, when Greta and Bill, her husband, would be moving to a farm. I told her I would keep the dog, but warned her that if we kept her that long, we would be so attached to her it would be very hard to give her up.
Of course, in no time, Lisa was calling Lady, "my dog," and Lady and Cricket were great pals. They played together and their antics provided us with lots of laughter.
As it turned out, Greta had a female dachshund, and found a male to breed her to, so they were expecting puppies and would be well supplied with dogs, and we could keep Lady.