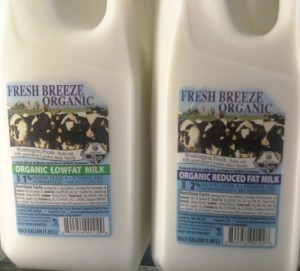 Snuggled up against the Canadian border in northern Washington, you'll find Fresh Breeze Organic Dairy, where Shawn and Clarissa Langley are carrying on the family tradition. Shawn is the fifth generation of his family on the farm.
Fresh Breeze milks about about 250 cows, and Shawn pastures them and another 200 or so calves and heifers on fields of organically grown grasses, forbs, and legumes. He also feeds them organic corn he raises.
The dairy is not only USDA Organic Certified, it is also certified Salmon Safe.
Fresh Breeze Organic Dairy also separates, vat pasteurizes, and homogenizes the milk and then bottles it in their own dairy. If you are looking for a real treat, get some of the whole, non-homogenized, "cream on the top" milk in a glass bottle. Or pick up a pint of whipping cream in one of the dairy's special glass bottles that are almost too cute to return for the deposit.
The following products are available:
Whole Milk
2% Reduced Fat Milk
1% Lowfat Milk
Fat Free Milk
Half & Half
Heavy Whipping Cream
Chocolate Milk
Eggnog – Made with real eggs and organic cane sugar
Where to buy Fresh Breeze Organic Milk in Seattle:
Ballard Market
Central Co-op
Greenwood Market
PCC Natural Markets
Pike Place Market Creamery
Whole Foods Market – in returnable glass (cream on top) bottles