Most of our first winter on the farm was spent doing projects there was no time for during the busy spring and summer.
We put together more bluebird houses for our bluebird trail and built three large bookcases. The shelving came from butternut lumber we had harvested from our woodland near Brownsville and was supported by bricks we gleaned from the La Crosse, WI, dump, after the city tore up their old brick streets.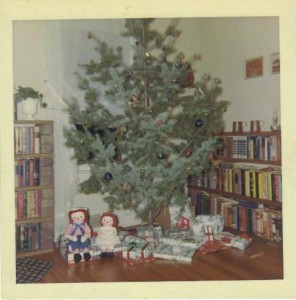 We had hauled home two big truckloads of beautiful bricks, weighing 12 lbs. each, and costing us 2 cents apiece. Some of them also soon became a patio for the south side of our house and, some years later, others became part of our south facing sunroom.
Sunflowers had been planted all around the edges of our big vegetable garden in the summer and in the fall we harvested the heads. Lisa and I shelled these and got 15 pounds of seed. There would have been more, but we had a very wet fall and many of the heads shattered so the seed was lost. Nevertheless, we had enough; and combined with chick scratch and some whole corn, it would feed the birds at our feeders during the winter.
We also hung up some wire hangers filled with suet. Watching the constant parade of birds at the feeders was a great winter pastime. We had chickadees, nuthatches, cardinals, blue jays, juncos, 3 types of woodpeckers, and small flocks of goldfinches and redpolls. We even had pheasants – 3 hens and 4 roosters – that came frequently to eat underneath the feeders.
On quiet winter days, we often hiked to the pond at the back of our farm, where we would see huge flocks of redpolls and goldfinches feeding on seeds from the weeds that grew around the edges of the pond. There were often 60 or more birds in these flocks, and when in flight they were usually singing merrily.
Most winter evenings, I worked on a braided wool rug for the living room that ultimately became a 6′ X 9′ cozy addition to the room and complemented the butternut and brick bookcases. So the winter passed quite pleasantly, although there were times when, with our long driveway, we were snowed in.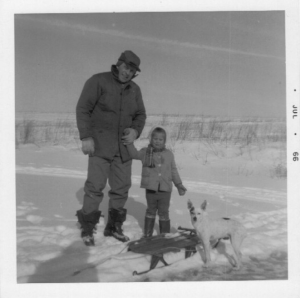 Since neither Jerry nor I were punching a time clock, and Lisa was not yet in school, it did not cause us much of a problem. If we really needed to get out, we could hire a neighbor with a tractor and snowplow to come and open our road.
Our larder was full of canned and frozen fruits and veggies, and our cool basement held several large buckets full of carrots and winter radishes packed in sand. There was also a bin for potatoes and a container of savoy cabbage, which kept well into mid January.
There were strings of dried onions, and more winter squash than we could ever possibly eat. Even though we had loaded up the back seat of our VW Beetle with more than 90 squash, took them to town, and sold them at a one day farmer's market in the fall. The money from this endeavor went into my "fencing fund."
I knew, since our sheep flock would be increasing, we would need at least one more fence built so we could keep our sheep in the "Orchard Pasture" and out of the young windbreak trees.
Lisa and I started the fund the previous summer, after my fence was built, by selling Fuller Brush products door to door. Nearly every morning, the two of us would get in our VW and traverse the town and countryside for a few hours, selling our wares. We did quite well at this and the earnings went into the fencing fund – except, of course – for an occasional ice cream treat for ourselves. I did not intend to build any more fences, if I could avoid it. I would have enough money to hire the job done!