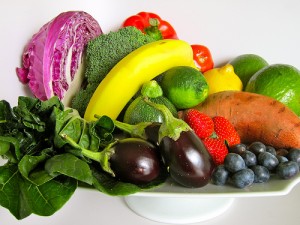 I remember back to a comical conversation I had at lunch with a handful of Massage Therapy students, some 25 years ago. We were discussing various food styles: macrobiotic, vegetarian, vegan.
My friend Dawn said, "I have an Aunt who thinks that the epitome of healthy eating is following the principles of the color wheel – my plate should look like a balanced painting, with each food/color represented by its opposite on the color wheel," laughing hysterically as if it was the most lunatic advice anyone could ever give. Go figure.
Her Aunt Sadie was ahead of her time – or just naturally in sync with eating whole natural foods because, lo and behold, March is National Nutrition Month and it's the essence of this months' theme: "Eat Right with Color."
I just wish it were called – National REAL Food Month instead. You see, REAL food implies a very different meaning than nutrition to me, and I feel it is more than just nuance. Nutrition, while an aspect of food, remains a subset of it – an extraction, or quality of it. It is clinical, scientific, calculated, measured, distilled, quantified and separated. It exists in fiber content, minerals and vitamins, and sexier ingredients like Omega 3's and phytochemicals.
Some of it can also be easily added back to NON FOODS/JUNK FOOD – those processed, denatured, boxed, artificially colored, sweetened, stripped and enriched, easy to make, often happy and healthy looking depicted creations of modern manufacturing we find in freezer sections, non refrigerated grocery aisles, and fast food restaurants – making us think we are eating healthy real food.
REAL food on the other hand, evokes that which is whole, unprocessed, natural, essential and complete. If I look to the natural world I am stunned by its beauty, diversity and color. So too with the FOOD kingdom, particularly the plant world, comprised of vegetables, fruits, beans, nuts and legumes. They are as magnificent as flowers; colorful, fragrant, diverse, and unique.
Unfortunately it's not enough to just bring the word FOOD back to the lexicon of healthy choice, wellness and wholeness. While I stand "in defense of FOOD," along with Michael Pollan, and thank him for his gem of a book (In Defense of Food), these days we have to constantly qualify FOOD as the real or junk variety. Both can come packed with color!
If we eat real food, in decent variety, we will naturally, effortlessly, "eat right with color." It's a no brainer. Let's take it a step further. Have you noticed that in a temperate climate (I live in New Jersey) there are changes in color depending upon the dominance of which local/regional fruits and vegetables are in season – creating a natural shifting color palate through the seasons?
Autumn for me is punctuated by bold orange colored foods. They evoke sun, warmth and vibrancy. I'm speaking of garnet yams, squashes of every variety, and of course, pumpkins. Spring's personality is dominated with tender green for sprouts and baby leaves, snap peas, shelling peas, asparagus. Summer is vibrant and diverse – a Fauvist's delight, colorful berries abound with fruits and veggies galore. You get the picture.
Here's a question: Why is it that some people recognize food to be whole, natural and unprocessed, and others have no clue or care about this? How do we become desirous of eating a predominance of whole, minimally processed, natural foods that include a wide variety of fruits and vegetable, legumes and beans? Exposure, awareness, more exposure, and more awareness helps, but may not be enough.
It's important to spend regular time out of doors, in parks or nature, in order to connect with the natural world and its rhythms. It's vital to connect deeply with your body, in some consistent way daily, or frequently through exercise, meditation, simply walking, Yoga, Tai Chi, etc. That way the desire to care for it and not violate or abuse its natural integrity becomes inherent.
It is wonderful to grow a few edible plants, see them as FOOD, watch their growing cycle, harvest the food and eat it. Go to the supermarket produce isle and look around at the variety of choice for fruits and vegetables and marvel at their beauty and vibrancy. Employ mindful eating – LOOK at what you are about to eat. Really taste it, and become aware of the difference in taste to over salted, fried, and sugary foods verses a clean piece of fruit, a carrot or piece of crunchy red pepper.
Eat whole and unprocessed foods that are colorful, this month and every month – and don't worry – the nutritional benefits are automatically included.
Photo credit: joannova, used with permission under Creative Commons license.