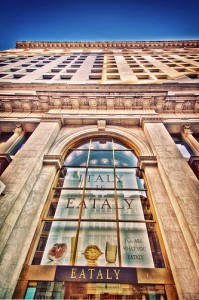 What ever happened to good old fashioned grocery shopping?
Grist's Wayne Curtis looks at New York City's Eataly as a reinvention of the supermarket. Is it "Dean and DeLuca meets Whole Foods – on steroids" or is it the supermarket as Disneyland – for adults? Actually it's more like the supermarket goes Vegas!
Eataly attempts to translate the concept of Slow Food into slow shopping without the consideration of local small farmers and producers. Curtis describes it this way:
"[O]nce I slowed down and enjoyed the village sensibility, something seemed amiss. It was celebration of a place – but a place thousands of miles away, not this place." Too much Italy and too little New York state farm production…
Photo credit: Samantha Decker, used with permission under Creative Commons license.