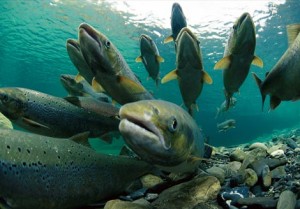 Vancouver had a huge fall run of sockeye salmon up the Frazer River last month; as many as 35 million returned inland to spawn. Who knows what the Chinook salmon run will look like in California?
According to The Bay Institute, San Francisco, preliminary counts of fall-run Chinook salmon returning to spawn in Central Valley rivers are encouraging, with this year's numbers well ahead of the record lows measured in the past two years. Said Institute's Executive Director and Chief Scientist, Dr. Christina Swanson:
Recovery of the species—and the valuable commercial and recreational fisheries it supports—will require stronger efforts to reverse damage caused by excessive water diversions, habitat loss and pollution to the river and San Francisco Bay habitats the fish need for spawning and rearing.
November and December are the best months to view wild salmon returning to spawn in California's rivers and streams.  The Bay Institute recently launched an updated online salmon viewing map, an interactive guidebook to the best locations to see salmon in the wild.  The map, along with links to other organizations leading salmon viewing walking tours and events, is available here.
The Bay Institute is the leader in protecting, restoring and inspiring conservation of San Francisco Bay and its watershed — from the Sierra to the sea. For nearly 30 years, The Bay Institute has been developing and leading model scientific research, habitat restoration, education and advocacy programs to preserve California's most important natural resource. Learn more at www.bay.org.