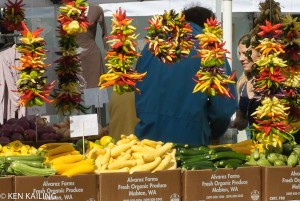 Alvarez Organic Farms is not your ordinary Yakima valley vegetable farm! After realizing that he couldn't compete in the market for the usual assortment of vegetables, Hilario Alvarez took steps that showed he was an intuitive marketing genius. How did he do it?
Step One – Be unique:
Alvarez Farms grows 200+ varieties of peppers, 50+ varieties of tomatoes, 20+ varieties of egg plant, 13 kinds of zucchini, and summer and winter squash, melons, and peanuts.
Step Two – Add value:
Offering produce at farmers markets – in the face of pretty tough competition – meant that a lot of Alvarez' peppers didn't sell. Rather than toos the peppers, Hilario and his family now produce rainbow-colored fresh pepper "rings and strings."
Step Three – Make it easy to buy:
Alvarez Farms sells at every farmers market within a 200-mile radius and will ship pepper rings and strings if requested through their website.
For more information go to Alvarez Farms Facebook page.