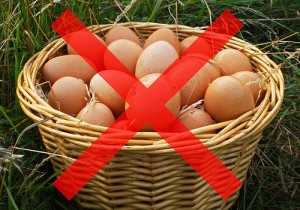 This time last year we were reeling from the recall of 550,000,000 eggs – that's more than one-half billion! We put all our eggs in one basket (bad pun intended) and someone dropped it, making nearly 2000 people sick. The culprit – Salmonella.
Those eggs came from two Iowa plants, just 100 miles apart, and were sent to markets in 17 states. That means that eggs from two producers went to more than one-third of the US.
If you've ever had food poisoning, you know that all those people have been made pretty miserable – and some have been put at serious risk – by the negligence of two companies.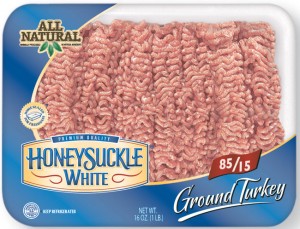 This week a single Cargill plant in Arkansas recalled 36,000,000 pounds of ground turkey. Cargill, by the way, is the third-largest turkey processor in the country. The turkey tested positive with a multi-drug resistant strain of Salmonella Heidelberg, a pathogen linked to at least 76 illnesses across the US and one death in California. Those reported illnesses occurred in 26 states – more than half the country.
The recalled meat came from a single processing facility, but ended up in dozens of different ground turkey products sold nationwide under a variety of brand names including Honeysuckle White, Shady Brook Farms, Riverside, Aldi's Fit and Active Fresh, Spartan, Giant Eagle, Kroger and Safeway.
The obvious questions that nobody is asking – or answering – are these:
Why are we shipping eggs from Iowa to markets in 17 states?
Why are we shipping ground turkey from one plant in Arkansas to stores in 26 different states?
Why are our distribution channels so convoluted?
Why indeed?
Sources:
Cargill Recalls 36 Million Pounds of Ground Turkey, Food Safety News, August 4, 2011
Cargill Recalls Ground Turkey Linked to Outbreak, New York Times, August 3, 2011
Cargill recalls ground turkey over salmonella fears, CBS News, August 4, 2011
The FDA's Egg Inspection Reports. Yuck! Food Politics, August 31, 2010
The Egg Factory, New York Times, August 29, 2010
Half-billion Eggs Recalled, Lawmakers Want Answers, Food Safety News, August 24, 2010
The Egg Recall Saga Continues, Food Politics, August 23, 2010
Photo credit: eggs – Mrs Logic, used with permission under Creative Commons license.