The Biblical story of Jacob and Esau and the lentil soup resonates with many as a story of human weakness and trickery, where a younger brother tricks a hungry older brother into selling him his firstborn birthright for a bowl of soup. But is it that simple?
Not according to Eli Gurevich, an independent researcher on Ancient Judaic Studies.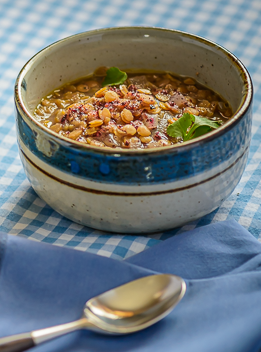 Prep time: approximately 1 hour
Cook time: approximately 1 hour; the multi-cooker will take 15 - 20 minutes to come to full pressure.
Serves 6
Ingredients
12 cups Water
5 - 6 ounces dried Sumac Berries (whole or chopped/crushed)
16 ounces Red Lentils, decorticated (skins removed)
1 Onion, large, chopped
2 tablespoons Olive Oil
2 teaspoons Sea Salt
2 teaspoons Black Pepper, coarsely ground
1 teaspoon Coriander, ground
Preparation Instructions (for Instant Pot or Foodie Ninja multi-cooker)
Heat water in a large pot on the stove, do not boil. The temperature of the water should reach about 150ºF.
Mix the sumac berries into the water. If you are using whole berries, make sure they are submerged. If you are using chopped/crushed berries, whisk them briskly into the water.
Let the berries soak in the water for at least 30 minutes. The water will turn red and take on the tart flavor of the sumac.
While the sumac is soaking, on low, sauté the chopped onion in the IP/NF pot in olive oil until the onions become golden brown, at least 15 minutes. Stir constantly. Leave the onions in the cooking pot.
Strain the water from the berries by pouring it through a fine strainer into a large bowl or second cooking pot.
Strain the water a second time to make sure that all the berry particles have been removed. If there is some sumac sediment left in the water, that's fine; discard the berry residue.
Add the sumac water to the onions in the IP/NF pot; stir in the lentils. You will need to stir them briskly as they will initially clump together.
Cover the multi-cooker and set the pressure seal to closed/locked. Cook for 25 minutes at high pressure; then let the steam pressure release naturally.
Uncover the cooker, add the salt, pepper, and coriander, and stir until well mixed.
Serve
Note: The taste of the soup will be a little spicy from the pepper and coriander and somewhat sour due to the sumac berries. If you prefer, you can reduce the amount of sumac berries or the amount of pepper and coriander to cut back on the spicy/sour taste.