Tacos are a favorite treat for children and teens every where - and don't forget the adults! How can you offer a tasty alternative that they will love as much as the traditional beef or chicken taco?
The easiest way is to make the lentil fulling just as you would the beef filling and finish with the same toppings. Easy peasy!
Taco Tuesday will still be your favorite quick meal for the whole family.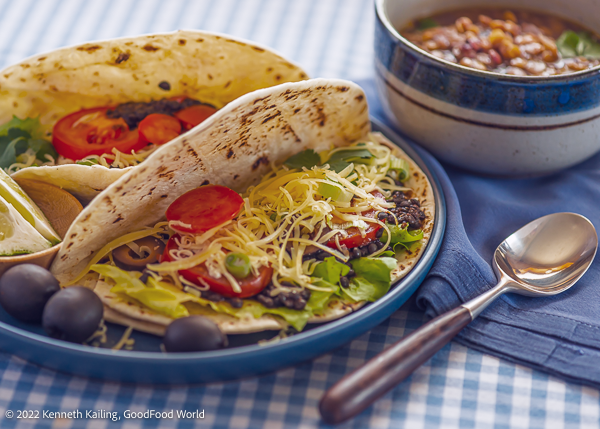 Prep time: approximately 15 minutes
Cook time: approximately 40 minutes
Serves 6
Ingredients
1 tsp safflower oil (we recommend oil from The Oil Barn)
1 medium onion, finely chopped
1 garlic clove, minced
1 cup dried lentils, rinsed (we recommend Timeless Natural Food® Black Beluga Lentils®, French Green Lentils, or Spanish Brown Lentils)
1 tbs chili powder
2 tsp ground cumin
1 tsp dried oregano
2-1/2 cups broth of your choice (vegetable, mushroom, or reduced-sodium chicken or beef)
12 taco shells (we like soft flour tacos rather than toasted corn tacos)
1-1/2 cups shredded lettuce
1 cup chopped fresh tomatoes
1 cup salsa
1 cup shredded cheese of your choice (cheddar is the usual cheese)
6 tbs guacamole, sour cream, or Greek yogurt (optional)
Preparation Instructions
In a large skillet, heat the oil over medium heat, add the onion and garlic, and sauté until tender.
Add lentils and seasonings; stir to blend, and cook for about a minute.
Add the broth, stir until completely mixed, and bring to a boil.
Reduce heat and simmer, covered, until lentils are tender. It will take about 25-30 minutes.
Cook, uncovered, until mixture is thickened, approximately 6-8 minutes, stirring occasionally.
Serve in the taco shells and top with remaining ingredients.