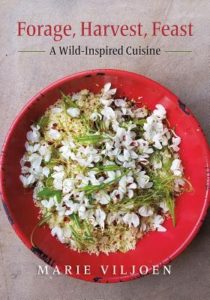 In this groundbreaking collection, celebrated New York City forager, cook, kitchen gardener, and writer Marie Viljoen incorporates wild ingredients into everyday menus and special occasion fare.
Motivated by a hunger for new flavors and working with thirty-six versatile wild plants―some increasingly found in farmers markets―she offers deliciously compelling recipes.
Forage, Harvest, Feast―featuring hundreds of color photographs as well as cultivation tips for plants easily grown at home―is destined to become a standard reference for any cook wanting to transform wildcrafted ingredients into exceptional dishes, spices, and drinks.
Eating wild food, Viljoen reminds us, is a radical act of remembering and honoring our shared heritage. Led by a quest for exceptional flavor and ecologically sound harvesting, she tames the feral kitchen, making it recognizable and welcoming to regular cooks.
Price: $15, Free Shipping, Used – Like New
Contact GoodFood World to buy this book.