Stand Together or Starve Alone: Unity and Chaos in the U.S. Food Movement, Mark Winne (Praeger, 2017)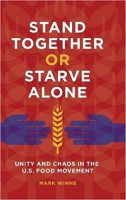 "The Food Movement" is a pretty big concept – it can incorporate anything and everything from farming and food production to distribution, marketing, and retail sales. Then toss in farmers markets, food co-ops, and CSAs (Community Supported Agriculture) and it's a topic that is hard to get your mind around. In Stand Together or Starve Alone, Mark Winne uses the term "food movement" as an over-arching concept, however he rounds it up into a more straightforward description: "Food Security."
The phrase "food security" is most often used to describe access to healthy food; as in "48 million people (14.3%) are considered 'food insecure' or have 'very low food security.'[1] " Actually, a broader discussion of food security should include access to healthy food, prevention of malnutrition (too little or too much to eat), and poor food quality food resulting from industrial agriculture and hyper-processing. At the local level, food security incorporates natural food co-ops, farmers markets, school lunches, and the food bank network.
The U.S. food system has been rapidly changing to include an increasing number of nontraditional grocery retailers, such as Walmart – with a 21.5 percent market share in the U.S. traditional grocery industry[2] – and continued growth and consolidation of supermarket chains like Kroger that has about 2800 stores across the US. These developments are changing the traditional relationship between retailers, wholesalers, and manufacturers.
The average supermarket carries 50,000 SKUs (shop keeping units) and about 50% of sales come from the "center store" – where processed and "hyper-processed" foods reign king.[3] These foods are intended to have a long shelf life and are generally much less nutrient-dense than fresh products like produce, meat, and dairy.
"The local food movement in the United States has evolved over the past 25 years, including a recent convergence with movements supporting food access and health, food justice, environment, food sovereignty, and racial equity. Many people who are active in these movements have come to understand local food through its connection and use of the term 'good food.' "[4]
Whether you call it the "food movement" or the more clearly defined term: "community food security system," you'll discover that the participants are members of groups ranging from non-profit organizations, government agencies, small businesses and large corporations, and individuals. There are essentially thousands of groups vying for funds, resources, and active members to develop programs and policies to improve access to – and quality of – food for all.
There are approximately 61,000 food banks, food pantries, and soup kitchens spread across the U.S., and yet food insecurity rates remain stagnant at best. "In the past two decades … food banks may have filled millions of hungry bellies—but they've done nothing to [change the status quo]. At the same time, they perpetuate a system that that rewards CEOs with six-figure salaries [and provide] corporate donors with billions in tax deductions, earned media, and reduced disposal fees."[5]
Agency personnel use power and administrative rule to direct policy. And private industry, particularly publicly-held companies, focus on "shareholder value" over healthful and nutritious food. The biggest challenge is that the 200-plus food banks in the U.S. are closely entwined with corporate America: 22% of the food bank boards of directors work for Fortune 1000 corporations and most often come from food-related businesses such as grocery, food processor, or food services.[6]
Despite their published noble intentions, many groups that are part of the food security system are battling over turf and funds. Non-profits with overt objectives to improve access to good food or reduce hunger, may have a hidden purpose to fund administrative overhead and support staff over program development.
Winne describes what could be the 4 Cs critical to successfully "herding the cats," managing group relationships, and achieving a strong supportive food security system:
Coordination
Cooperation
Collaboration
Communication
Throughout the book, the reader discovers that these four elements of partnering are the exception rather than the rule. And organizational competition is the more common practice. As a result, an enormous amount of energy has been expended and yet failed to achieve long-term, lasting, and comprehensive success.
Two things need to happen, from the author's perspective: collective cooperation and continuous communication. So simple, yet so difficult. The food movement – like the current political arena – is polarized and fragmented. So much so that some food advocates have even described the food movement as a "circular firing squad."
"With food insecurity and obesity rates remaining stubbornly high; with climate change approaching a nightmarish reality; and with our farmers struggling to achieve both financial and environmental sustainability, there is more work to do than ever before." Mark's recommendations are straightforward:
Food organizations, coalitions, councils, and initiatives must adopt a collective impact approach to their work.
A greater effort by all food system stakeholders – big and little, bad and good, rich and poor, pro and con – must be made to find common ground.
It is necessary to make explicit the commitment to addressing racial and economic inequality in all food system endeavors.
Effective and frequent communication between all stakeholders must become a stronger focus of all food movement actors.
Institutions big and small, live by their rules and the urge to preserve the status quo. They must cultivate their capacity to change so they can lead the charge.
All institutions and food movement coalitions across the country must begin to work for a "joined up" food and farm policy.
"Learning to stand and work together will easily be the hardest thing we will ever accomplish. But to do less will mean that the few will have more and the many will have less." (Mark Winne, Stand Together or Starve Alone.
All of this begins at the grassroots level. At GoodFood World, we are working with local and regional farmers, ranchers, and fishers; cooperating with our local food pantry; and supporting and encouraging small food-based businesses.
Standing together so we don't starve alone…
(Get your copy here. Indiebound will connect you with a bookseller online or on the street.)
---
Footnotes
[1] Stand Together or Starve Alone: Unity and Chaos in the U.S. Food Movement, Mark Winne, Praeger, 2018, p. 1.
[2] Wal-Mart regaining grocery share from competitors at 'accelerating rate', CNBC, accessed 4/23/18: https://www.cnbc.com/2017/05/24/wal-mart-regaining-grocery-share-from-competitors-at-accelerating-rate.html
[3] What Product Categories Generate Most Volume In A Grocery Store?, Forbes, accessed 4/23/18: https://www.forbes.com/sites/quora/2013/08/07/what-product-categories-generate-most-volume-in-a-grocery-store/#663c705c3d32
[4] The Local Food Movement: Setting the Stage for Good Food, Michigan State University Center for Regional Food Systems, 2014.
[5] Food banks feed people. Why don't they fight hunger?, The New Food Economy, accessed 4/23/18: https://newfoodeconomy.org/food-banks-hunger-board-members/
[6] Ibid.