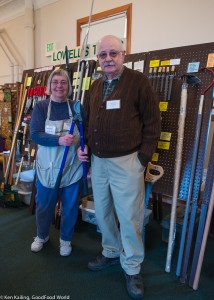 A couple of years ago, we had the pleasure of meeting Lowell and Sue Cordas, proprietors of Lowell's Tools. Let me tell you, that was the end of our purchasing "cheap" garden tools that seemed to wear out too soon, fall apart too fast, and generally provide poor service.
(Learn more about Lowell, Sue, and Lowell's tools in The Right Tool for the Job, published on GoodFood World, February 2013.)
It's going on February (thank goodness!) and the seed catalogs are starting to arrive. So while you're daydreaming about warm weather and your summer garden, it's time to think about the tools you will be using. Good tools make for easier work and you owe it to yourself to have the best. Our recommendation is that you check out Lowell's offerings.
We'd like to share the "annual note" from Lowell and Sue that arrived yesterday.
Dear Friends,

Here are a few things that we thought you might like to know about, this year:
1. This coming weekend marks the beginning of our show season with the Good Earth Show in Eugene. This is one of the most interesting shows that we do annually and is well worth a visit. And, parking is free as is admission although you are encouraged to bring a bag of groceries for the Lane County Food Bank.
2. We now have a good quality left-handed hand pruner made in Taiwan that sells for $35.95. It is similar to the Felco 9.
3. The Portland Yard, Garden and Patio Show has been canceled for this year. If you know of any indoor events this spring in the Portland area that might like our display, please let us know.
4. Our oldest grandson graduates High School the same weekend as Sorticulture which means that we will be in Los Angeles that weekend and not in Everett.
5. Our catalog has not changed much except for some price changes. If you would like a copy of our latest edition, please email us your request.
So far, our show lineup looks like this:
| | |
| --- | --- |
| Jan. 28 | Country Living Expo, Stanwood, WA |
| Feb. 18 | Small Farm Conference, Corvallis OR |
| Mar. 18-19 | Soroptomist Garden Show, Sequim, WA |
| May 6 | Douglas County Master Gardener Sale, Roseburg OR (tentative) |
| May 13 | The Inland Garden Expo, Spokane WA |
| May 20-21 | Grays Harbor Master Gardener Sale, Elma WA |
| Oct. 21-22 | All About Fruit Show, Canby, OR |
| Nov. 4 | Farm and Food Expo, Spokane, WA (mountain passes permitting) |
We will keep you informed as more shows are added (or subtracted) – just check our website.
Over the years we have accumulated a number of samples, odds and ends, and tools that just didn't sell well. Look for the colorful tags on our display, as they will be discounted for closeout.

Wishing you good health and happiness,

Lowell and Sue Cordas
Lowell's Tools
Save
Save
Save
Save
Save
Save
Save