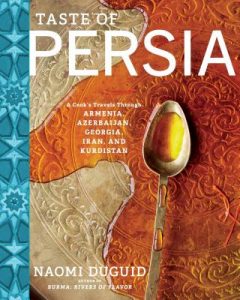 Taste of Persia: A Cook's Travels Through Armenia, Azerbaijan, Georgia, Iran, and Kurdistan, Naomi Duguid (Artisan Publishers, 2016)
"Persian foodways have had a huge impact on the rest of the world. The legacy of the Persian Empire includes apricots and bitter oranges, underground waterways and irrigation, ice cream… and the use of tart fruits in savory dishes. And wine making seems to have originated in what is present day Georgia or Armenia…"
Taste of Persia, Naomi Duguid
While the borders of Persian Empire advanced and receded over the centuries, today "Persia" is equated with Iran. With our world connections ever more fluid – and, at times, tense – now is a great time to explore traditional and contemporary dishes from Iran, Kurdistan, Armenia, Azerbaijan, and Georgia, all parts of the Persian Empire at one time or another.
Persian cuisine, says Naomi, is famous for its rice dishes, subtle and seductive soups, the artful use of pomegranate molasses, and its varied Kebab repertoire.
Work your way slowly through Taste of Persia, and you'll begin to recognize some themes. For example, the walnut and bean pâté harkens back to its cousin, hummus. Made with walnuts, garlic, kidney beans, olive oil, salt and pepper, and masses of chopped fresh herbs, it will inspire you to find new ways of making dips and spreads.
You'll be well prepared for just about any dish you'll come across if you keep your cabinet full of mint, fenugreek, the 5 Cs: cumin, cinnamon, cardamom, coriander, and cloves, pomegranates and pomegranate molasses, and nuts and seeds like walnuts, pistachios, and sesame seeds.
For someone who is a committed bread baker, as I am, the breads of Persia are so versatile and offer a full range of options from unleavened to yeast breads. Some are made with an assortment of herbs and spices, creating unique flavors. And all the recipes included are straightforward and not difficult to make.
Our world seems to be more and more fractured and confrontational, and food – making it and eating it — is one of the best ways to learn about and understand other cultures. Sample Duguid's recipes, enjoy her stories and photos, and begin to make connections with some of your favorite foods – ice cream, anyone? – and their origins in Iran and the Persian Empire.
Get your copy here. Indie Bound will connect you with an independent bookstore on the street or online.
Save
Save
Save
Save
Save
Save
Save
Save
Save
Save