Governor's Summit on Food and Agriculture, October 27-29, 2016, Bozeman MT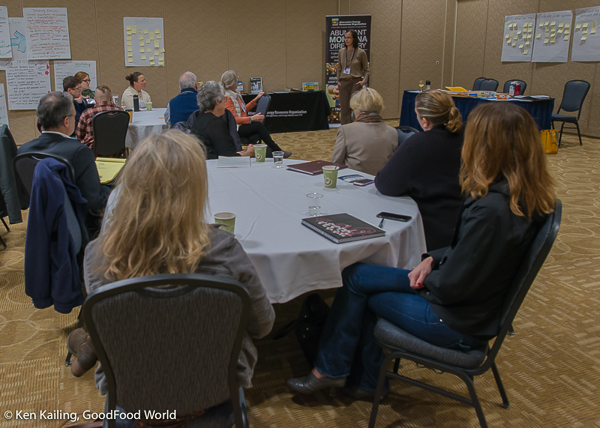 Hours of discussion in large groups and small to layout strategies and actions
for the future of food and ag in Montana.
The last week of October, heading into fall and Halloween, more than 200 people – from federal, state, county, city, and tribal agencies, Montana State University and the University of Montana, NGOs, food-related businesses, and farmers, ranchers, and producers – spent two days of intensive conversation outlining policy initiatives to be considered by the Montana State Legislature over the next decade to support, improve, and market Montana's food products within the state and around the globe.
The first Governor's Summit on Food and Ag was held in 2007, and nearly 10 years later, this Summit was convened to develop new strategies, proposals, and action plans to present to the Legislature for action.
Montana has a strong network of organizations who work closely with farmers/ranchers, food processors and manufacturers, and distributors to strengthen and improve the State's food systems. The largest segment represented was government agencies; the smallest segment was farmers, ranchers, and producers, and tribal members.
Participants were intensely focused and brought a wide range of unique skills and perspectives to multiple formal and informal discussions. Sitting elbow-to-elbow at meal times and sharing thoughts, ideas, plans, and strategies in hours-long work sessions, attendees created new friendships and built working relationships.
The purpose of the Summit was to develop proposed policies in five areas of the state's food system:
Challenges of Local Food Manufacturing and Processing: Examine the value-added food processing/manufacturing opportunities and how food entrepreneurship can create regional food economies for Montana.
Positive Economic and Health Benefits of Communities Becoming Markets for Local Food: Examine best practices for building relationships and networking between local producers and local institutions, along with examining what resources are still needed and what barriers still exist.
Supporting a New Generation of Farmers: Focus on to assist farmers and ranchers in gaining access to land, capital, markets, mentors, networks, and production education to be the most successful they can be.
Diversifying, Adapting and Planning for a Changing Environment: Look at how to make agriculture not only more resilient, but more predictable through incorporating diversity, including what Montana producers want and need to become more diverse and resilient in their businesses.
Marketing Montana Products – Growing Businesses and Distribution: Understand the policies, practices, and entities involved in scaling a food or agriculture business and how they can be strengthened, changed, or reinvented to support the growth of the food and agriculture sector in Montana.
Keynotes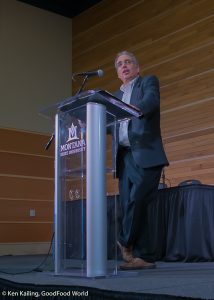 Keynote speakers author Michael Shuman and farmer/philosopher Fred Kirschenmann brought two very different perspectives to the Summit.
Shuman, an attorney and specialist in the development of small local businesses and communities to support them, talked about the value of "pollinator" businesses that spin out ideas and new businesses. He also explored a variety of alternative means to fund these small businesses.
Kirschenmann focused on the sustainability of our food system: "Fast, convenient, and cheap are no longer sustainable. This has to change."
Videos of the keynotes:
Michael Schuman – https://youtu.be/idnZ1uTLUHA
Fred Kirschenmann – https://youtu.be/ZttppBfy8lE
Take-aways from the Summit
Montana sends its best products away: the best wheat and the best beef is exported.
Food distribution is an important part of local food. The missing links are around aggregation, storage, and transportation.
Unfortunately, a lot of small companies are not "distributor-ready" – they don't have professional labels and packaging, sell sheets, info sheets, and marketing plans. And for some, the ability to get the product delivered ("Oops, I forgot your delivery…").
Institutional food service managers don't have to focus so much on the cost, but how much customers are willing to pay. In other words, market to the demographic and their values.
Chefs and food service managers can pay more for higher quality, nutrient-dense local food because there is less waste and the food provides better nutrition.
It's clear there is a huge need for sharing information. Who's doing what? What's going on? Many people were discovering for the first time the things that are going on in their space or sphere of interest.
---
Attend the Summit virtually here:
(Click on any image to start the slide show.)
Save