Before 1900, American shoppers purchased their groceries through a wide array of specialty shops and general stores. Meat was purchased from a butcher, fish from a fishmonger, bread from a baker, and produce from a vegetable stand.
Because most people arrived on foot, grocers needed to be close to their customers, so the stores were small and ubiquitous. They often delivered what was purchased and sold many goods on credit. (source: The Evolution of the Supermarket Industry: From A&P to Walmart, Paul B. Ellickson, University of Rochester, March 15, 2015)
Today there are 37,459 supermarkets operating in the U.S. and the average store now carries almost 44,000 products in roughly 46,500 square feet of space. (Ibid.)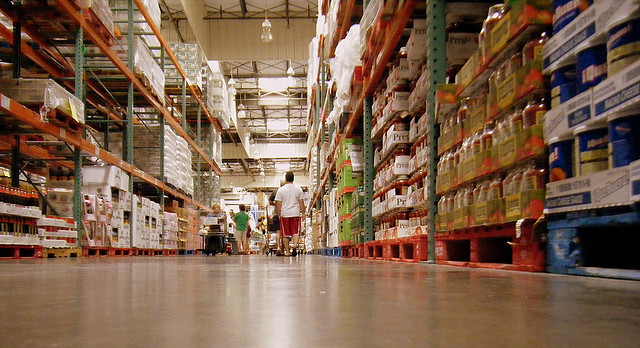 The Problem – To Drive or Not to Drive?
And what makes this all work? The car… after all, isn't nearly every major supermarket settled in the middle of a huge parking lot? And even the smaller stores are either near – or on top of – a parking lot. Who is going to lug purchases of 30 to 36 rolls of toilet paper, 11 pound cases of tomatoes, or a 40-pound bucket of white sugar home from Costco on the bus or on a bike?
And in Puget Sound, it is the car that is making this process NOT work! In fact, a recent report (March 2016) ranks Seattle as 6th worst in the US for traffic congestion, and drivers in Seattle spent 66 hours stuck in traffic last year, up 3 hours from 2014.
Traffic congestion aside, with all this abundance and choice available in the modern supermarket, why is it that today's consumer is dissatisfied with the chore of food shopping? More than half of consumers surveyed by Consumer Reports complained of too few open checkouts, and from just under 1/5 to just over 1/3 had complaints about the physical stores, store employees, and their product offerings.
| | |
| --- | --- |
| Problem | Percent |
| Too few open checkouts | 57% |
| Congested aisles | 35% |
| Too few choices | 30% |
| Uninformed or indifferent staff | 30% |
| Out of stock on advertised specials | 24% |
| Out of stock on basic, non-sale items | 23% |
| Poor selection of locally-produced products | 19% |
| Inadequate parking | 19% |
The Solution? We Deliver!
While small mom-and-pop stores of the late 19th and early 20th century did provide delivery – and jobs for legions of teenage boys, the advent of modern grocery delivery didn't really gain momentum until the mid-1990s when Internet technology made it possible to create catalogs of food items and put a fleet of delivery trucks on the streets.
The potential was there and billions of dollars were spent creating "invisible" grocery stores: warehouses full of perishable and other grocery products that could be bagged and boxed at night and delivered the next morning. Webvan and HomeGrocer.com were early entrants in the industry and after generating massive attention – and garnering huge investments – they were deemed massive disasters.
Nearly 20 years later, it's clear that the technology, the traffic jams, and the "gig economy" have made it possible to find a solution that seems to be working. Online shopping and delivery services have become technology darlings again, however this time there are a few changes.
Gone are the warehouses that caused logistical nightmares! In their places are services like Instacart and Amazon PrimeNow which make it possible to have groceries – from ice cream and fresh produce to canned goods, meat, and bread – delivered on demand, and on your schedule, all sourced from your favorite retailer.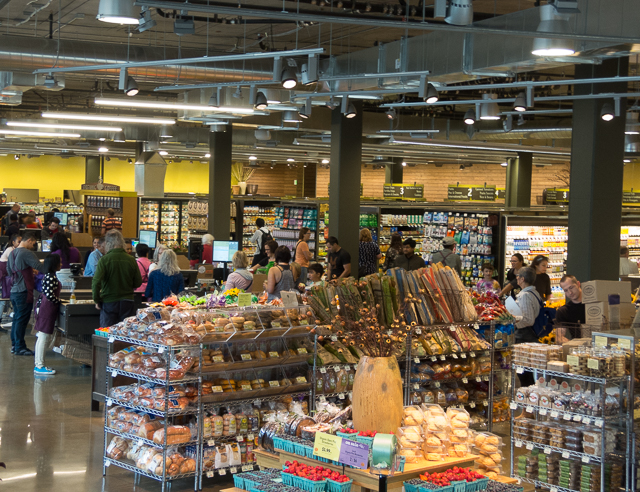 Not One, But Two Delivery Choices
Not known in the past for being an early adopter of technology, PCC Natural Markets has jumped ahead of the competition by offering multiple delivery choices. CEO Cate Hardy, in her first year at the helm, has been instrumental in these changes.
PCC, the nation's largest natural food co-op with 10 stores (soon to be 11) located in Puget Sound, launched grocery home delivery in September 2015 with Instacart and added Amazon Prime Now delivery service in late March 2016.
Customers – both co-op members and the shopping public – were quick to take up the Instacart service, "They appreciate the convenience and can shop on their own schedules," says Hardy. "And we saw the opportunity to grow our online sales channel by adding Amazon Prime Now when it became available in Seattle."
Both services use independent shopper/delivery drivers to gather a customer's items, go through the checkout, and deliver the products within a specified window of time.
For shoppers who have not used either service, a common "disincentive" is that, "I want to pick out my own apples (bananas, meat, bread, etc.) to make sure I get the best." To that Hardy responds, "It is our job to have exceptional products in our stores so the consumer always gets the best. We are responsible for great sourcing and our delivery partners handle getting the product in the hands of the customer."
Compare the Services
Here is a quick comparison of the two services.
Amazon Prime Now
Instacart
Requires membership?
Yes, Amazon Prime (currently $99/year)
No, although discounts apply to delivery with Instacart Express (currently $99/year)
Delivery Territory
Major metro areas, confirm your ZIP Code
Major metro areas, confirm your ZIP Code
Product Prices
Same as in store*
Same as in store*
New Customer Discount
10% off 1st Order
Free delivery on first order of $35 or more
Delivery Options
2-Hour: Free, 1-Hour: $7.99
Regular delivery (2-hours or scheduled) – Over $35: $5.99, Under $35: $9.99.
1-hour delivery – Over $35, $7.99, Under $35: $11.99
Instacart Express – Over $35: Free, Under $35: $9.99.
Popular delivery times may include an additional "busy pricing" fee.
Tracking
At the courier level
Order status
Minimum Purchase
$20
$10
Platform
Mobile (phone/tablet), soon on desktop
Mobile (phone/tablet) and desktop
*Online prices are the same as in-store retail prices. This includes PCC bimonthly Market Specials and temporary price reductions, but excludes weekend specials. PCC membership discounts do not apply.
Instacart includes additional services such as:
Lists and Recipes: A selection of recipes sorted into a variety of lists such as Breakfast, Snacks, Seasonal.
Shop with Friends: Share your shopping cart with friends, family, or colleagues.
Share: Earn up to $25 in free groceries for referring a friend to Instacart.
Amazon Prime Now is new to delivering groceries from retailers in selected cities and is sure to offer services and benefits such as these in the near future.
Try It!
Check out PCC's online ordering and delivery options here: