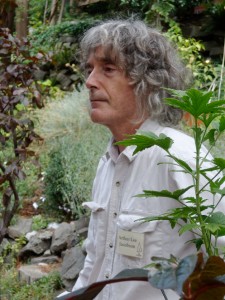 If you haven't met Arthur Lee Jacobson, you've missed out on a rarity; find a way to seek him out! Born in Seattle, Arthur has been a passionate plant lover since his teenage years and makes his living, growing, maintaining, photographing – and writing about – plants. His knowledge is unique: he can speak about wild plants, garden plants, and house plants.
Arthur is now well into his latest project: a book about edible houseplants. Here is his update:
I'm 5 years into researching edible houseplants to write a book. Over 1,070 plant genera within 200+ plant families, have been cultivated inside. Nearly 76% of those genera contain species eaten by people. No one before has assembled this vast, widely scattered data. The project is not limited to living room houseplants.
A comprehensive approach, it includes genera used in: houseplant settings, terraria, aquaria, interior scaping, apartment balconies, under grow-lights, forced bulbs in pots, indoor bonsai, florists' potted plant offerings, home conservatories or atria, and so on. The final result will be an inclusive, detailed reference work on reported edibility of those plants containerized and grown indoors by people. In other words, immensely beyond a beginner's guide to growing chives on a kitchen windowsill, or eating spider plant's tender young leaves.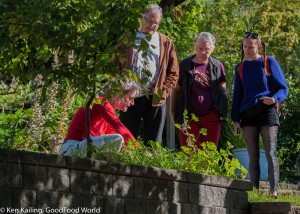 Late September 2015, Arthur opened his garden for his fall tour (he offers from one to three "Open Gardens" each year) and then led a small group through Seattle's International District (ID) to explore unique trees and plants and a visit to the Danny Woo Community Garden.
During the afternoon-long walking tour, Arthur offered observations, descriptions, and phrases that could only be described as "Arthurisms…" reflecting his unique view of the world.
The ginkgo trees planted near Hing Hay Park: They are showing early fall colors in response to stress, "like early grey hair." The trees are wind pollinated and this year, because of Seattle's recent hot summer, they have fruited and the seeds are edible.
A Fortune Cookie Restaurant (King & 8th) – "I think we're tempting fate by putting fortunes in cookies."
The Japanese flowering cherry (introduced to the US in 1860) is "enchantingly winsome in full bloom."
Honey locust is a traditional tree in the ID. They have "frilly green leaves" and sweet edible pods. The North American native planted here is thornless, though the Chinese version has huge thorns.
Japanese plum – "Trees don't love or hate, but if they did, this Japanese plum would hate Seattle. If they had feet they would walk away!"
Purple leaved plum – "A purple leaf plant is such a beauty that the world rarely sees. God had mercy on the world so He made purple-leaved trees."
Katsura tree – "A very thirsty tree; if you don't water you can get fall color in July. The fall fragrance is like burnt sugar."
Western hemlock – "Likes cool wet conditions, but this one is surrounded by concrete. It's growing a lot of cones, that's a sign of stress. Not a happy camper!"
Loquat – An evergreen tree with "voluptuous leaves." It blooms in November and December and the fruit opens in June and July. A really cold winter will cause the flowers to drop.
Garden jewels!
(Scroll down to see more photos from Arthur's tour.)
More About Arthur Lee Jacobson
Arthur offers consulting to public gardens, parks, government agencies, and individuals. He first became fascinated with purpleleaf plums while researching his first book, Trees of Seattle, which Horticulture magazine called a "cult classic" – now available in a second edition. Other books Jacobson has authored or edited:
North American Landscape Trees Wild Plants of Greater Seattle: A Field Guide to Native and Naturalized Plants of the Seattle Area
Trees of Green Lake: Trees of Seattle's Favorite Park
Trees of the Bloedel Reserve
Purpleleaf Plums (out of print)
Selected Writings of Esiquio Narro 1949-1997 by Esiquio Narro, edited and published by Arthur Lee Jacobson
Buy Arthur's books and learn more about his consulting services at his website: arthurleej.com
Danny Woo Community Garden
Learn more about the Danny Woo Community Garden. Here's a short video about the Garden produced by the InterIm CDA, an organization that promotes resiliency in Asian, Pacific Islander, immigrant, and refugee communities through culturally and linguistically responsive community building.
Photo Tour
A collection of photos taken in Arthur's garden, in the ID, and in the Danny Woo garden – click on any image to start the slideshow.
Save