I love doing this. I want to do this. I can do this. I will do this. I shall do this!
Carole Willis, Meat and Seafood Manager, PCC Columbia City
When someone says "journeyman meat cutter," what image comes to mind? Probably a big burly guy in a bloody apron throwing a chunk of beef on a chopping block and wielding a cleaver… Right? Sorry, that image is way out of date!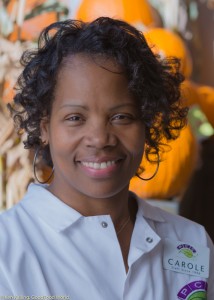 Today's skilled and licensed meat cutter is miles from that stereotype. Stop at PCC's full-service meat and seafood department in the center of the new Columbia City market, and you're likely to be greeted by Carole Willis, a charming woman in a clean white jacket with a warm and friendly smile.
It's a Journey
How did a girl from a small-town in Louisiana end up in Seattle managing a high-traffic, high-quality meat and fish department in one of Seattle's top natural food markets?
As a child Carole's grandfather taught her how food should be handled, how livestock and farm animals should be cared for. And when it came time to slaughter them, how the meat should be cut.
And as a young woman, she worked her way through food-based jobs ranging from grocery clerk to wrapping meat. Carole even spent weekends while she went to college cutting up as many as 400 chickens a day for Church's Golden Fried Chicken.
In the 80s, a move to Seattle ended up in marriage, divorce, two daughters, and an unfinished degree. A job opening at Stock Market Foods leveraged her experience in grocery retail and it was there that she renewed her passion. "I worked in the grocery department, but meat was what I knew. I spent a lot of time in front of the meat counter and when a position opened, I applied and got it," explains Carole. "Handling meat was something I started doing at 19; it was what I was comfortable with."
Livestock – particularly cattle – are big animals. Today's average beef cow weighs 1350 pounds on the hoof, and about half that after the head, hooves, skin, and blood are removed.
Historically meat cutting was dominated by men because handling meat required a lot of brute strength. A side of beef far outweighs the average man and is nearly as long as he is tall, a quarter weighs 150 to 200 pounds.
In less than a generation, beginning in the 1960s, a revolutionary change happened in the shipment of meat from the slaughterhouse to the store. No longer were sides of beef shipped hanging in a truck or rail car and moved to hanging racks at a retailer's dock to be broken down by the butcher behind the meat counter.
Today meat is delivered to a store or retail warehouse vacuum-packed as primal, sub-primal, or retail cuts in easily handled boxes. Few meat cutters process sides or quarters anymore.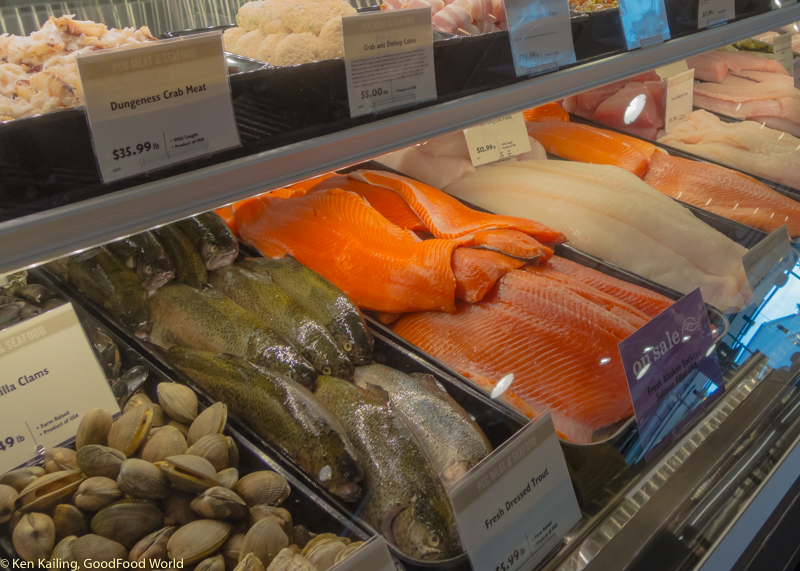 The seafood industry has changed just as quickly. Fish in Puget Sound was caught by small boat fishers and sold through a close knit network of buyers and sellers. The supply chain revolution of the meat industry also took place in the fish industry – consolidation, growth of intermediate processors, and domination by big distributors.
PCC chooses Marine Stewardship Council(MSC)-certified and Monterey Bay Aquarium's Seafood Watch-recommended fish for the fish counter. Farmed and genetically engineered fish are not to be found in Carole's cases.
It's important that I know what I'm selling and that it's not only good tasting, but good value. Not long ago I had a request for Australian beef that sold for $70 a pound.
I juggled my budget – that's a lot of money – and bought a small piece to take home to cook for my husband. While we're not likely to have it again, it was good meat and if someone asks about it, I can tell them.
Industrialized processing of food and the focus on growing more, faster, and cheaper has made it difficult to know where meat and fish come from.
During her career, Carole has seen her customers demand higher quality, transparency throughout the supply chain, and "pure food" that is natural, organic, and free from genetic engineering.
"Customers know that PCC cares and has the integrity to track where the product comes from," says Carole. "We can give them the assurance that what they are paying for is exactly what they expect."
It's a (Wo)Man's Job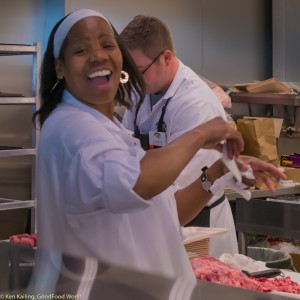 Women comprise a very small percentage of meat cutters at PCC, just about 10%. While the licensing requirements and exam define the knowledge and skills required for the job, women bring something more to the meat counter.
"While we are empowered to do this job and we can all perform at the same level, women still do more of the meal planning and preparation in the home. I can give my perspective on how to prepare and cook our meat or fish," smiles Carole. "I can duplicate what you find in a restaurant and tell my customer what it tastes like."
The meat department has become a workplace where men and women working together provide a sense of balance. She agrees, "Sometimes I'm the only woman behind the counter with 4 or 5 men. It lets other women know that it's alright to have this kind of career; it's ok to work here."
PCC Means Empowerment
"Could I have achieved what I've done here in a different company? I doubt it. I wanted to cut meat and I was trying to find the opportunity in another company. They didn't have any women meat cutters and that's what made me leave," offers Carole. "When I came to PCC, I saw that there was an opportunity and the company would support me."
She was offered classes by experienced journeymen meat cutters and given the chance to learn all she could about the industry. Carole faced a lot of challenges in a male-dominated industry: she is a woman of color and – in the beginning – was a single mother with two young children. She pushed forward against any opposition, saying to herself, "I love doing this. I want to do this. I have faith I can do this. I will do this. I shall do this!"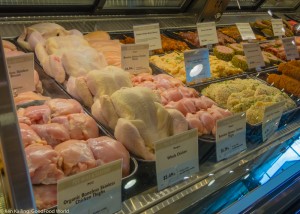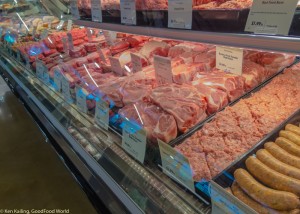 Working in the tiny PCC Seward Park store, Carole would pick her kids up from school, sit them down to do their homework in the break room, and go back to cutting meat. "What company would have allowed me to do that? I can't think of one! We now have 8 women meat cutters at PCC."
Maybe it was the uniqueness of handling meat, but Carole's daughters were fascinated by her job. They asked about the body parts like the liver and the bones, especially the big ones like the femur. Today as her girls approach college, the older one wants to be a pediatrician and the younger wants to apply her skills to forensic science.
Growth and Passion
Carole's commitment is to offer the very best meat and fish from local and regional ranchers, farmers, and fishers. You can see it reflected in the questions she asks: What are you cooking? What would you like to have? What would you like to see that I don't have?
And she expects her suppliers to live up to the highest standards. Carole asks that her vendors deliver only the best and when they fail, she applies her own version of tough love, "If they send me something that is just not right, I say to them, 'I wouldn't buy this, so just don't send it. Send me the best. I will help you make money if you help me sell the best products to my customers.' You can't just settle for OK; it's not going to benefit anyone."
Yes, Carole is passionate about meat and seafood and PCC gave her the chance to achieve her dream. She was able to take the next step in her career when PCC opened the new Columbia City Store. "When they decided to open this [full-service] case, I really wanted it," Carole admits. "I've worked in so many stores for PCC and had been at Fremont for many years. Everyone of them challenged me to reach for higher ground. My love for what I'm doing isn't something that you can teach. No matter how many people I've trained over the years, either they have it or they don't."
Opportunities for Women at PCC
Carole was given a chance to reach her potential, and she is driven to help those that come after her to have the same opportunities. "This isn't rocket science, cutting meat is something you just don't see women doing. I believe that if young women want to try this, they need to be told they can do it!"
I see a lot more women now in what used to be "men's jobs." Years ago I didn't see so many women truck drivers. I thought that would be good… Women pilots, that would be good… Any jobs where there weren't women, I wanted to do it. That was my attitude. Why not? That's where the jobs were.
Meat cutting may not be a top career choice for most young women, but it is a well-paying job with a good path to growth. It is also hard physical work with challenging hours; the meat shop at Columbia City doesn't close until 10PM.
PCC has co-op wide listings for meat cutters and every September is open enrollment for training at the UFCW 21 union hall. Carole believes that for any woman who wants to pursue meat cutting as a career, PCC would be the best possible company to come into it. With another PCC coming to Bothell in 2016, the jobs are there.
"As a woman in a 'man's job,' I believe we have a everything in place at PCC. Our CEO is a woman, we are empowering women, and the direction is awesome," affirms Carole. "I can see the changes that are happening in our company and I'm excited about where we are going."
PCC's new CEO, Cate Hardy, is taking the company in new and different directions. The full service meat and fish department was her addition to the Columbia City store that was in development when she joined the company. Now in operation is a partnership with Instacart that Cate spearheaded to provide home delivery of an extensive selection of products, including fresh meat and fish.
Welcome to the food co-op of the Twenty-First Century!