The Mom & Pop Store – How the Unsung Heroes of the American Economy Are Surviving and Thriving, Robert Spector (Walker & Company, 2009)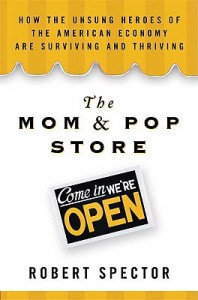 A celebration of the history of small, independent retail and the story of how mom and pop stores across the country still thrive on attentive customer service and renewed community support for local businesses.
Business journalist Robert Spector grew up working in his family's butcher shop in Perth Amboy, New Jersey, where he learned invaluable lessons about the independent retail business—and about life. Mom and pop stores have always brought people together, fostering a sense of neighborhood identity and camaraderie, and are the glue that connects people in big cities and small towns alike.
Long fascinated by the "direct connection" people feel as merchants and customers when they do business in neighborhood shops, and responding to the growing "buy local" movement across the country, Spector sets out to discover the state, and the state of mind, of independent retailing in America. From a specialty soda pop shop in Los Angeles to a florist shop in Dayton, Ohio, from a bakery in Chicago to a bookstore in Bellingham, Washington, mom and pop store owners shared their stories with him, revealing the spirit and tenacity of the small business owner, dealing with frustration and defeat as well as triumph and success. Spector also interweaves the history of independent retailing.
The Mom & Pop Store reflects the story of this country, for it embraces and cross-references every ethnic group and virtually every element of our society.
Get your copy here. Indie Bound will connect you with an independent bookstore on the street or online.