Just when we think multinational corporations have taken over the world, we find reasons to be encouraged and excited. Small independent businesses are offering us a creative and diverse set of alternatives.
Quick, take a look… tell me where we are!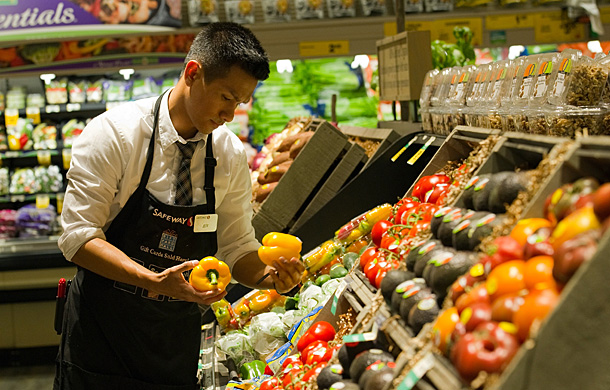 No idea? Well, folks, you're now a victim of the "franchization" of America! Every place is now the same place.  (By the way, this is Tenleytown Safeway in Washington DC.)
Who Makes Your Food?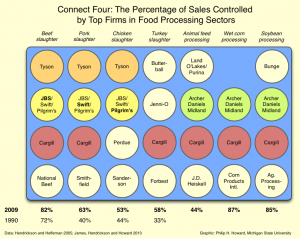 We'd like to think the food world is different, but the world of food – and beverages – is even more insidious. Just the top 10 food processing companies together generated more than $197 billion in revenues in 2014.
They are: Pepsico, Tyson Foods, Nestle, JBS USA (beef processor), Coca-Cola, Anheuser-Busch InBev, Kraft Foods, Smithfield Foods, General Mills, and ConAgra Foods.
And only a handful of companies control the beef, pork, chicken and turkey slaughter and animal feed, wet corn, and soybean processing. In fact, there are really only four players in the commodity processing world: Tyson, JBS, Archer Daniels Midland (ADM), and Cargill.
And your grocery cart? Those top food processing companies control it. Americans are spending twice as much on processed food as we did just 30 years ago. In 2012, we spent 22.9% of our food budget on processed food compared to just 11.6% in 1982.
The Illusion of Choice
Shopping malls do tend to look a lot alike, so it might actually be easier to tell which chain grocery store you're in – after all there's a pretty big difference between Whole Foods and Safeway at the store level. However a lot of the products on the shelves in either store are the same or are simply brand variations owned by the same mega-companies.
In 2013, the average number of items (as determined by SKU – shop keeping unit) – 43,844 – carried in the average-sized supermarket – 46,500 square feet – is mind-boggling. For example, in the world of soft drinks, tea, bottled water, and energy drinks, you could potentially find nearly 1000 varieties on the shelves. And 89% of those come from just three companies: Coca Cola, Pepsico, and Dr. Pepper.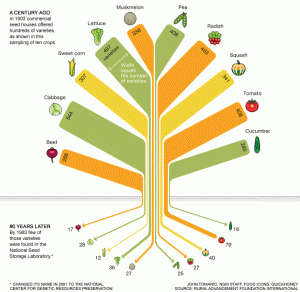 Produce Is No Better
While today's produce sections are piled high with colorful fruits and vegetables, all that choice is just an illusion too. In most supermarkets there are just a handful of varieties of each kind of vegetable offered for sale.
Over the last 80 years we have lost 93% of the seed varieties used to grow 66 food crops. While your great grandparents may have been able to choose from 408 varieties of tomatoes and 544 varieties of cabbage to grow in their backyard garden, you can select from only 79 different kinds of tomato seeds and 36 varieties of cabbage seeds.
The sad truth is that we have lost the control of our food to just a handful of global companies who offer us a very limited choice of healthy food and a dizzying array of industrialized, commoditized, or overly processed choices.
Looking to Small and Middle-sized Independent Businesses
There is good news. Even as we face globalization (and standardization) of nearly every element of our lives, including the food we eat, there are between 25 and 27 million small and medium independent companies working separately to deliver us diversity and quality. It's time we recognized the value that these businesses deliver to us, and to our communities.
What is a small business? The Small Business Administration (SBA) definition is:
Fewer than 500 employees for most manufacturing and mining industries.
Less than $7.5 million in average annual receipts for many nonmanufacturing industries.
Small businesses are the backbone of the American economy. Over half of America's workers either own or work for a small business (nearly 90% are family-owned or operated). Small businesses have created 64% of net new jobs over the past 15 years and small companies produce 13 times more patents than larger firms.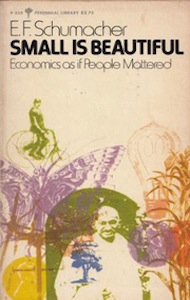 Once upon a time (early in the last century, to be precise) it was an article of faith that most sectors of the economy faced unavoidable domination by a few big players. However as early as 1911, Louis Brandeis said, "A corporation may well be too large to be the most efficient instrument of production and distribution."
And more recently in 1973, E.F. Schumacher, economist and author of Small is Beautiful, championed small technologies at the most appropriate scale for an activity, which empowers people more.
Local and independent businesses provide much more than an increasing diversity of products and services, they also keep more money in (and circulating through) the community in which they are located. Key benefits of local and independent businesses:
Every dollar you spend at independent businesses returns three times more money to your local economy than that spent at a chain or big box store – and many more times the same amount spent with an "online super store."
Local independent businesses employ local residents, at all levels from front line to management. There is no headquarters or "home office" located in another state or another country.
By their very nature, independent businesses have distinct personalities and give diversity and resiliency to a community. Lose one big mega-company and you leave a large hole in a local economy as hundreds or thousands of employees are laid off. Small businesses not only create net new jobs, they spread those jobs across a variety of industries and markets.
Small independent businesses are nimble and can reflect and respond to their customers' tastes more easily, creating diversity and choice.
A flourishing array of small and medium-sized independent businesses contributes a local identity and a sense of well being in a community and to its residents.
Small Businesses Spotlight

Following we present five very different small, independent, family-owned enterprises (with revenues ranging from under $100,000 to nearly $1,000,000) representing a diversity of food businesses. These companies provide unique and high quality products that are harvested or produced in small quantities – think van load rather than semi-truck load.
Explore each one and you will find that these are not quaint backward companies run by Luddites, but businesses that incorporate current equipment and technology – at an "appropriate human scale" – and a large amount of creativity and skill.
Pete Knutson, Loki Fish Company, Seattle WA

Salmon fishing has been part of Puget Sound for thousands of years. The Native American culture here in the Pacific Northwest developed around two key resources – salmon and cedar. Intertribal interactions, fishing technologies, and even the religions of the Pacific Northwest tribes were impacted and influenced by salmon.
The Pacific Northwest's logging, fishing, and maritime industries attracted many Scandinavian immigrants, and in the late 1800s fish processors that had located at the mouth of the Columbia River discovered the abundance of salmon in Alaskan waters. Now industrial fishing boats, miles of purse seines, and floating processing plants harvest tens of millions of pounds of fish every season, putting stress on both the natural ecosystem and the fishermen who work long hours at dangerous jobs.
In the 30 years that Pete Knutson has been fishing in Puget Sound and waters off the coast of southeast Alaska he has become a voice for small boat fishermen. Loki Fish Company – comprised of small boats owned by Knutson, his son, and 2 past Loki employees – lands about 40 tons of fish each season per boat. And from this harvest, the company supports a dozen employees and sells a wide variety of salmon products from whole fish and fillets to salmon roe caviar, including smoked and pickled fish.
Learn more about Loki Fish Company here, and buy Loki products online, at local independent grocers, or at selected Seattle Farmers Markets.
Kevin Christianson, Fairhaven Organic Flour Mill, Burlington WA

The Palouse region in southeastern Washington was the greatest wheat-farming region in the world in the late 19th century. Because wheat will grow at most elevations, with minimum moisture, and can be harvested at different times of the year, mills were built wherever there was a source of waterpower. By the turn of the 20th century, the state of Washington was home to nearly 160 of them. A century later, those mills have virtually disappeared and only a handful of large mills remain in operation.
Kevin and his wife, Matsuko Christenson, moved to Bellingham with the intent to start a family business and he began to shop around for an opportunity. Said Kevin, "We wanted something 'green' and a business our kids could identify with. While there were several convenience stores for sale, I wasn't interested in making money selling cigarettes and liquor; we passed on those."
Then one day, in June of 2007, Kevin was checking Craig's List for bargains and came across this ad: "Fairhaven Organic Flour Mill for sale…" he didn't know a thing about flour or milling, but he was willing to learn and to work hard. After a short "internship" at the mill, Kevin decided it was the business for him and the negotiations began. A short time later, he became a miller.
In the fall of 2010, after more than 36 years in Bellingham, Fairhaven Organic Flour Mill moved to a 7,500 square foot space in Burlington, Washington. The new facility gives the company room to grow; today Kevin has four employees and runs a single shift, his plan is to be about 50% bigger in the next few years.
Milled on both hammer and stone mills, high quality Fairhaven Flour is ground fresh when ordered by retailers, in contrast with commercial flour produced in large mills, which can remain in storage or on store shelves for months. Learn more about Fairhaven Organic Flour Mill here, and buy Fairhaven flour at local independent grocers.
Carlos Cervantes and Sonia Mendoza, Mendoza's Mexican Mercado, Seattle WA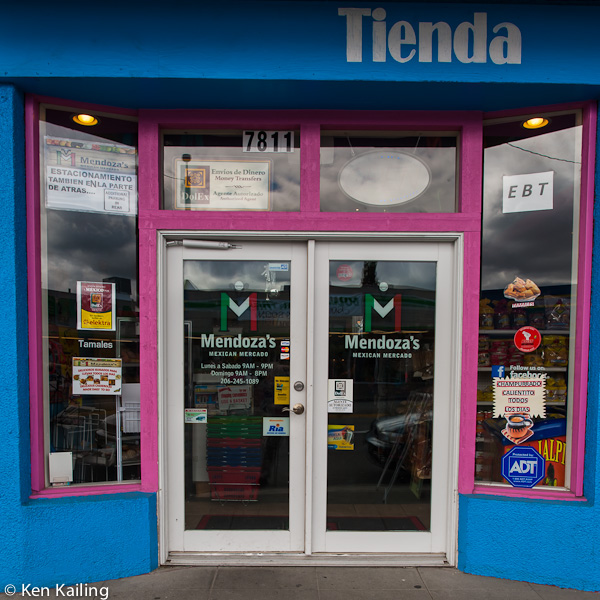 It's been more than three years since Carlos and Sonia (Mendoza) Cervantes bought Mendoza's Mexican Mercado on Seattle's busy Aurora Avenue. Keeping the store open 70+ hours a week means 12-hour days for the couple, and the work is hard. So hard that Sonia and Carlos are exhausted when they finally lock the shop doors and head home.
In a city where conventional supermarkets and specialty markets like Whole Foods and PCC abound, what makes Mendoza's Mercado so special? It's not the ethnic vegetables and greens, it's not the spices and ingredients from Mexico, Cuba, Argentina, Central America, Peru, and Nicaragua, and it's not even the corn flour (masa harina) and other grains on the shelves.
Mendoza's Mercado is special because of the way Sonia prepares carnitas, enchiladas, taquitos, frijoles, and handmade tortillas and sopas from family recipes that her mother and grandmother used. And for special holidays Sonia always cooks or bakes something like "me abuela hizo" – "My grandmother made…"
Running a small business, particularly a food business, in Seattle demands persistence and flexibility. For example a business like Mendoza's requires State and Federal registration, a city business license, external sign permits, and a City of Seattle Food Service Permit. The Cervantes also have to pay city, county, and state sales tax on taxable items as well as Seattle B&O (business and operations)/Excise taxes on the shop's gross revenues.
The business is too small to have employees, but if they did have staff that would mean more taxes including state and federal unemployment taxes and the employers' matching contribution to FICA (Social Security and Medicare taxes).
And to add insult to injury, the City turned the on-street parking lane in front of Mendoza's into a part-time bus-only lane in September 2013. That means no on-street parking for shoppers between 3 and 7 PM weekdays; parking that is critical for someone wanting to pick up something quick on the way home from work.
A vast majority – nearly 90% – of all small independent retail businesses are family-owned or operated, and small shops have been the path immigrants have long taken to gain an economic foothold in the US. It is the immigrant entrepreneurial drive that combines the old and the new to bring new flavors to cities like Seattle while at the same time providing familiar "food from home" for those relocated from countries like Mexico.
These family businesses are the "American Dream" – business ownership and community support. Owners of small shops like Mendoza's Mexican Mercado are critical to the health of a neighborhood, providing connection and stability.
Learn more about Mendoza's Mexican Mercado here. Stop in, do a little shopping, buy lunch, and explore the diversity small ethnic markets offer.
Julie O'Brien and Richard Climenhage, Firefly Kitchens, Seattle WA
Julie and Richard have decades of life experience in high tech, marketing, and brand management, and a joint interest in healthy, nutritional food. That makes them the perfect team to take locally grown vegetables, water, sea salt, and spices and turn them into delicious fermented foods like sauerkraut and kimchi.
Almost exactly five years ago, Firefly Kitchens was launched and since then, the company has gone on to build out its own commercial kitchen, produce seven varieties of fermented vegetables, and publish a cookbook (Fresh & Fermented).
Firefly Kitchens has grown consistently from the day Julie and Richard opened the door and its products are now distributed to retail locations throughout Washington, Oregon, California, Nevada, Arizona, Hawaii, and western Canada.
Learn more about Firefly Kitchens here and find a retailer near you.
Lillian Erinn Hill, Brown Sugar Baking Company, Seattle WA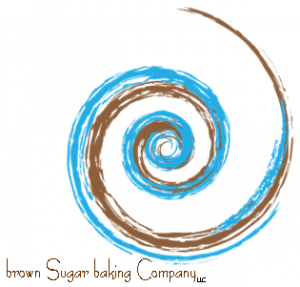 Brown Sugar Baking Company is a one-woman show (with an occasional second set of hands), operated by Lillian Erinn Hill. Step into the fragrant bakery and see where the magic happens. While it seems that there are gluten-free baked goodies showing up in nearly every supermarket and coffee shop, Lillian's sweet treats are unique.
While the bakery was born before her son, Lillian now makes deserts and snacks she is confident are healthy eating for her toddler – he's allergic to eggs and nuts. Brown Sugar Baking Company makes vegan, gluten-free, nut-free baked goods ranging from cookies and cakes to brownies and Lillian's very own take on "Pop Tarts," using organic and locally sourced ingredients as much as possible.
The challenges of balancing a "hands on" business and the care of an active young son are those faced by women business owners everywhere. Add to those the very personal challenge of an injury from a recent fall in the bakery, and Lillian is has more of an uphill battle than most small business owners.
At GoodFood World, we can tell you first hand exactly how good the Brown Sugar Baking Company cookies, brownies, and cakes are! I conducted a blind taste test by laying out a plate of goodies without telling Ken any details about them. After he had sampled and complimented, I told him how special they are. His candid response: "They're terrific! Do we have more?"
Learn more about Brown Sugar Baking Company here. Available from quality independent retailers and natural food co-ops, at selected farmers markets, and from the bakery.
Going Forward and Digging Deeper
Watch for upcoming articles looking more closely at these five companies, bringing you more about the processes, methods, and strategies they each apply. We will be digging deeper into these and many other companies with whom we have worked to describe what it takes to make a small business successful.
At GoodFood World, we are dedicated to help these people and others like them succeed and I offer consulting and business services to carefully selected clients who are:
Responsible food producers, processors, distributors, and retailers.
Environmentally and socially responsible small and medium-sized businesses.
Entrepreneurs launching new products and new businesses.
Leveraging my experience as a corporate executive, small business owner, and writer and public speaker, I specialize in strategic business and marketing planning, technology implementation, and marketing communications and promotion. To learn more, read about my services here and contact me here.
---
Photo credit: tedeytan (used with permission under Creative Commons license)