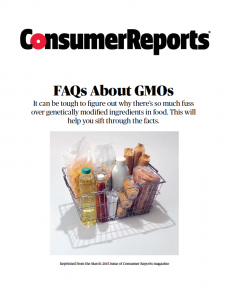 It can be tough to figure out why there's so much fuss over genetically modified ingredients in food. This reprint from the upcoming March 2015 issue of Consumer Reports will help you sift through the facts.
Do you really know what's in your shopping basket? Consumer Reports tests have found that many processed foods might contain genetically modified ingredients. If you want to be certain your food isn't made with GMOs, look for the "Non-GMO Project Verified" seal — or buy Certified Organic.
It's a growing controversy: Should foods containing genetically modified organisms (GMOs), which are created in a lab by altering the genetic makeup of a plant or an animal, always have packaging notifying consumers of that fact?
Ninety-two percent of Americans believe that these foods – widely found in kitchens across the country – should be labeled before they're sold, according to a recent nationally representative survey of 1,004 people from the Consumer Reports National Research Center.
So how do you know if your food contains GMOs? Get your copy of the report here and learn more.