(Click on any image for a larger view.)
The Ebola outbreak – which has led to rising food prices and potential food shortages – reinforces the need for self-sufficiency and food security in times of crisis.
When Liberians celebrated Independence Day on July 26, the Ministry of Commerce (MoCI) sent a bag of rice to President Ellen Johnson Sirleaf's mansion. What made the gesture extraordinary is what the rice represents: Liberia's emerging market for locally grown rice and the government's commitment to support the transformation.
Since the end of a 14-year civil war in 2003, Liberia has depended on subsidized rice imports to feed a population of more than four million. For decades, Liberians have farmed on a subsistence level and cannot grow enough food to feed the entire country. In fact, Liberia is known as one of Africa's least "food secure" countries, and the need for a sustainable rice industry is critical.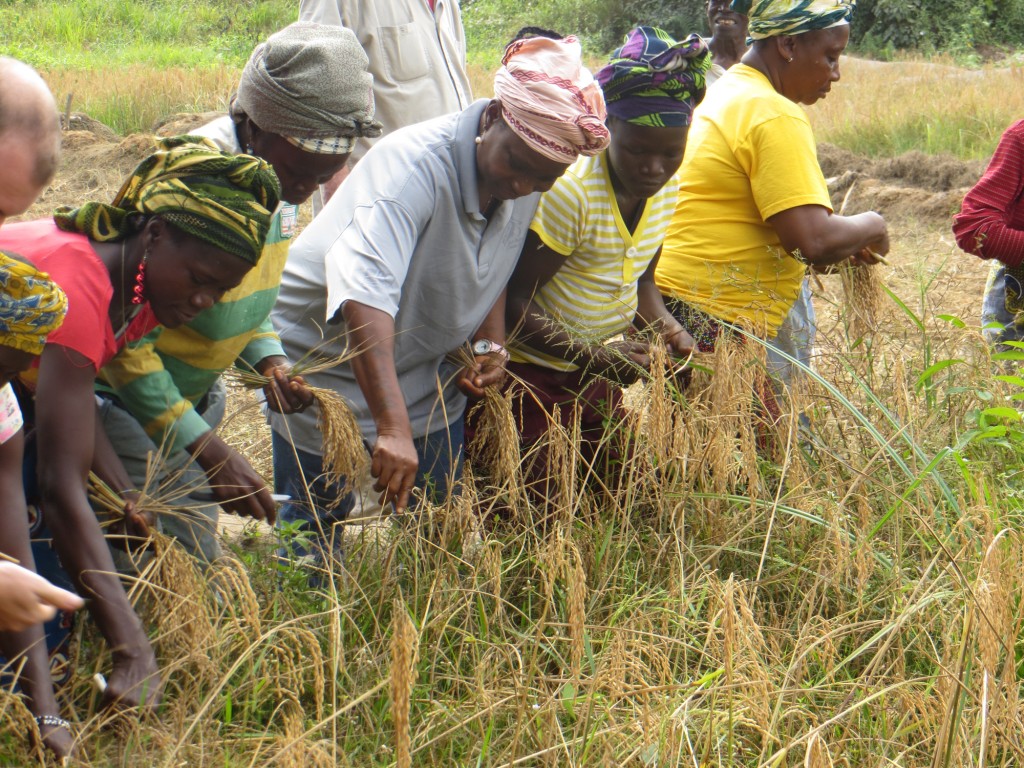 The rice delivered to the President was grown in Lofa County – known as the country's breadbasket – and was part of 100 bags of rice procured for humanitarian reasons. The rice was grown by Liberian farmers and milled by local processor Fabrar Liberia, all with support from the USAID Food & Enterprise Development (FED) Program.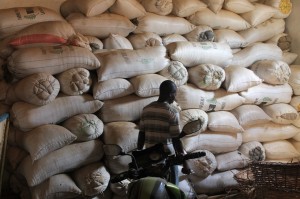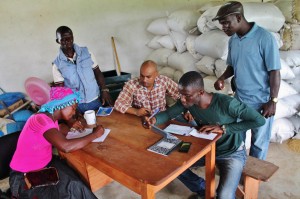 Local processor Fabrar Liberia purchases 100 bags of rice from farmers in Lofa County, Liberia.
USAID FED is a five-year program under President Obama's Feed the Future initiative that incorporates government agencies, input suppliers, rural agro dealers, farmers, processors, traders, and marketing channels to achieve food security and boost economic growth in the agriculture sector. The program's main objectives lie in four food value chains: cassava, vegetables, goats, and rice.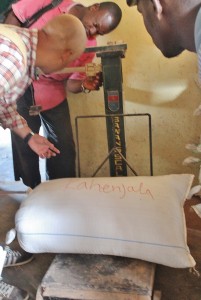 Unfortunately, the historic event was quickly overshadowed by the current Ebola outbreak. In early 2014, the virus first appeared in the forest region of Guinea just over the border from Lofa County, in an area where international boundaries have little meaning.
Ebola spread to communities in Lofa County by March and has since been reported in all 15 counties. The Ebola death toll in Liberia has risen to approximately 2,500. Now, international assistance, dominated by the United States, will hopefully turn the tide of the ongoing crisis in rural and urban areas.
When USAID FED staff kicked the program off in 2011, nobody suspected an Ebola outbreak might challenge everything they worked for.
Processing Liberian Rice
As Ebola slowly spread through Lofa County, rice farmers were still taking stock of the 2013 harvest, bagged and stored in cities like Voinjama, Kolahun, and Foya. Then, in May 2014, something historic happened. Fabrar Liberia bought 3,260 bags (163 metric tons) of rice – worth $63,500 USD – from 550 farmers in Lofa County, making the largest procurement of rice by a local processor in the history of the country.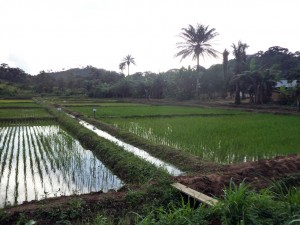 The rice purchase was part of USAID FED's plan to put Liberia's rice industry on the map. To increase the options for local rice farmers, the program began supporting Fabrar Liberia in 2014 with bigger warehousing and Liberia's first automated rice milling line in the town of Kakata, located on the country's main commercial corridor. Poised to become Liberia's largest rice processor, Fabrar Liberia used other funding mechanisms to purchase the paddy rice and get business off the ground.
In the rice value chain, USAID FED partners with farmers using improved seeds, tools, and inputs and technical support. The program provides strategic assistance in land preparation, facilitating access to power tillers and building permanent irrigation structures on lowland fields while nurturing sustainability through effective seed multiplication, qualified seed inspectors, and government lobby to put in place strong policies and regulations.
"Farmers with a rice surplus do not want to wait for the government or the NGOs to come and buy our rice. If we don't sell, it spoils," explains James Darbor of the Bagagizia farming group in Voinjama. The Bagagizia farmers sold over 70 bags of surplus paddy rice to Fabrar Liberia, who picked up all the bags by the end of June 2014.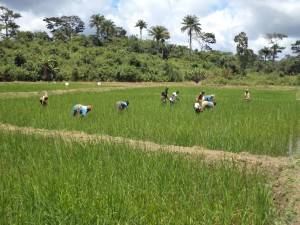 "The rice sector is improving in production and organization, and our capacity to mill rice is higher than it has ever been in Liberia's history. While USAID FED increases the capacity of farmers, the government and the private sector need to unite under a moral obligation to buy local rice," the CEO of Fabrar Liberia, Fabio Lavelanet, said in June.
In addition to supporting Fabrar Liberia, USAID FED constructed a series of 10 Community Rice Business Hubs, each equipped with a thresher, processor, and storage space. The hubs are managed by successful farming cooperatives and help stimulate local trading while providing incentives for farmers to grow more and better rice. Fabrar Liberia also uses the hubs as access points to the farming community and encourages growers to consolidate their surplus paddy rice for pick up.
Ebola's Threat To Liberia's Food System
With the ongoing crisis, this new and improved rice value chain is already bracing itself for a possible downturn in production. Most farmers planted their lowland rice by July and August, some are now wondering if they will have the manpower to harvest in the coming months. If there is less manpower and a fragmented market, some farmers could revert to subsistence farming, concerned primarily with getting their families past Ebola.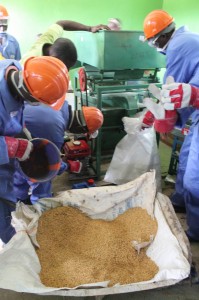 Many farmers near Ebola-affected communities are afraid to work in large groups as a result of government messages instructing people to avoid large gatherings. As a result, the traditional kuu system of farming, in which neighbors work on each other's fields, has been abandoned by some.
Many aid providers, including USAID FED, have adjusted their activities to include Ebola awareness information in hopes that farming groups continue to ramp up production and knowledge sharing with neighbors while maintaining the necessary alertness to recognize early Ebola symptoms
Despite the Ebola outbreak, local rice will continue to be milled. Fabrar Liberia plans to sell the rice on the local market, targeting consumers in Monrovia as well as large-scale rice contracts in the private sector and the government. Fabrar is currently in the process of signing a contract with the World Food Program (WFP) to supply 200 MT of Liberian-grown rice towards the humanitarian efforts assisting victims of the Ebola outbreak.
The Ministry of Commerce's Independence Day rice purchase may seem small now, but it represents the potential for the future and is a sign of support for the Government's Small Business Empowerment Act, which would require government entities to set aside at least 25% of all public procurement opportunities for Liberian businesses.
While efforts increase to stem the ongoing crisis, Fabrar Liberia's rice – milled in Kakata – and the rice milled in the FED-supported rice business hubs could get a lot of hungry Liberians through the crisis.
USAID FED and the Liberian Rice Industry, By the Numbers
Achievements
Current
(2012-2014)
At Project End
(2016)
# Rice Farmers
25,000+
60,000+
# Hectares Cultivated Lowland Rice Fields
6,000+
15,000
# Rice Processors
11
25
About Nicholas Parkinson
Nicholas Parkinson is an NGO writer, most recently based in Monrovia, Liberia. He has worked on agriculture-focused projects in Ethiopia, Uganda, Zambia, Somalia, and Liberia. He specializes in NGO documentation, communications, and PR, and teaches local writers how to create attention-grabbing stories for their NGOs.
Raising a family is a challenge in itself; raising a family in Monrovia Liberia is fraught with difficulties of all kinds. For Nico, raising a family in a city in the grip of a health emergency driven by the deadly Ebola virus was not an option.
After days of desperately trying to locate a flight out of Monrovia that would take all of them – Nico, Ignacia, baby Elisa, and Mino, the family dog – home to Utah, they reached the safety of the US on August 10, 2014.