Ma petite chou! My little cabbage!
When life – or your CSA – hands you not one, not two, but THREE cabbages (OK, so we collected them over three weeks), it's time to make cabbage soup.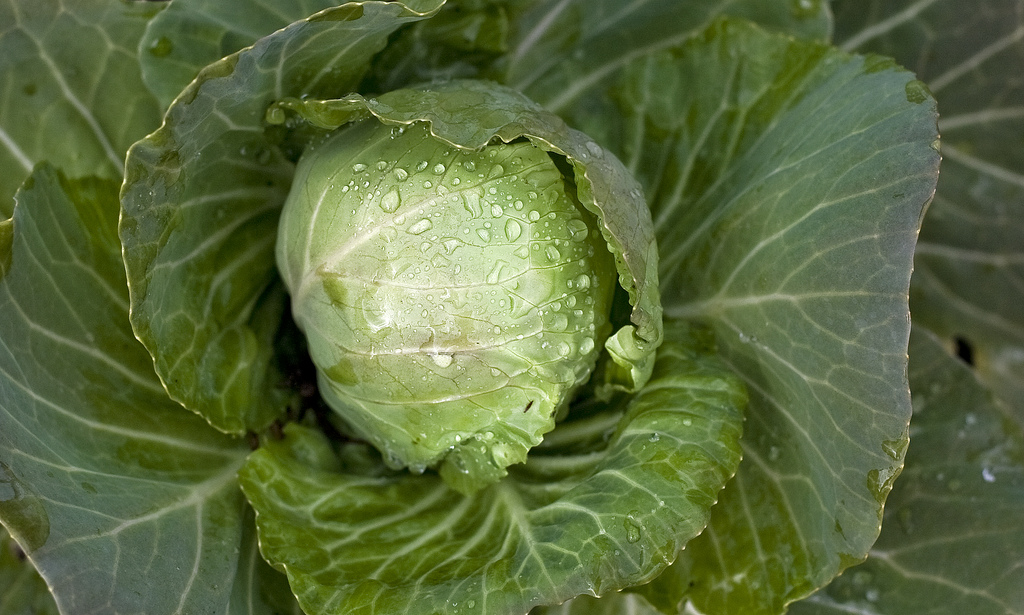 In the GoodFood World kitchen we turned an assortment of meats and vegetables into enough soup for an army – or at least a family of 8!
A special thanks to Crown S Ranch for the chicken from which we made the broth and the sausage and bacon, and to Jubilee Biodynamic Farm for the cabbage, potatoes, and tomatoes.
As we say at GoodFood World: know where your food comes from, and thank your farmer(s)!
From Polish Heritage Cookery, we modified this recipe – kapuśniak z bialej kapusty: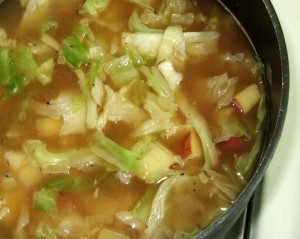 Ingredients:
6 C shredded fresh green cabbage
4 medium potatoes, peeled and diced
2 tomatoes, peeled and chopped
2 or 3 mild sausages – breakfast sausage or bratwurst – cut into bite-sized pieces
4-5 slices of bacon, diced
2 Tb flour
8 C meat stock (chicken or beef)
1T lemon juice or vinegar (optional)
Salt and pepper to taste
Preparation:
Discard discolored outer leaves of a medium head of cabbage. Shred the cabbage and finely grate the core.
Bring enough water to cover the cabbage to a boil, add shredded cabbage. Return to a boil and simmer for 5 minutes, then drain.
To a large pot containing the meat stock, add the cabbage and simmer uncovered for 30 minutes over medium heat.
Add the tomatoes and potatoes to the partially cooked cabbage and simmer for an additional 30 minutes.
While the soup is cooking, fry the sausage and the bacon slowly until the sausage is cooked and the bacon crisp. You may have to remove the sausage and add to the pot of cooking vegetables before the bacon is ready. When the bacon is cooked, add it to the soup and set the pan with the bacon drippings aside.
When the cabbage and potatoes are completely cooked, return the pan with the bacon drippings to the heat. Stir in the flour and cook until thick and slightly browned. Dilute with 1 C of soup broth, stirring the roux until it is smooth. Add to the soup and stir until the roux is completely dissolved in the broth.
Simmer for 10 or 15 minutes more, season to taste with salt and pepper. Stir in the lemon juice or vinegar just before serving for a little additional tang.
Optional:
Add additional vegetables to cook with the potatoes such as celery and carrots, rutabagas, parsnips, kohlrabi, or other root vegetables.
---
(Photo Credits – Used with permission under Creative Commons license.)
Cabbage: J E Theriot
Cabbage Soup: Jess