Time…
Time is always a factor in food preparation. Modern consumers hold a deep – and false – belief that food, especially good food, real food, takes time. A lot of time… It simply doesn't.
On 4th of July, the real beginning of summer, this is the menu I suggested – and prepared:
Yakitori – two kinds of grilled chicken on a skewer
Yaki onigiri – Grilled rice balls with miso glaze
Hiyyakko – chilled tofu with several toppings
Yakinasu – grilled eggplant steeped in cold soy sauce broth
Zaru soba – chilled buckwheat noodles with dipping sauce
Salad no goma ae – salad with sesame seed dressing
Edamame – boiled soybeans with salt
Ichigo no yuki – strawberries in almond flavored seaweed jelly
Mugicha – iced barley tea
Grilled fresh corn on the cob with soy sauce
Curry wurst – bratwurst with curry ketchup
While the menu may look daunting, much of it requires very little advance preparation at all. The key I have learned from Japanese cooking is this: when you have really good ingredients, they taste great! Not much needs to be done to them to make them delicious. In fact any "cooking" you may do is to only enhance the natural flavors that are already there.
In total it took 2 hours to prepare a meal that fed five people with leftovers! Even better, the whole meal cost less than $50. It doesn't take a lot of time or money to eat well!
As you can see these dishes are not only inexpensive and easy to prepare quickly, they are also extremely healthy because they feature lots of fresh vegetables and very little fat.
See for yourself; try out some of these recipes and enjoy!
Yakitori – two ways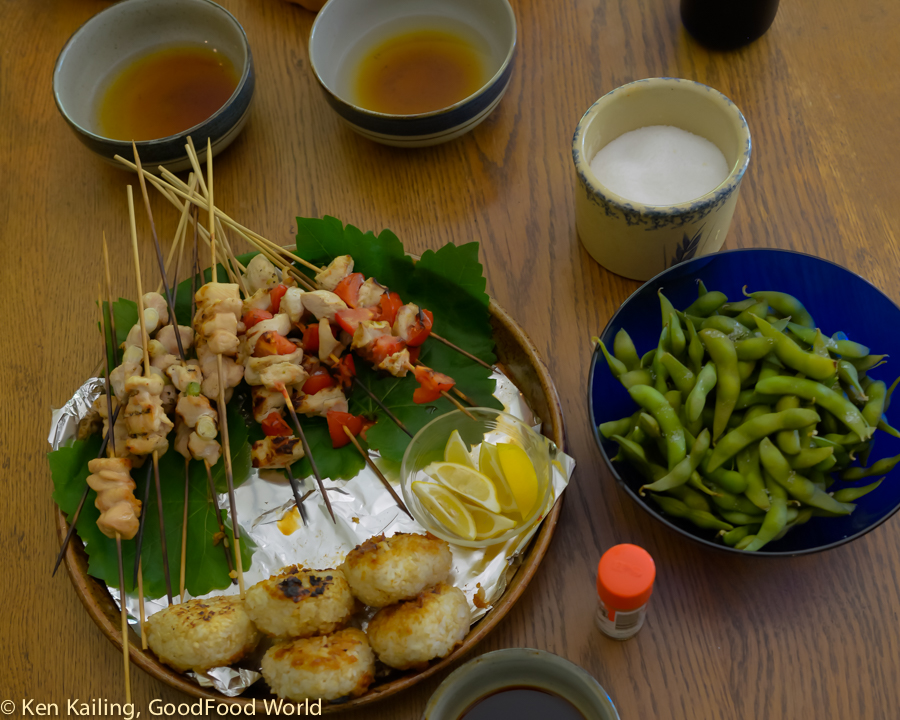 Simple grilled chicken
1 chicken breast
Salt
Pepper
Lime or lemon
Cut 1 chicken breast into small pieces, skewer chicken, grill. Sprinkle on salt pepper and lime or lemon juice as desired.
Grilled chicken with citrus marinade
1 chicken breast
Juice of one lemon and one lime
Salt
Pepper
Olive oil
2 cloves of garlic
chili pepper to taste
Combine all ingredients except the chicken for marinade. Cut chicken into small pieces, place in marinade from 1 hour to overnight, skewer, grill.
Boiled Edamame
Soybeans in their pods – fresh or frozen
1/2 to  1 teaspoon salt
Water
Ice
Kosher or flaked salt to garnish
Bring a pot of salted water to boil and cook edamame 4 to 6 minutes; frozen will take less time. Test to make sure they're done. While the edamame is boiling, prepare a large bowl with water and lots of ice.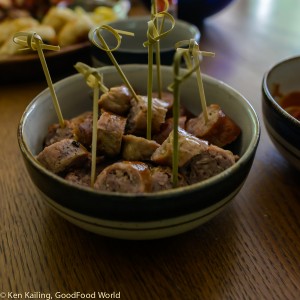 Once the edamame is fully cooked, drain the pods in a strainer and immediately put the drained edamame in the ice water to stop them from cooking further. Let them rest in the ice water for 5-10 minutes. then drain and pat dry. Sprinkle on salt and eat.
Curry Wurst
1 uncooked bratwurst per person – try sausage from a local farmer, like Crown S Ranch, Winthrop WA
1/3 to 1/2 C Ketchup (depending on the number of people you are feeding)
Curry powder
Grill the bratwurst until cooked through. Combine ketchup with curry powder to taste. Cut wurst into bite-sized pieces, skewer with bamboo cocktail pics or toothpicks. Dip in curry ketchup and enjoy!
Hiyyakko Dofu
Firm (or cotton) tofu
Soy sauce
Assorted toppings:
Fresh herbs such as shiso, basil, parsley, etc., chopped finely
Fresh ginger, grated
Tomato, diced
Green onions
Radish (your favorite variety), grated
Carrot, grated
Kimchi
Natto (fermented soy beans)
Fresh corn, cut from the cob
Drain the tofu and cut into bite-sized cubes, wedges, or slices. Top with soy sauce and any combination of toppings you like.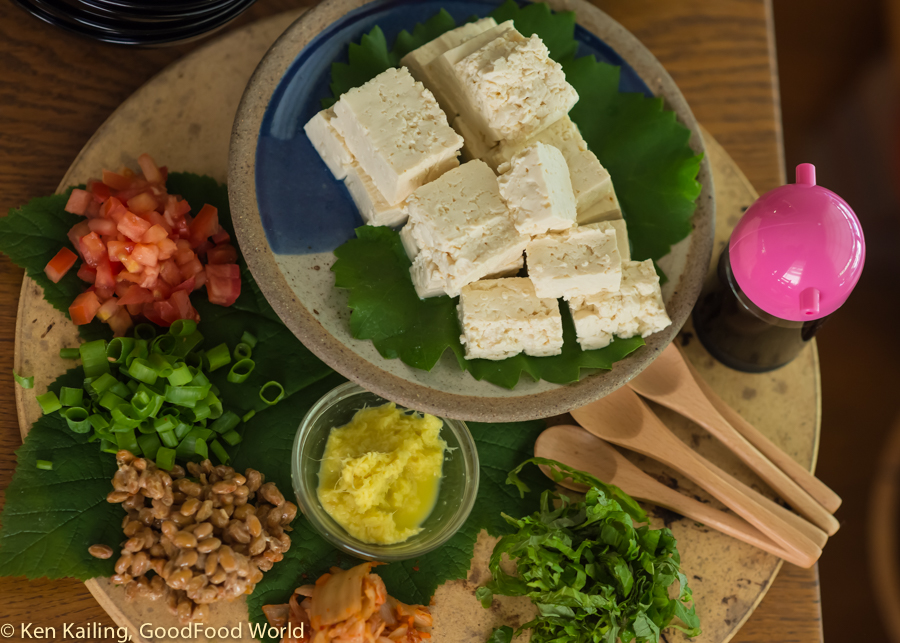 Zaru Soba
Soba (buckwheat) noodles, dried or fresh
Soy sauce
Green onion
Fresh ginger
Nori (dried seaweed "paper"), crushed or cut into thin strips with scissors
Dashi*
Boil the soba according to package directions. Drain the cooked noodles and rinse the noodles under cold running water, gently but vigorously rubbing them through your hands. Be careful not to burn yourself  as the noodles will be very hot at first, You will feel them cool quickly in your hands taking care not to mush the noodles!
Drain the noodles well and serve in a flat bamboo basket set on a plate. Sprinkle on desired amounts of nori, green onion, and grated ginger. Serve with small dishes of dashi and soy sauce.
* Dashi
Add sliced porchini mushrooms to boiling water and cook until the water turns brown. Remove the mushrooms and add just enough soy sauce to turn the mushroom water slightly deeper brown. Chill the broth and serve in individual small bowls. Add a portion of the zaru soba to the broth to eat.
Yakinasu
2-3 small Japanese eggplants
Dashi (see recipe above)
Fresh ginger, grated or sliced very thin
Roast eggplants on a grill until the skins char. Immediately put them in a brown paper bag to sweat and release the skins. When cool, place the eggplants in a bowl of ice water and peel off the skins. Chop the eggplant into cubes about 1-inch square, place in a serving bowl, poor a bit of chilled dashi over the top, and garnish with fresh ginger.
Grilled Corn with Soy Sauce
1 to 2 ears of corn per person
Soy sauce
Peel back the green husk of each ear of corn but do not remove the husk. Remove as much "silk" as possible. Point the tip of each ear upward, drizzle on soy sauce so that the husk catches the sauce at the bottom. Wrap corn back up in its husk, and tie with a bit of kitchen twin if preferred. Place directly on coals of grill and roast. Be careful not to let the corn husks burn. When the corn smells sweet it is ready!