(Click on any image to see a larger view.)
CSAs are popping up everywhere! From neighborhood gardens serving a handful of members to huge vegetable farms with more than 10,000 subscribers, there are an estimated 6000 CSAs across the US.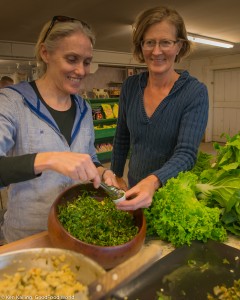 If you aren't a member or haven't considered joining one, a quick description might be in order. For nearly 30 years, Community Supported Agriculture (CSA) has been a great way for consumers to support small farmers and buy local seasonal food direct from the farm.
Here's how it works: the farmer offers a certain number of "shares" to the public, as a subscription or membership, and delivers a box of vegetables – or assorted other farm and artisan products – weekly for 16 to 22 weeks throughout the farming season. Payment for the shares is made prior to the growing season so that the farmer can buy seed and soil amendments and pay workers.
Jubilee Biodynamic Farm CSA, Carnation WA, supplies 400 families – nearly 1000 people – with fruit, vegetables, and meat – all from just 50 acres. No, it's not the miracle of the loaves and fishes; it's the miracle of good soil, organic cropping, rotational grazing, and a community of busy hands.
A fisherman turned farmer, Erick Haakenson, his wife Wendy, his son David, and David's wife Kristin are farming in a floodplain skirted by the Snoqualmie River. An active farm for nearly 25 years, Jubilee Farm is home to one of the largest and oldest CSA programs in the state.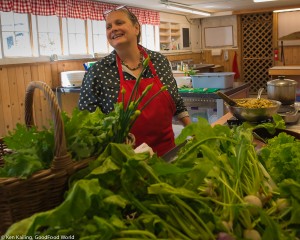 Erick, who is a philosopher and theologian, started farming in 1989 and this summer will be the farm's 20th year delivering fresh produce to members. Jubilee was the second CSA started in the state of Washington, the first was The Root Connection, Woodinville WA, launched in 1987 by Claire Thomas.
Jubilee is an intensively managed, diversified farm comprised of 14 acres of fruits, vegetables, and grains and around 35 acres devoted to beef cattle, pigs, and ducks. With the help of 3 employees and 80 work-share volunteers – who commit 4 hours a week during the growing season in exchange for 22 weeks of summer fruits and vegetables – the Haakensons grow a wide variety of crops.
Last winter, after hearing from a couple of members that they just didn't know what to do with some of the items they got in their delivery and those products went to waste, Erick, Wendy, and friend and neighbor Terrie Irish came up with a solution.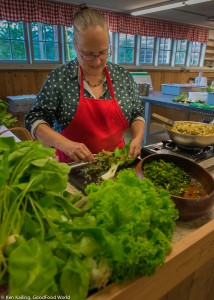 With the beginning of the 2014 Summer CSA session, Jubilee Farm unveiled its new kitchen space including triple wash sinks, granite counter tops, and tools like food processors and knives for shredding and cutting. Members can now get hands-on coaching and food preparation advice on pick-up days from Terrie, Jubilee's resident food guru. No more wondering, "What do I do with THAT?"
Diversified small farmers like the Haakensons face competition from Farmers Markets, natural food co-op stores, Whole Foods Markets, and high-quality family-owned regional supermarket chains. Offering a CSA means that farmers can compete by selling direct, delivering fresher and more flavorful produce and keeping more of the revenue from their sales.
Joining a CSA means that members get the freshest locally grown produce and participate in a community of like-minded consumers. And now, Jubilee's members have a "personal coach" to offer advice on handling and preparing the produce they get every week.
It's not too late to become a member at Jubilee Farm, meet Terrie, and learn to prepare and cook a wide assortment of fruit and veggies grown right here in the Snoqualmie Valley.