Summer for me brings back fond memories of living in Tokyo and discovering new foods to enjoy to beat off the muggy summer heat of such a massive city. Chief among my favorites was shiso.
Shiso, also known as Perilla, Beef Steak Leaf, or Japanese Basil, is actually a member of the mint family. Though I first experienced shiso while living in Japan, it turns out shiso is widely used across all of Asia from China to India, most heavily in Japan and Korea. And it grows profusely here in Puget Sound!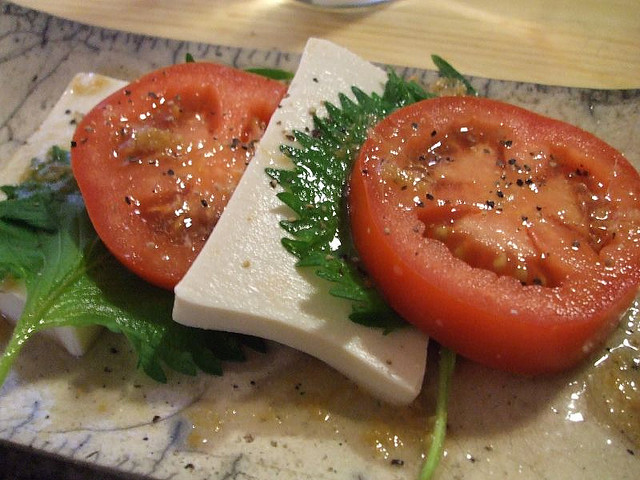 There are two basic kinds of Japanese shiso: green shiso, known as aojiso, and akajiso or red shiso. The green shiso is my favorite; it is often found in Japanese cuisine as a flavor element for sushi and sashimi or rolled in a meat cutlet, then breaded and deep-fried. Shiso is also used as a topping for salad, pastas, a wrapper for rice balls, or just simply eaten on its own.
The flavor of green shiso is fresh and vibrant, tasting somewhere between mint and basil. Red shiso is used as a natural coloring in pickled plums known as umeboshi, and it can also be used to make a sweet refreshing shiso summer drink. Red shiso can be substituted for green in any recipe.
In addition the seeds and flowers can be used as condiments; simply harvest the flowers and add them to soy sauce for an extra summery zing, or roast the seeds and grind with salt for an interesting addition to meals. The seeds are often pressed for oil that is used in much the same way as olive oil.
Here are three of my favorite shiso recipes!
Shiso, Tofu Caprese – A Healthy Vegan Friendly Salad
2 Vine-ripened tomatoes, cut into slices
1 Bunch of green shiso leaves (about a handful)
1 Block of medium firm tofu, cut into slices the same thickness as the tomato
Dressing:
2 TBS Olive or shiso oil
2 TBS Medium-grade soy sauce
1 tsp Fresh ginger, grated
Salt and pepper to taste
Directions:
Layer sliced tomato, tofu, and shiso leaves on a plate. Combine all ingredients for dressing in a small dish and drizzle over the tomato, tofu, and shiso leaves. May be served immediately or chilled for up to an hour.
---
Shiso Ume Katsu – Shiso and Pickled Plum Japanese Fried Cutlet
8 Fresh green shiso leaves
2-4 Thin pork or chicken cutlets (made from pork chops or chicken breasts)
2-4 pickled Japanese plums (ume or umeboshi) or substitute fresh or pickled apple
Flour
Egg
Panko or breadcrumbs
Salt and Pepper
Oil
Directions: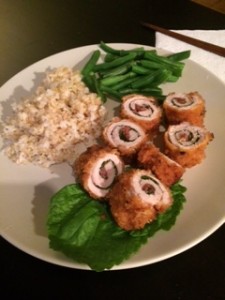 Pound cutlets very thin, using a meat mallet and a bit of plastic wrap. Make sure not to put holes in the meat.
Lay out one to two shiso leaves on each of the pounded meat pieces.
Remove pit from the plums and place one on top of the shiso leaves.
Roll the meat with the shiso and fruit inside, wrapping it tightly so the shiso and fruit can't fall out.
Bread the meat, being careful that it doesn't unravel. First roll in the flour, then the egg, and finally in the breadcrumbs. Make sure to coat evenly and knock off any excess.
Heat oil in a heavy pan to 400F degrees. Place meat rolls seam-side down and fry until golden brown on all sides. Remove from oil and drain on a rack over paper towels. Allow to cool for 3-5 minutes.
To serve slice into ½ inch rounds – making to sample one of the "ugly ends" to make sure it tastes good before serving to guests. Serve with steamed brown and white rice, cabbage salad, and a nice cool glass of iced barley tea.
---
Shiso, Cucumber, and Lime Drink
4 red or green shiso leaves
¼ seedless cucumber like a Japanese or Turkish cucumber with a thin skin, cut into thin slices – set aside one or two slices for decoration
Juice of ½ lime, plus a slice for decoration
1 tsp honey, optional
2 or 3 ice cubes
Sparkling water
Directions:
Muddle shiso leaves and cucumber together with the juice of the lime. Add honey, if desired.
Pour into a glass and add ice and sparkling water.
Stir and enjoy!