What do you really know about the food on your plate and where it came from?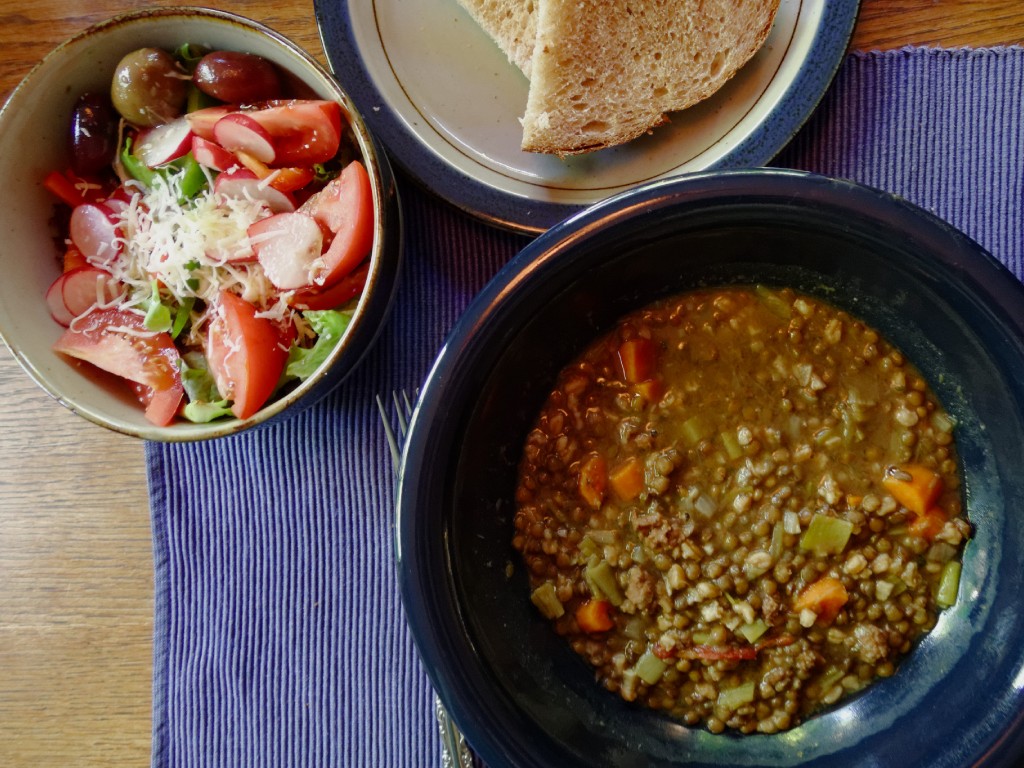 Today's exercise in the provenience of our food – who grew it, who processed it, who sold it? Let's start at the top.
Our Daily Bread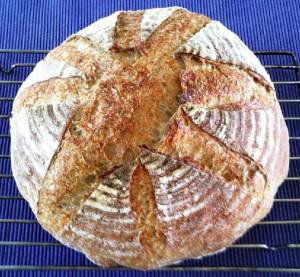 No soup is complete without a crusty loaf of sourdough bread, preferably a country loaf made of unbleached white flour and whole grain wheat flour and leavened by a wild yeast starter.
Fairhaven Organic Flour Mill provided the unbleached white flour and Nash's Organic Produce grew and milled the organic red wheat flour.
This was my first experience with Richard Miscovich's Pain au Levain (From the Wood-Fired Oven) and it's a very tasty, very slightly sour bread.
The Salad
While the vegetables, olives, and cheese for our salad came from our local PCC Natural Food Co-op – it's way too early for tomatoes and bell peppers in Washington – the greens were both home-grown and sourced from Jubilee Biodynamic Farm as part of our CSA share. Mustard, spinach, romaine, arugula, leaf lettuce, and French sorrel grow like Topsy in Puget Sound!
The Soup
Count on Jacques Pépin to have a terrific recipe! He described a lentil and barley soup, which I turned into a lentil and farro soup.
Timeless Natural Food offers 6 different varieties of lentils, but stick to the sturdier varieties like the French Style or Black Beluga® Lentils and they will hold up well for this dish. You may serve the soup without meat for a Meatless Monday dish, or add sausage like a bratwurst made from Crown S Ranch's pastured organic pigs. Just the right touch!
While you can get the whole recipe – it serves 8 – in Essential Pépin, I reduced it by half to serve 4.
8 ounces Timeless Natural Food organic French Style Lentils, rinsed
1/4 cup Timeless Natural Food organic Semi-Pearled Farro
2 quarts chicken stock
1 Crown S Ranch organic uncooked bratwurst, peel off the casing and break the sausage into small pieces
1 1/2 teaspoon dried herbes de Provence or 1 tablespoon mixed fresh oregano, parsley, rosemary, thyme, and lavender – chopped fine (best from your own garden!)
1/2 teaspoon sea salt
1 medium leek, trimmed (leave some green), split, washed, and cut into 1/2-inch pieces – about 1 1/2 cups
1 medium onion, cut into 1/2-inch pieces – about 1 cup
1 medium/large carrot, peeled and cut into 1/2-inch pieces – about 3/4 cup
3 large garlic cloves, crushed and coarsely chopped
Combine all in a large heavy saucepan and bring to a boil. Reduce the heat and simmer, covered, for 1 1/2 hours. You may need to add water or more broth to keep the soup from becoming too thick.
The French lentils and semi-pearled farro are sturdy enough to stand up to the long slow simmer.
Serve with a well-chilled beer on a warm summer evening and this is a flavorful filling meal best shared with friends!
Sources
Fairhaven Organic Flour Mill, Burlington WA – organic unbleached white flour
Nash's Organic Produce, Sequim WA – organic whole grain red wheat flour
PCC Natural Markets Co-op, Seattle WA – organic vegetables, prepared organic chicken stock, sea salt
Jubilee Biodynamic Farm, Carnation WA – organic salad greens
Timeless Natural Food, Conrad MT – organic heirloom grains and legumes
Crown S Ranch, Winthrop WA – organic pastured livestock
Read more about each one of these providers by searching for their names on GoodFood World.
By the way, Indie Bound is a great resource for books; they will connect you with independent booksellers online and on the street to get you what you exactly what you are looking for.