This recipe is modified from a soup made by the Ovens of Brittany, in a small cafe on a busy business thoroughfare in Madison WI. For nearly five years, I ate this soup at least once a week; it's still my very favorite tomato soup.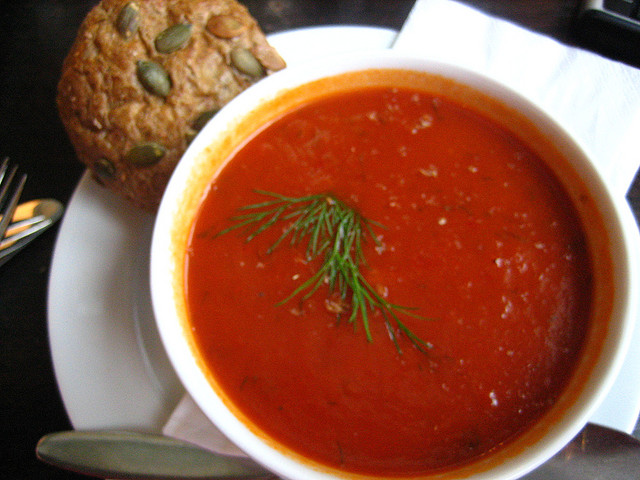 Ingredients:
6 C chicken stock, preferably home made
2 cloves of garlic, chopped
2 C onions, chopped
3 TB butter
2 C canned, crushed tomatoes
4 C canned or fresh diced tomatoes
Roux:
1/2 C flour
1/4 lb (one stick) butter
Seasoning:
1 1/2 TB dried dill weed
1/2 tsp dried basil
1/4 tsp white pepper
1/2 tsp salt
3 TB honey
Saute the garlic and onions in butter until translucent. Add to the chicken stock in a large stock pot. Add the tomatoes and seasonings.
To make the roux: melt the butter in a small saucepan over low heat, add the flour. Whisking constantly, cook for 10-15 minutes.
Add the roux to the soup, whisk well to blend it completely.
Simmer for 1 hour to mix flavors. Taste and adjust seasoning.
Serves six.
---
(Photo credit: luisvilla. Used with permission under Creative Commons license.)