Life, Liberty, and the Pursuit of Food Rights: The Escalating Battle Over Who Decides What We Eat, David E. Gumpert (Chelsea Green Publishing Company, 2013)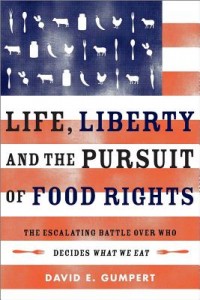 Who is it that decides what you get to eat? In reality, it's not a decision you actually get to make for yourself.
Concentration of production and processing in the hands of fewer and fewer large companies has resulted in more control over what is grown, processed, and packaged for sale. For instance, in each of these categories just four companies, and in some cases only three, control a large share of production:
82% of beef slaughter – Cargill, Tyson Foods, JBS, National Beef
63% of pork slaughter – Smithfield Foods, Tyson foods, Swift (JBS), Excel Corp (Cargill)
53% of broiler slaughter – Tyson Foods, Pilgrim's Pride (owned by JBS), Perdue, Sanderson
52% of flour milling – Horizon Milling (Cargill/CHS), ADM, ConAgra
85% of soybean processing – ADM, Bunge, Cargill, Ag Processing
55% of rice milling – ADM, Riceland Foods, Farmers Rice Milling, Producers Rice Mill
And who decides what crops are to be grown? Only six companies control nearly all the global commercial seed sources; Monsanto controls more than any other company?
As for what ends up on the grocer shelves? Just four companies – Walmart, Kroger, Safeway, and Supervalu – control about half the grocery sales across the country. In some markets, their control is even stronger.
The decisions to allow food products to be sold also rest with the US government. In his book, Life, Liberty, and the Pursuit of Food Rights, David E. Gumpert, looks at government regulation and food safety controls that limit consumers ability to buy food directly from the farmer, as did their grandparents and great-grandparents.
Get your copy here. IndieBound will connect you with an independent bookstore on the street or online.
---
Read more about the concentration of the food industry in
Networks, Power and Dependency in the Agrifood Industry
.