Hit By a Farm: How I Learned to Stop Worrying and Love the Barn, Catherine Friend (Da Capo Press, 2006)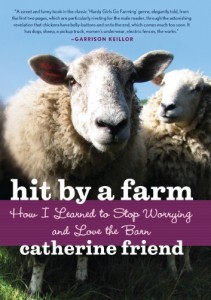 "Farms have fences. People have boundaries. Mine began crumbling the day I knelt behind a male sheep, reached between his legs, and squeezed his testicles. This took place one blustery November day when I joined other shepherd-wannabees for a class on the basics of raising sheep. I was there with my partner Melissa, the woman I'd lived with for twelve years, because we were going to start a farm."
When self-confessed "urban bookworm" Catherine Friend's partner of twelve years decides she wants to fulfill her lifelong dream of owning a farm, Catherine agrees. What ensues is a crash course in both living off and with the land that ultimately allows Catherine to help fulfill Melissa's dreams while not losing sight of her own.
Hit by a Farm is a hilarious recounting of Catherine and Melissa's trials of "getting back to the land." It is also a coming-of (middle)-age story of a woman trying to cross the divide between who she is and who she wants to be, and the story of a couple who say "goodbye city life" — and learn more than they ever bargained for about love, land, and yes, sheep sex.
Get your copy here. Indie Bound will connect you with an independent bookstore on the street or online.