The Meat Racket: The Secret Takeover of America's Food Business, Christopher Leonard (Simon & Schuster, 2014)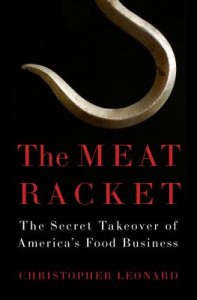 GoodFood World met with investigative reporter Christopher Leonard to discuss his new book, The Meat Racket.  Leonard looks closely at one company – Tyson Foods – which developed an entirely new business model, changed an industry, and made billionaires of the family that started it.
In the 80 years from the Great Depression when John Tyson drove 500 chickens north from Arkansas to Chicago, until today, Tyson Foods has drained small towns across America's south of their vitality and sent uncounted farmers into bankruptcy.
There are parallels between Don Tyson, John's son, and Henry Ford. Both were visionaries, both built complex vertically integrated companies, and both changed industries and American culture.
While Ford believed that he needed to pay his workers a salary that would allow them to buy his products, Tyson believed that his workers – contract farmers – should be paid through a system where only a few truly benefited from there hard work and the rest were paid as little as possible.
Join the conversation here:
.
(This interview is 12 minutes long)
Get your copy of The Meat Racket here. IndieBound will connect you with an independent bookstore on the street or online.
Read More
Is Tyson Foods' Chicken Empire A "Meat Racket?" – NPR
Chicken Farming and Its Discontents – Modern Farmer