The Land Remembers, Ben Logan (Heartland Press, 1985)
Ben Logan traveled as a merchant seaman, and worked many years as a novelist, producer and writer of films and television, and lecturer, while living forty miles north of New York City. Yet his roots remained in the southwestern driftless area of Wisconsin.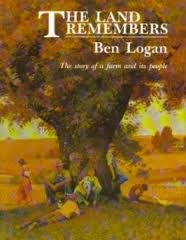 He returned to his childhood farm, Seldom Seen, in the mid-1980s, and has lived there ever since. Ben was born and raised on the farm and attended Seneca High School before studying journalism at UW-Platteville and UW-Madison. He spent 4 1/2 years in the navy during WWII on amphibious landing craft in combat in North Africa and Italy.
After the war, Ben worked as a merchant seaman in Europe and South America, then returned to Wisconsin to complete his master's degree. Further travels took him to Mexico to study anthropology and creative writing. In Mexico, he met his wife.
From 1960-1985, Ben was senior producer for United Methodist Communications in New York state. He won an Emmy award for best-written documentary film, Taking Children Seriously, which aired on NBC-TV in 1986. UW-Platteville gave him the Distinguished Alumnus Award in 1984.
His book, The Land Remembers, was published in 1975. It is something of a phenomenon, and has sold nearly half a million copies. In the latest edition, two original chapters have been reunited with the story, and included in a new Afterword that brings his story about growing up on a farm in the '30s full-circle, back to the land and its people. The birth of that land, like the birth of the planet, is beyond our comprehension.
We can theorize about cosmic dust, planetary collisions, rivers of molten rock, land rising out of the sea to be worn down again by wind and water, but how real is all that compared to the feel of the morning sun on the face, the smell of the seasons changing, the sight of the new green springing from the soil?
You can get a new or used copy of The Land Remembers here.