The Good Food Revolution: Growing Healthy Food, People, and Communities, Will Allen and Charles Wilson (Gotham Books, hardcover: 2012, paperback: 2013)
Join us. Pick up a shovel, get your hands dirty, and let's begin. (Will Allen)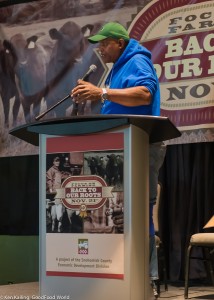 The story goes that Will Allen, son of South Carolina sharecroppers, never intended to become a farmer. In reality, Allen began growing and selling food at the age of 10. Today, he is leading a revolution to bring people back to the soil – urban, suburban, or rural soil – to grow their own food and discover the taste and connections that have been lost over the last 75 years of industrial agriculture.
The Good Food Revolution is the story of a big man with a big heart and a big vision. Allen could have taken the path so many young African American men have taken – crime and self-destruction – but he refused. Strong ties to family and community supported Allen as he struggled, failed, and succeeded in his work to bring good healthy food and the opportunity to succeed in growing it and delivering it to the people who need it most.
As the years passed since 1973, when Allen built a garden in his "spare time" as a basketball player for a Belgian team, his vision has continued to expand. From a back yard garden, to a small Wisconsin farm, to Growing Power, an organization that gave Milwaukee at-risk teens a chance to grow food for themselves and their community.
Today Growing Power is an internationally recognized organization with farms in Milwaukee, Madison WI, and Chicago and regional training centers across the country teaching people of all ages and all walks of life to build and nurture sustainable food systems.
My most intimate and lasting learning experiences have come not through books or computers but through my patient interaction with the land. The work of creating a new food system will offer work that engages both the spirit and the body.

It will allow people the satisfaction of seeing and tasting the results of their labor It will require the cultivation of human relationships that are off the grid, as well as an attitude of respect toward the natural world.

This movement – this "good food revolution" as I like to call it – will demand the best efforts of our hearts, bodies, and minds.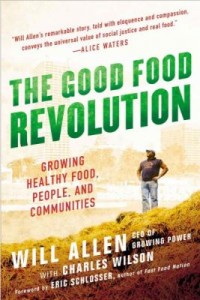 One could describe Allen as a synthesizer, someone who keeps moving the pieces around until they fit. And someone who clearly understands how to leverage the strengths of all the people he works with. Clearly one who refuses to give up or give in, Will Allen, a cancer survivor, has been married to his college sweetheart, Cyndy, for 40 years.
The Good Food Revolution will inspire you to plant something – anything – whether a container garden on an apartment balcony or rows and rows of produce on an urban, suburban, or rural farm. And Allen's journey will inspire you to reach out and share the food you grow with family, friends, neighbors, and your community.
Get your copy here. IndieBound will connect you with an independent bookstore on the street or online.