(Click here to attend the Focus on Farming Conference "virtually.")
The faces of food and farming today.
---
The 10th Annual Focus on Farming event brought together 600+ food and farming advocates and practitioners for a daylong immersion in six areas of focus: Business of Farming, Extending Your Season and Market, Growing Power, Hot Topics, Livestock, and Nursery and Greenhouse.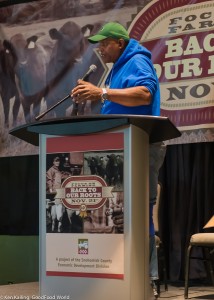 Especially inspiring and motivating was Will Allen, CEO of Growing Power, not only gave a rousing keynote presentation, he led four workshops: Soil Building in the City – Vermicomposting; Acquaponics – the Integrated Systems of Fish and Produce; Intense Production Methods – Smart Season Extension; and Crops Do Include People – Creating Jobs, Growing Lives.
The story goes that Will Allen, son of South Carolina sharecroppers, never intended to become a farmer. In reality, Allen began growing and selling food at the age of 10. Today, he is leading a revolution to bring people back to the soil – urban, suburban, or rural soil – to grow their own food and discover the taste and connections that have been lost over the last 75 years of industrial agriculture.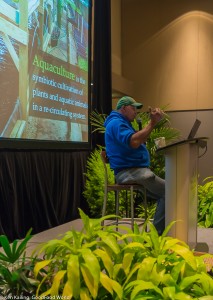 A big man with a big heart and a big vision, Allen could have taken the path so many young African American men have taken – crime and self-destruction – but he refused. Strong ties to family and community supported him as he struggled, failed, and succeeded in his work to bring good healthy food and the opportunity to succeed in growing it and delivering it to the people who need it most.
As the years passed since 1973, when Allen built a garden in his "spare time" as a basketball player for a Belgian team, his vision has continued to expand. From a back yard garden, to a small Wisconsin farm, to Growing Power, an organization that gave Milwaukee at-risk teens a chance to grow food for themselves and their community.
Today Growing Power is an internationally recognized organization with farms in Milwaukee, Madison WI, and Chicago and regional training centers across the country teaching people of all ages and all walks of life to build and nurture sustainable food systems.
According to Allen, more than 70% who want to change or be involved in the food system are under 40. There is a place for them in the NEW food system! If you look carefully, you'll see that almost all job categories and industries can be connected in some way to the food system: engineering, architecture, teaching, computer science, business… Young people can learn and apply skills in a wide range of areas.
Growing Power has some pretty unique statistics:
25% of all energy used by the farms is solar
The organization employs 140 people
A co-op of 300 farmers bring products to be aggregated for sale and distribution
The farm generates more than 1 million pounds of compost in an 80-acre compost facility
Growing Power's farms comprise 300 acres using natural compost in all the green houses
Allen's "livestock" consists of bees 70 goats, 600 chickens and $300,000 worth of worms (7 varieties of red worms)
More than 150 different types of crops are grown, including 12 varieties of winter salad mix
Crops grow year round – including Wisconsin's bitter cold winters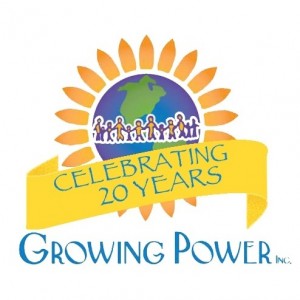 One could describe Allen as a synthesizer, someone who keeps moving the pieces around until they fit. And someone who understands how to leverage the strengths of all the people he works with.
Clearly one who refuses to give up or give in, Will Allen, a cancer survivor, has been married to his college sweetheart, Cyndy, for 40 years.
Learn more about Growing Power.