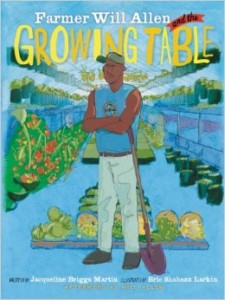 Farmer Will Allen and the Growing Table, Jacqueline Briggs Martin and Eric-Shabazz Larkin (Readers to Eaters, 2013)
With the skyrocketing rates of childhood obesity and ever increasing numbers of children that think their food actually comes from the supermarket – it is somehow magically manufactured in something like Willy Wonka's factory – it's time to teach youngsters more. Seattle's Readers to Eaters is focused on teaching families about good food – growing it, selecting it, preparing it, and enjoying it.
While we want kids to know what nutritious foods look and taste like, and how to use and prepare them properly, the best place to start to give them the fundamentals is to teach them how to GROW their own food. Readers to Eaters' new book, Farmer Will Allen and the Growing Table, shows how a one man – a big, passionate, and determined man – started his own good food revolution when he took an empty city lot and turned it into an urban farm.
Told in a language that middle-schoolers will appreciate, Farmer Will Allen and the Growing Table, will inspire a new generation to eat lots of fresh fruits and vegetables, plant a small garden (anywhere!), and start a worm factory… yes, a worm factory. Why worms? Because worms are natural composters and help make good healthy soil for gardens of all sizes.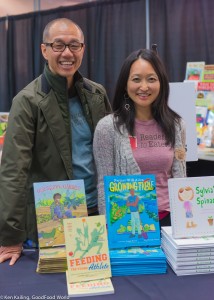 Get your copy here. Indie Bound will connect you with an independent bookstore on the street or online.
About Readers to Eaters
Philip and June Jo Lee, the husband-and-wife team behind Readers to Eaters, publish books for families and children that provide a better understanding of food and food cultures.
The Lees bring a unique combination of divergent cultural backgrounds – he is Chinese, she is Korean – and deep knowledge of food and family to their publishing.
And we, at GoodFood World, tip our hats to them as two of our GoodFood Heroes!