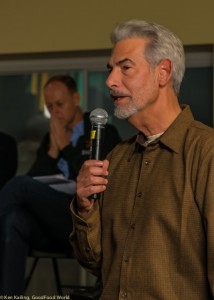 Hosted by Whole Foods, the Seeds of Innovation: The Future of Farming and Food event promised an evening of critical thought. The event was billed as a discussion of "the issues and challenges facing farming and food and how each of us from the farmer growing the food to the consumer making decisions at the grocery shelf plays a vital role in shaping the future."
Just who were the experts leading the discussion?
Chuck Eggert, owner of Pacific Foods, maker of soups, broths, and non-dairy beverages
John Reganold, professor of soil science and agroecology, Washington State University
Walter Robb, Co-CEO of Whole Foods Market
Jim Herman, grain and legume farmer and member of Pacific Northwest Food Cooperative.
The team of experts was led through a series of questions, some simple, some complex, by moderator Bellamy Pailthorp, environment reporter, KPLU, Seattle. Unfortunately, Pailthorp could have been a bit more sensitive to the issues and done better homework on the subject of genetically engineered food.
Key themes of the evening:
Big Ag versus the family farm
Next steps after the failure of I-522
Food access and affordability
Organic versus "sustainable" farming

Big Ag Versus the Family Farm
Eating is an agricultural act. (Wendell Berry)
Go into any supermarket, Whole Foods included, and you will be surrounded by photos and images of overalled farmers, red barns, and black and white cows. Obviously you are meant to believe that all this bounty was provided by farmers and their families living on quaint diversified farms. Nothing could be farther from the truth! Most of America's food is produced by large corporations.
While the American public is starting to "appreciate" farmers more, we are losing the middle – the number of large farms and small farms is increasing while the number of moderate-sized farms is decreasing. For example, the top 10 produce farms – in California, of course – comprise a total of nearly a quarter of a million acres.
With the average age of the American farmer exceeding 56, it is not easy to expect long-time farmers to make major changes in their farming methods. At the same time, the number of small farms – particularly small farms using organic farming methods – is growing and younger farmers are willing to try something new.
What is the biggest challenge to small and beginning farmers? It's not finding markets, it's access to land. Financiers have turned to farmland as a profitable investment and as a result are driving the cost of land far out of reach of the average new farmer. From a low of $853 per acre in Montana to a high of $12,300 per acre in New Jersey (down from a peak of $15,600 in 2008), the average price of an acre of US cropland is $3,550. That prices a small farm of 40 or 80 acres way out of reach; what young farmer can come up with $200,000 or $300,000 PLUS funds for equipment and livestock and/or seed? And then wait 12 to 18 months to get paid for anything grown and harvested?
Yes, we agree with Walt that "eating is an agricultural act," as Wendell Berry said, however printing and distributing "sports cards" with photos of farmers, as Whole Foods once did, is not going to keep family farms alive and thriving. It is more important to make it possible for new and beginning farmers to get started, perhaps as Chuck described, by connecting retiring farmers with "young blood" who can work beside seasoned farmers and learn from them.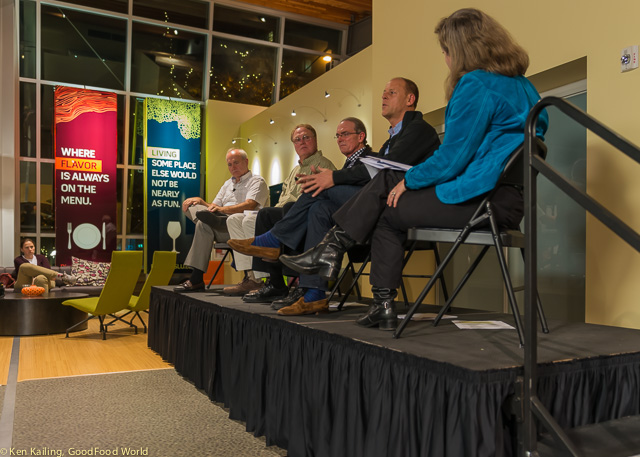 Next Steps After the Failure of I-522
Eating is a political act. (Michael Pollan)
Washington Initiative 522 which would require "most raw agricultural commodities, processed foods, and seeds and seed stocks, if produced using genetic engineering, to be labeled as genetically engineered when offered for retail sale," failed in a 51%/49% vote on November 5, 2013. The final vote was closer by 2 percentage points than the 2012 California election.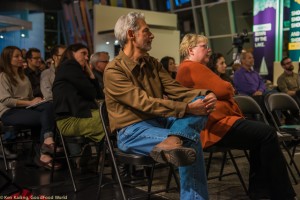 Many in the audience echoed Walt's disappointment in the results. "I really thought Washington would pass the Initiative. People have the right to know and to choose." At present there are still three dozen states with grassroots efforts to label food containing genetically engineered ingredients, and about 20 states with bills passed or in development. In the wake of the defeat in Washington, Oregon is taking up the cause and supporters there hope to put a measure on the ballot next fall.
As residents of the Pacific Northwest, we may be sheltered from farms growing genetically engineered crops – the 6 GE crops in production now are corn, soybeans, sugar beets, alfalfa, papaya, and zucchini/summer squash. However, it is tough to avoid buying them if your shopping list contains many brand name packaged food products.
Whole Foods has committed to having every product in their stores labeled – thus offering customers a choice – by 2018. Today consumers can avoid GE ingredients by buying products certified organic or "Non-GMO Verified." In the meantime, the trend appears to be toward voluntary labeling, which could provide more transparency IF there is some kind of validation or verification of the information.
Food Access and Affordability
Eating is a moral act. (Brother David Andrews,
former Executive Director of the National Catholic Rural Life Conference)
In Seattle, the six Whole Foods Markets are located in upscale neighborhoods; none are to be found in Rainier Valley, Columbia City, or White Center, where incomes are considerably lower in comparison. As a result, "…shoppers perceive Whole Foods as only serving a particular community," said Walt, "and I don't like that." It has also contributed to the use of the name, "Whole Paycheck."
A Whole Foods in Seattle's ethnically diverse south end may not appear any time soon – the next one will be built in West Seattle – however, the company did open a new store in Detroit this summer. Located Midtown, a neighborhood that is about 2/3 black and one of Detroit's poorest, the new Whole Foods will still benefit from middle-class shoppers who work at a medical center and university located there.
Committed to price competitively and offer nutrition and budget shopping advice, Whole Foods in Detroit will work to make good food accessible and affordable to low-income residents.
Organic Versus Sustainable Farming
The key topic of the evening was not formally on the agenda, but the underlying clash between organic and "sustainable" farming was clear. Chuck Eggert, founder of Pacific Foods – maker of soups, broths and purees – is not only a cook and a farmer, but he did a stint as a retailer. Eggert is co-founder of the Portland Oregon-based New Seasons supermarkets; he retired from the company in 2012.
Pacific Foods is unique as a vertically integrated food processor operating 4 organic dairies and farming 2000 acres in Oregon's Willamette Valley and 2000 acres in eastern Oregon.
Describing his company, Eggert said that Pacific Foods "…uses no artificial ingredients, colors, or flavors. We make the food you would make if you had the time." Seventy percent of the company's products are certified organic, and all the products are made with ingredients grown or produced in the US, only ingredients like certain spices are imported.
His goal is to have 100% of the products certified organic and Pacific Foods is seeking out and developing sources for organic ingredients. When the source is available, the product is converted to organic.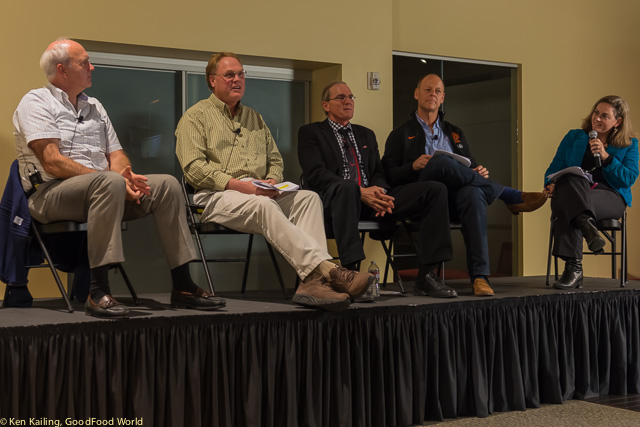 Representing "sustainable" farming methods, Jim Herman farms 3000 acres on the western edge of Idaho's panhandle, in the Palouse hills that extend into eastern Washington. Herman is one of 750 members of the PNF Co-op, which sells more than $110 million of grains, legumes, and other crops.
Jim grows a variety of conventional grains and legumes on dry rolling hills using a method of farming called "no-till" where fields are not plowed but seed is "drilled" into the soil. While no-till methods do drastically reduce or sometimes eliminate soil and water erosion, farmers still use chemical-based pesticides to control weeds and insects.
Eggert, championing organic farming methods, which eschew synthetic fertilizers and pesticides, firmly but gently pushed Herman into defending his cropping methods and said, "Organic farming can produce the same or better results as conventional farming can."
Will Jim Herman go organic? He's exploring the option… though it's not likely that many of his 3000 acres will be organic soon; perhaps he'll convert 50 acres at a time. Herman did grow 6 acres of quinoa on a test plot during the 2013 growing season, "I grew it basically organic."
Farming 2000 acres in the fertile Willamette Valley and 2000 more in Oregon's dry lands, Chuck Eggert is no "hobby farmer." He describes his farming techniques as "1900s style farming," combining cattle and crops and emphasizing cover crops and healthy soil.
Eggert works closely with John Reganold, Washington State University, who developed the first degree program in organic agriculture offered in the US. Chuck believes that there are real opportunities for young farmers, particularly organic farmers, and he wants to see more money put into organic research through the USDA and through land grant universities like WSU.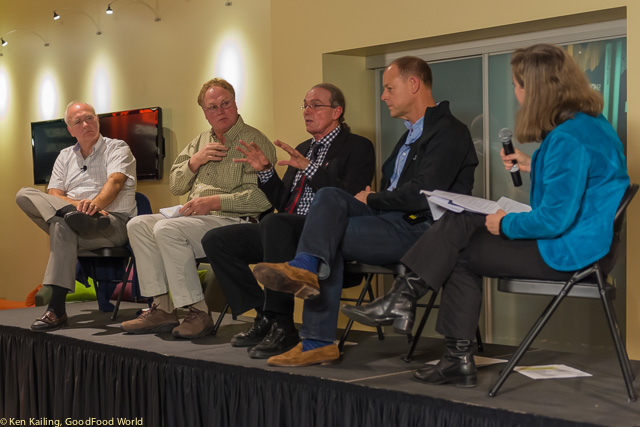 Big Food and Big Ag spend millions of dollars on private sector agriculture research primarily to create profit-producing products, technologies, and markets. Funds for public agricultural research – including organic crops and farming – such as that done at WSU, comes from NGOs like Rodale Institute, The Ceres Trust and, yes, the USDA.
While there are a few independent seed breeders like lay scientists Frank Morton, quietly working behind the scenes in Oregon, and Dave Christenson, heirloom corn breeder in Montana, investment in public research should be a high priority. New plant varieties and new farming techniques developed at public facilities like the network of land grant universities are shared openly and at a minimal cost (or free).
Private sector research and development is concentrated on a few commodities and technologies, and the intellectual property created is not broadly accessible and is expensive to implement for small and moderate-sized farms.
Putting their money on the table, Chuck and his wife Louanna, donated $5 million to WSU to expand the University's Organic Farm from four acres to nearly 30. The farm expansion will provide WSU with the largest organic research and teaching farm on a university campus in the US.
The Future of Farming and Food?
The future of farming and food is bright with opportunity. What does it take to ensure success?
It takes people like Chuck Eggert and John Reganold, who focus on organic farming methods, organic seed breeding using open pollination or traditional hybridization, and training of young and beginning farmers.
It takes farmers like Jim Herman who are experimenting with organic and traditional farming methods in hopes of improving soil fertility and reducing erosion.
It takes retailers like Walt Robb and Whole Foods Market to bring the best of local, regional, organic and sensitively produced food products to consumers.
Getting good food from the field to the fork is not a solitary occupation, it takes a team: farmers, food processors, researchers, and retailers. And discussions like the Seeds of Innovation: The Future of Farming and Food should take place more often and in more communities. It's a must for a good food world.
Eating is an agricultural act.
Eating is a political act.
Eating is a moral act.
Eating is…