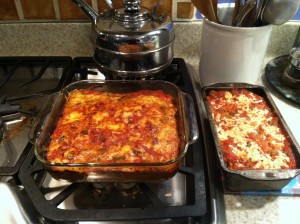 Unmeatloaf is a "mileage" food for sure (when something takes a little longer to prepare but you can freeze some for later use). It's not hard to make, but there are a few steps involved.
I think you could add whatever vegetables you wanted into the saute, just as if it were your own "meatloaf" recipe. Feel free to experiment. It feels great to have this in the freezer for that weeknight home cooked meal.
When my girls were young, it was an "old fashioned" favorite with mashed potatoes and gravy! Like real meatloaf (or turkey loaf)… this tastes even better the next day!
About 50 minutes to prepare, 40 minutes to bake. Makes enough to split in 2, 5 x 8 loaf pans. I like to freeze one for another night's dinner.
Ingredients
A
2 cups green/brown lentils (washed and sorted through)
1 bay leaf
2″ strip of kombu (seaweed, to tenderize lentils while cooking)
1 Tb Braggs Liquid Amino Acids
1 capful of Tamari
2 carrots, diced
Water to cover, 4-5 cups
B
1 cup whole wheat couscous
2 cups water
¼ tsp turmeric
1 tsp vegetable broth seasoning (optional, made from nutritional yeast and herbs)
1 tsp olive oil or butter
C  The Saute
1 Tb olive oil
1 medium size onion, diced
1 shallot, diced
1/2 jalapeno pepper, no seeds, minced (optional)
2 large cloves garlic, minced
2 stalks of celery, diced
2 cups mushrooms of choice, chopped in small pieces
1 tsp dried basil
1 tsp dried oregano
1/2 tsp dried thyme
D
1 egg, beaten
1/3 cup whole wheat bread crumbs
1/3 cup Parmesan cheese
2 Tb tomato paste
2 Tb ketchup
A few shakes of Tabasco or hot sauce – optional
E  The Glaze (2 options)
Lightly sprinkle organic canola or olive oil on top. Then mix 1 Tb ketchup with 1 Tb tomato paste and glaze. Add a shake or 2 of Tabasco.
Spread some of your favorite salsa on top. Grate some good, sharp cheddar cheese and sprinkle on top of salsa.
Preparation
Preheat your oven to 375 degrees.
Simmer all ingredients of A together for 45 minutes or until lentils are soft. You may need to add a little more water as they simmer.
Bring water to boil water with seasonings for B. Add couscous, cover and shut off flame. After 10 minutes, transfer to a large mixing bowl to cool.
While lentils are cooking, saute C, beginning with garlic, onion, shallot and jalapeno pepper. Mix occasionally so garlic doesn't burn. Once juices are released, add celery and saute for another 4 minutes or so. Add mushrooms and saute until they are soft and juicy. Transfer saute to the large bowl containing the couscous.
When lentils are soft, drain well in a colander to remove all excess liquid. (Use a bowl under the colander if you'd like to keep the liquid, which you can drink as an excellent broth.) Remove bay leaf and kombu strip!
With large spoon, mix everything together well in the bowl. (If the lentils are cooled first, you can just use clean hands – or your child to do the fun mixing!)
Add everything in D except egg. Mix, taste, and adjust seasonings if necessary.
Add egg, mix.
Lightly oil baking /casserole dish. Mound in veggie loaf. Decide which glaze you want to use and top your unmeatloaf accordingly.
Cover loosely with foil and bake in preheated 375 degree oven for 40 minutes.
* NOTE: If you are using the salsa/cheese topping, remove foil in last 5 minutes to get cheese browned and bubbly.
Let unmeatloaf stand for 5 minutes before serving.