October is halfway through, and I've been cooking it up again for my Meatless Monday dinner/classes. These cauliflower croquettes are my newest recipe invention, and they've been so well received – I thought I'd share the recipe with you. I hope you'll try them.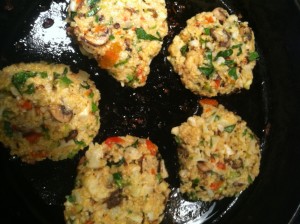 These croquettes are tasty. They are made with millet and short grain brown rice, which together, create a chewy binding for the vegetables. If you only use one grain, I suggest trying the millet, especially if you've not tasted it before. The addition of red pepper adds beautiful flecks of color throughout the croquette. These patties store well in the fridge or freezer. They work as a dinner entrée, next day's lunch hot or cold, side dish to whatever you're serving, even with eggs for breakfast!
Makes 12 -15 croquettes
Ingredients
¾ cup millet
¼ cup short grain brown rice
2 cups water
A few shakes of turmeric
1 TBS. vegetable broth powder, or bouillon of choice
Roast
1 head of cauliflower, cut into 1" flowerets (6-7 cups raw)
1 red pepper, roasted and de-skinned, or jarred, or raw and chopped
Sauté
1 TBS olive oil
1 small onion, diced
2 garlic cloves, smashed and minced
10 oz. Crimini or white mushrooms, chopped in small pieces
Raw ingredients
1 jalapeno pepper, seeded, minced
4 scallions, green parts only
½ cup grated pecorino Romano cheese
¼ cup fresh parsley and/or basil, chopped well
Salt & pepper to taste
Shake or 2 of cayenne – optional
2 eggs
1 TBS olive oil to brush top of croquette
Paprika for dusting
Sesame seeds – optional topping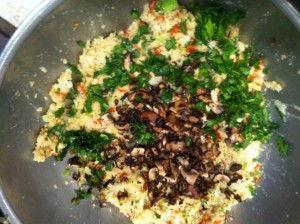 Directions
Preheat oven to 425o
Cook millet and rice together in 2 cups of boiling water. Simmer on lowest flame, for 25 -30 minutes. Allow to sit covered for 5 minutes when water is absorbed. Transfer to a large mixing bowl to cool.
Place cauliflower in mixing bowl. Drizzle with olive oil to coat and sprinkle with kosher salt and black pepper. Spread out onto a cookie sheet and bake for about 2o minutes. Check that they don't burn, stir if needed, and even sprinkle with a drop of water rather than more oil. Don't overcook them, they should get a little crisped on top. After they cool, if they are larger than ½" chop them down a little more. Add to millet bowl.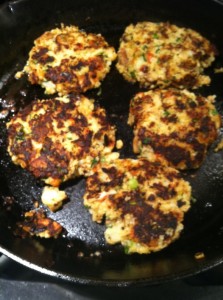 How to roast a red pepper: Wash and place whole pepper on a cookie sheet in oven along with cauliflower. The pepper will poof up and blacken in about 20 minutes. When it's soft, simply remove, place on cutting board to cool. It will collapse. When cool enough to handle, split open, allowing it to cool further, then discard seeds. Remove the skin; it will practically fall off. Chop pepper and add to millet bowl.
Saute onion and garlic in oil for 5 minutes. Add chopped mushrooms and sauté until juicy. Transfer to mixing bowl with millet. Add raw chopped ingredient and cheese.
Mix well with hands, squishing all the ingredients and juices together. Add salt and pepper. TASTE, adjust seasonings, and then add beaten eggs. Mix again.
On large baking sheet, drizzle a drop of olive oil. Make a circle large enough for your croquette. Form croquettes and place on top of oil. With brush or hands, pat top of each croquette with oil and dust with paprika. If using sesame seeds, spread them gently on top.
Bake in oven for 20 minutes. Croquettes are done when hot and lightly browned. You can also pan sauté the croquettes, as the batch above was. They are great either way, but baking is easier as you can cook them all at once.