Never doubt that a small group of committed people can change the world. Indeed, it is the only thing that ever has."
Margaret Mead
(If you couldn't make it to the event, here are the photos. Enjoy!)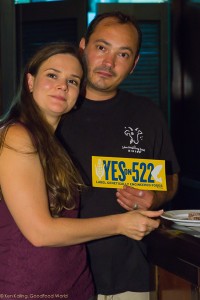 Small groups – whether "Canapés, Cocktails, and Conversation" or "Kitchen Table Conversations" – have been gathering all over the state of Washington to raise funds to get the word out to consumers, retailers, chefs, and food service managers about Washington Initiative 522 – the measure to give shoppers and diners the information they need to know about what is in the food they are buying and eating.
Make no mistake about it; good food does not require genetic engineering! Stumbling Goat Bistro's Executive Chef Josh Theilen, Sous Chef Gunnar Erickson, and Pastry Chef Jens Melin proved it Monday night, September 16, at an intimate fund-raiser. All ingredients used were produced and harvested locally or regionally and, while most were organic, all were GMO-free!
A constant flow of tiny bites, from pickled quail eggs on toast tips to spoons of Black Beluga™ lentils, from peach slices wrapped in prosciutto to peach cobbler – all exquisite flavors, scents, and textures – not only showcased the skills of the kitchen staff, but highlighted the good food that Seattleites can enjoy every day.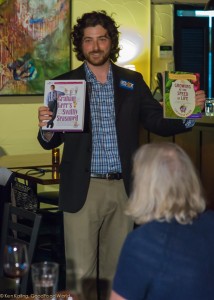 Special recognition goes out to Graham Kerr, well-known and loved local good food celebrity, whose donation of signed copies of his cooking and gardening books encouraged additional generous donations from the small but enthusiastic crowd that filled "the Goat" as the bistro is fondly called.
Washington Initiative 522 is truly a grassroots movement! Unwilling to go on with no way to know if the food available in the Pacific Northwest is free of genetically engineered ingredients, 350,000 Washington voters petitioned to get I-522 on the November 2013 election ballot. Nearly 30,000 Facebook readers have "liked" the Yes on 522 page and more than 350 businesses have endorsed the effort on the Yes on 522 website.
Yes, there have been large donations – Dr. Bronner's Magic Soaps contributed more than $1 million – however thousands of small donations have generated more than $73,000. The total raised is more than $3 million to support the labeling initiative.
Contrast that with the big moneyed, deep-pocketed corporations funding the opposition. While the No on 522 campaign has raised more than $11 million – from just 5 major donors: Monsanto, Dupont Pioneer, the Grocer Manufacturers Association, Bayer Crop Science, and Dow Agrosciences – a paltry $25 has been reported from small contributions.
At GoodFood World, we tip our hats to creative chefs like Josh, Gunnar, and Jens who remind us again that we live in a region of good food; we just want to be able to know that we can purchase it without risk by simply reading a label.
We also encourage our readers to be part of that small group of committed people changing the way we grow, process, prepare, and consume good food. Know who grows, catches, harvests, processes, packages, and prepares your food, and insist on labels that provide the information you need to know about the food you eat.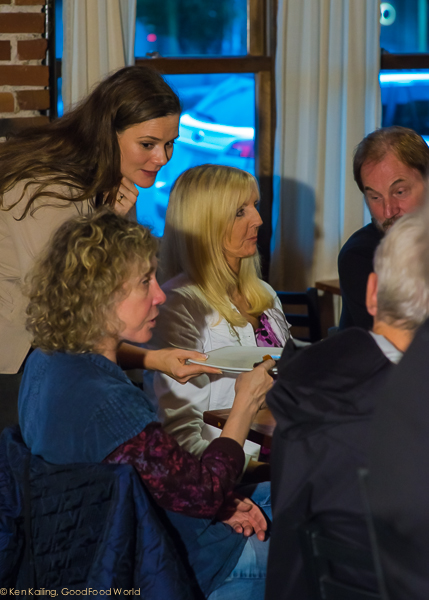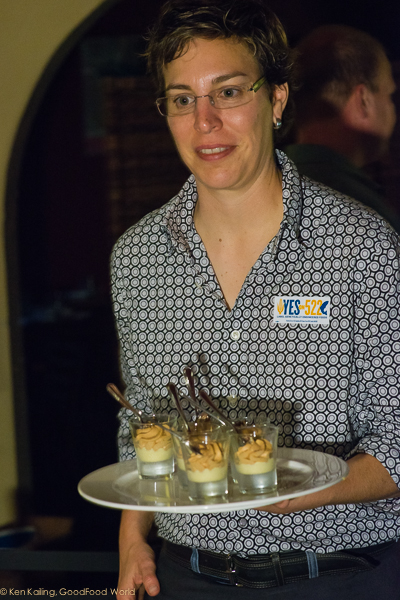 More resources:
Yes on 522 Campaign
GMO Food Labeling Campaign – Supporters and Opponents
GoodFood World Position Statement on GMOs in the Food System