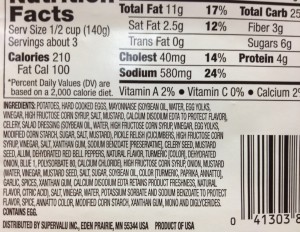 Now that summer is in full-swing, it's time to take advantage of the season!
That means making use of all the seasonal produce we can get our hands on, but it also means making quick and affordable meals that you can take on-the-go. Fill the time you're not spending in a hot kitchen with outdoor fun or shady relaxation. And spend the money you're not spending on junky, packaged foods (or expensive organic and "natural" packaged foods) on something else… a new swimsuit, gas money, or maybe that electric bill.
You can still cook from scratch and make it quick and affordable. Not to mention fresh! Here are a handful of recipes that can be made ahead of time (or at the last minute) and taken to a picnic, a barbeque, or anywhere in a backpack. Throw it in a jar or Tupperware container and you're good to go. Let's start with two cold salads!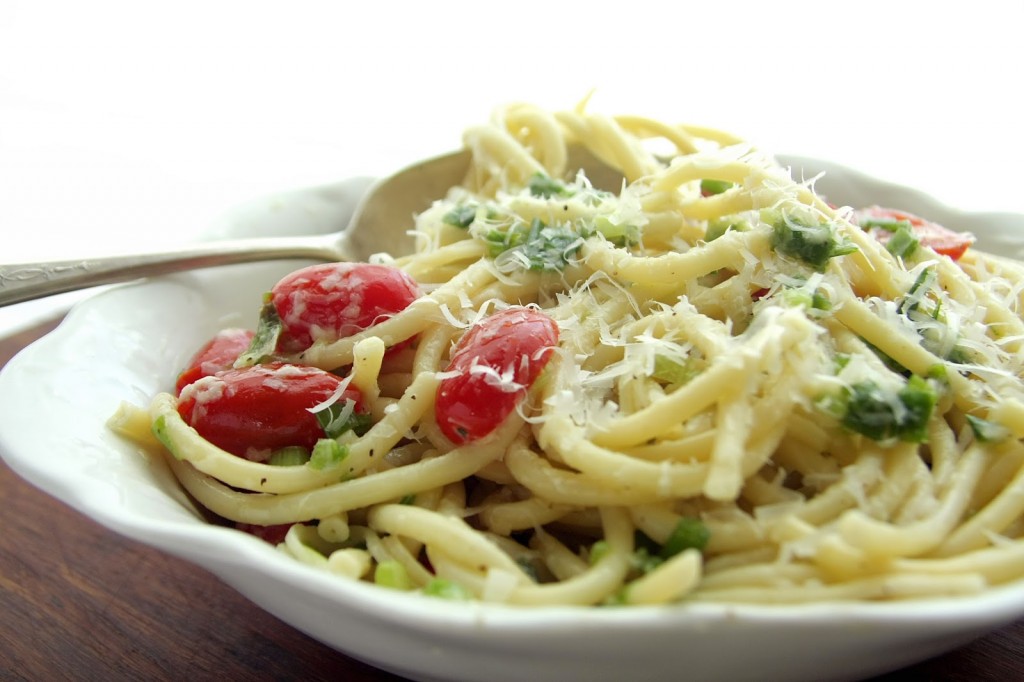 Lemon Parmesan Bucatini (makes four to six servings)
I sometimes grab a bit of this pasta salad from a local deli when I'm too busy to make lunch because it's the cheapest thing they offer. But even cheaper to make at home! You can customize it as well – I added cherry tomatoes, which complement the other flavors and also make it really lovely to look at. It's fresh, easy and oh-so-tasty, perfect for summer.
Bucatini is a long and hollow noodle. If you can't find it, spaghetti is a good substitute. Obviously you're free to use any sort of noodle you like! I like to pair more robust noodles -like penne, bowties or shells – with thicker and chunkier sauces, so it makes sense to use a more elegant noodle for this one. Make sure to toss it right before you serve, because a lot of the good stuff tends to sink to the bottom.
1/2 pound bucatini noodles (or spaghetti or whatever pasta you prefer)
juice of one large lemon
3 Tablespoons olive oil
1/2 teaspoon salt
pepper to taste
1 cup finely grated Parmesan cheese.
1 to 2 cups cherry tomatoes, sliced in half
one bunch of green onions, ends removed and fine diced
Cook the pasta according to directions on the package; meanwhile, in a bowl whisk together the lemon juice, olive oil, salt and pepper. Drain the pasta, rinse under cold water and add to the bowl. Toss the noodles to coat them in the dressing, then add the tomatoes, green onions, and Parmesan cheese.
Toss again and transfer to a pretty serving dish, take it to a picnic, or store it in the fridge for later. You might also consider adding Greek olives or artichoke hearts, maybe even some prosciutto. And let me know how it turns out.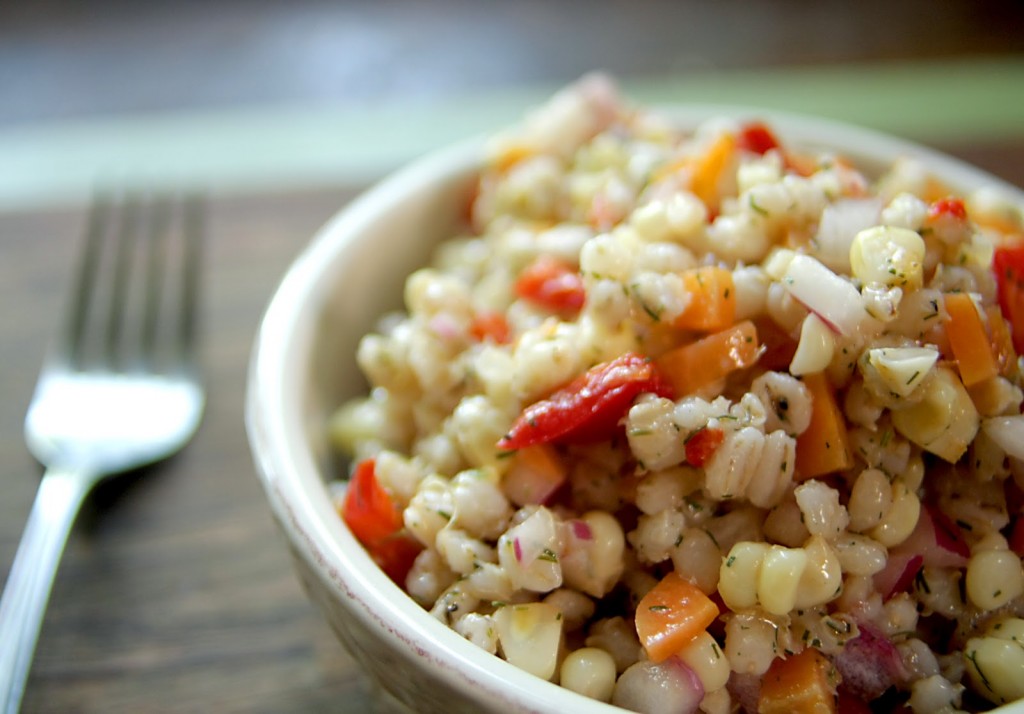 Fresh Corn and Barley Salad
There's this little bakery in town that I love. I especially love their fresh pasta salads. Guaranteed to be good… this recipe here is a complete rip-off.
So barley is not the most glamorous grain. But it is good for you, and historically it is kind of bad-ass. When I ordered my salad the guy at the counter busted out a bit of trivia: "Did you know that barley was one of the main food sources for the gladiators?" I had not known but was delighted to find out. People should bust out random trivia more often!
Now I feel like a gladiator every time I eat this, which is quite often. It is my new go-to salad for picnics, barbeques, and any event that involves battling to the death.
3/4 cup raw pearl barley
1 red pepper, diced
3/4 cup diced red onion
2 small ears of corn, husk and silk removed
2 teaspoons dill
2 Tablespoons olive oil
 2 Tablespoons red wine vinegar
1 Tablespoon lemon juice
1 teaspoon salt
pepper, to taste
Bring 2 cups of water to a boil in a medium pot, then add the  barley. Cover and reduce heat to low; cook 30 to 40 minutes or until the barley is tender.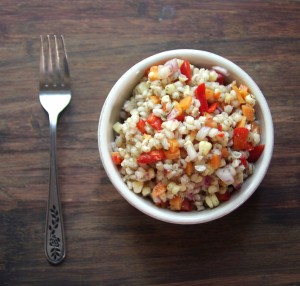 Meanwhile cook the corn in another saucepan – bring a few inches of water to a boil and place the corn in with a tongs. Cover with a lid, then remove the corn when the water returns to a boil. Set the corn aside and when it's cool enough to handle, shave off the kernels with a knife (cutting first in half, standing each half on end, and cutting down around the circle). Place the corn in a large bowl along with the red pepper and onion.
Drain the barley and add it to the bowl of diced veggies.
In a small bowl or glass jar, mix together the dill, olive oil, vinegar, lemon juice, salt and pepper. Pour over the barley salad and toss to combine. Chill before serving.
This keeps well in the fridge and apart from cooking the barley takes very little time. To shorten it even more, you could use a can of corn. But if you haven't tried it with fresh, you really should – it's loads better!
And next, variations on lemonade…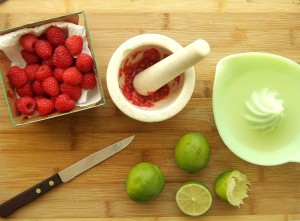 Whenever summer rolls around we like to keep a jar of lemonade or limeade in the fridge at all times. It's incredibly easy and much cheaper than buying the stuff from the store. Not to mention that the majority of lemonade available for purchase is chock full of sugar or high-fructose corn syrup, with scarcely a hint of the real citrus flavor you get from using fresh fruit.
You don't even need a fancy lemon-press. I borrowed this antique reamer from my mom, but the last one I had came from an antique market and I paid $5 for it. It was pretty, plain glass, but I accidentally dropped it in the sink one day and broke it. The other day I saw three more just like it at a thrift store. You can also find plastic reamers.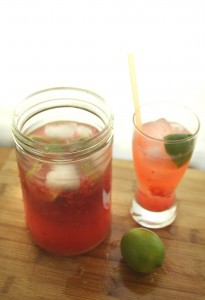 I shared a recipe for basil lemonade a while back, but this summer we've been using honey instead of sugar, and making just enough simple syrup for the recipe. Adding berries to the limeade adds sweetness and color; you can throw it in the blender if you're adverse to berry chunks, and even strain it if you don't like those little seeds. But if you try it with sugar I'd start out adding less… honey is supposedly two times as sweet.
Honeyed Raspberry Limeade (makes about 6 cups)
juice of 6 small limes
6 cups water
1/3 cup honey
1 cup raspberries, smashed up
Bring a few cups of water to a simmer in a small pot or a tea kettle.
Put the honey in the bottom of a large jar, then add a cup of hot water and stir until its dissolved. Add the remaining 5 cups of cold water, the lime juice, and raspberries. Screw on the lid on and shake everything up. Serve over ice. For a smoother drink, throw the lemonade and berries in the blender.
Honey Lemonade (makes about 4 cups)
juice of 2 large lemons
1/4 cup honey
4 cups water
Bring a few cups of water to a simmer in a small pot or tea kettle.
Put the honey in the bottom of a large jar, then add a cup of hot water and stir until dissolved. Add the remaining 3 cups of cold water and lemon juice. Screw on the lid and shake it up. Serve over ice.