1992 (continued)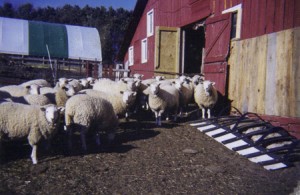 Mid-July: I had never seen the cherries so beautiful! The birds and I were in a cherry picking frenzy! There was plenty for all to enjoy, although I did protect one tree with the "famous inflatable fake snake." The birds would not go near it, but they still were free to stuff themselves on the other two trees. We had been enjoying cherry pies, tarts, coffee cake, and cherry topping for ice cream. It was good that I was getting plenty of exercise!
A little later in the month we completed our third, and final Sustainable Ag Field Day. By this time all the components were in place, so even though Sean was working full time, the day came and went without a hitch. Grazing was enjoyable with the system working so well. Our pastures had improved to the point where we could barely utilize all of them by grazing alone, unless we doubled the size of our ewe flock. I was not quite up to that, but we would retain more ewe lambs this year, and in the future harvest excess trefoil pasture for hay.
Sean had managed to get in two cuttings of alfalfa so far, despite working full time. Luckily, we had been blessed with good haying weather, so he was able to cut the hay after work on a Thursday or Friday, then rake it on Saturday, and bale on Sunday. That didn't leave him much time to relax, but it payed of in the big hay loft being nearly full of very nice hay, and hopefully there would be one more cutting before fall.
Our 9-acre alfalfa field was in its 6th year. SNO PAC Foods, a local company that raised and processed organic vegetables, was looking for organic ground to grow their vegetables on. We had enough excess pasture we could hay, and since we were now certified organic, we decided we would rent the alfalfa field to them for the coming year. They paid a very nice premium to rent organic land, especially land like ours, that had been in alfalfa for a number of years. The field was also easily accessible for their equipment, as it ran right along the State Highway.
The field had done very well for us over the years. In addition to providing us ample hay crops, we had, in 1988, had a bumper hay crop so that both our hay lofts were full to overflowing. Neighboring Wisconsin however, with more sandy soils, was suffering a severe drought, and by early 1989 farmers were desperate for hay to feed their stock.
That year, Sean and I loaded up our one ton flatbed truck with all the bales we could pack onto it, and hauled loads to the weekly hay auctions at the Sparta, WI. Livestock Auction Mart. Our hay loads were small in comparison to many of the huge semi-trailer loads brought in, but our hay tested very high and it was quickly snapped up. The first load brought $186 per ton, an unbelievably high price for those days, and successive loads brought only slightly less at two following auctions.
We had some rather hairy encounters in delivering the loads to the purchasers. It was early spring, the ground was very soft, and getting a heavily loaded truck to the barn site took some nervy driving on Sean's part. I particularly remember one place where there was a narrow and steep approach to the barns hay loft, and Sean had to back the truck up this to unload the hay. It took several hair-raising runs at backing up the slippery slope, while I held my breath and prayed the load didn't tip, before success was achieved! I was putting Sean through a lot, but he was equal to the task, and "Got 'er done!"
August: One of our SEMSPA members, Joe Austin, had developed a feeder lamb business, where he finished out lighter weight lambs to market weight. Coyotes were becoming more of a threat in our area, so moving the wether lambs off pasture earlier meant one less worry to contend with. It also would make my life easier, as I would no longer have to spend time and energy on feeding out the lambs, and I would not have the trauma and expense of hauling them to market. I decided to sell them to Joe. He came. looked the lambs over, made a bid, we agreed on a fair price, and he then came with truck and livestock trailer and hauled the lambs to his farm.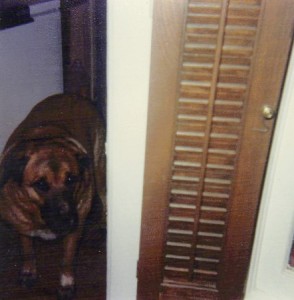 September: The autumn chill was coming on, making life harder for our old dog Brindy… getting up and down was becoming painful for her. Hard as it was, it was time to let her go. I had a good relationship with my vet, John, and he would make the trip to the farm to put her down, so I would not have to take her out of her familiar surroundings to some strange place. So, on a beautiful fall day, when the red and gold leaves of the maple were falling around us, I sat on the lawn with Brindy beside me, her head in my lap. John administered a tranquilizer to put her to sleep, and when she was completely out, he administered the shot that would stop her faithful heart. It was a sad time, but very peaceful, and she did not have to suffer.
December: Summing up, we retained most of our ewe lambs for the flock that year, only selling 5, and sold a two-year old ram, 3 ram lambs, and 10 locker lambs. It had been a busy and full year, and now we were looking forward to finding another good livestock guardian dog in the spring!