The End of the Line: How Overfishing Is Changing the World and What We Eat, Charles Clover (New Press, 2006)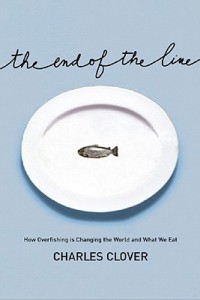 Just glance at the magazine shelves or the menu of your favorite restaurant and you will see that Americans are eating more fish than ever before, from sushi to ceveche to the classic tuna sandwich. Fish are healthy, fashionable, increasingly expensive, and consumed with a clearer conscience than meat.
But can this continue? As journalist Charles Clover shows in his global exploration of the destruction caused by overfishing, we have inflicted a crisis on the oceans in a single human lifetime greater than any yet caused by pollution. High-tech fishermen are trashing whole ecosystems, wrecking economies, and impoverishing the lives of people in poor countries – all to put fish on our plates.
Clover travels the world to investigate this unfolding disaster, from Tokyo's sprawling Tsukiji fish market to the historic tuna traps at the mouth of the Mediterranean to the heart of New England's fishing industry. He finds that global catches of wild fish have peaked, that 75% of stocks are now fully exploited or overfished, and that popular varieties like bluefin tuna, Atlantic cod, and Chilean sea bass are threatened with extinction.
He dismisses claims that aquaculture can meet increased demand and explains why farmed fish may be harmful to our health. Finally, he argues that consumers and voters still have it in their power to reverse these disturbing trends before it is too late.
This is one of those rare books that could change your life.
Get your copy of The End of the Line here. Indie Bound will connect you with an independent bookstore on the street or online where you can buy this book.